Ambassador of Vietnam visits COMSATS Secretariat
Pakistani Universities come together in favour of Sustainable Development Goals at COMSATS Platform
ED COMSATS participated as Panelist in Regional Consultation on South-South Cooperation in Asia and the Pacific: Towards the Beunos Aires Plan of Action 40th Anniversary (27-29 June, Bangkok, Thailand)
Pakistan's High Commissioner Designate to Nigeria (and Ghana) Visited COMSATS Secretariat
A delegation led by Executive Director COMSATS attended the Inauguration of UNOHRLLS' Technology Bank for LDCs, Gebze, Turkey (4 June 2018)

COMSATS Member Countries
Upcoming Events
Sep
25
Tue
2018
4th International Conference on Agriculture, Food Security and Biotechnology, Rabat, Morocco
[ Brochure ] [ Registration Form ]
Climate-related natural disasters, emerging diseases, rapid growth of World population, and political and social conflicts poses growing threat to food security. These havocs have incapacitated the food availability chain ensuing hunger, poverty and malnutrition around the globe. It is a debilitating fact that globally 815 million people, accounting 11% of the world population, were undernourished in 2016 (FAO 2017) wherein the third-world is bearing the brunt. This scenario, calls for more proactive, innovative yet sustainable approach for attaining and sustaining food self-sufficiency. Besides, the "2030 Agenda for Sustainable Development" is a call for action ending hunger, achieving food security and improved nutrition, and promoting sustainable agriculture.
The rapidly pacing scientific advancements in the field of biotechnology can offer promising tools, techniques, methods and practices for enhancing agricultural productivity while conserving the natural resources in their best form for the future generations. Agriculture biotechnology – one of the arms of biotechnology – is the key to sustainable food systems, value-added crop production, improved nutrition and green economy.
Keeping in view the importance of above-mentioned issue, the Islamic Educational Scientific and Cultural Organization (ISESCO), in collaboration with the Commission on Science and Technology for Sustainable Development in the South (COMSATS) and Inter Islamic Network on Information Technology (INIT) is organizing 4th International Conference on 'Agriculture, Food Security and Biotechnology', from 25th – 26th September 2018 in Rabat, Morocco. The Conference aims to provide an interactive platform to academicians, scientists and researchers to deliberate upon the burning issue of food insecurity while underpinning the significance of Agriculture, Food Security and Biotechnology.
Academicians, researchers, scientists, policy makers and implementers, and government officials working in the field of Agriculture, Food Security and Biotechnology in the developing countries are encouraged to participate in this international Conference.
OBJECTIVES
The key objectives of this international Conference are to:
Provide a forum to scientists, researchers, technologists and faculty members to update their knowledge and share know-how on the recent developments in the field of agriculture and biotechnology;
Build and strengthen linkages among R&D/S&T organizations working in the field of agriculture, biotechnology and food security for effective South-South cooperation;
Make recommendations to the policy-makers for developing policies and strategies in order to support biotechnology for food security in the common Member States of COMSATS and ISESCO.
HOW TO REGISTER
Applications for participation are required to be submitted through duly filled-in prescribed form to COMSATS and ISESCO, at the contact addresses given at the end of this announcement on or before Thursday, 16th August 2018.
Moroccan applicants may, however, send their applications till 10th September 2018 directly to ISESCO Headquarters, Rabat.
FINANCIAL SUPPORT
Travel grants and boarding and lodging will be provided by ISESCO, COMSATS and INIT to a limited number of individuals from the member countries of ISESCO and COMSATS, selected by the International Conference Scientific Committee.
THEMES
Agriculture
Crop breeding, improvement, protection and management
Agriculture and sustainable development
Agricultural innovation and technology
Agriculture Engineering and Agronomy
Food Security
Trends and challenges to food security
Food Nutrition Security: new concepts and strategies
Food safety regulation and standards
Food sovereignty, heritage & industry
Non-timper forest products and food security
Ecosystem based adaptation for food security
Biotechnology
Genetic improvement of crops using plant biotechnology
Functional genomics using genome editing technology
Industrial biotechnology
Food and bioprocess technology
Patent, biosafety, biosecurity, plant breeders rights
For further information, please contact:
Dr. Ismaïla DIALLO
Science Directorate
Islamic Educational, Scientific and Cultural
Organization (ISESCO)
Tel: + 212 (0) 5 37 56 60 52
Fax: + 212 (0) 5 37 56 60 12-13
Email: idiallo@isesco.org.ma
Mr. Tajammul Hussain
Advisor (Programmes)
COMSATS Headquarters
Shahrah-e-Jamhuriat, G-5/2
Islamabad – Pakistan
Phone: (+92-51) 9204892, 9214515-7
Fax: (+92-51) 9216539
Email: tajammul@comsats.org
Mr. Tahir Naeem
Executive Director
Inter Islamic Network on Information
Technology (INIT)
COMSATS Institute of Information Technology,
Park Road, Islamabad, Pakistan
Tel: (+92-51) 90495169, Fax: (+92-51) 9247006
Email: tnaeem@comsats.edu.pk
Meetings of Statutory Bodies
Heads of COMSATS Organs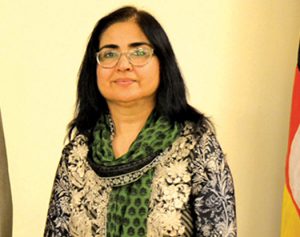 Ms. Yasmin Masood
Secretary Ministry of Science and Technology, Pakistan & Chairperson Consultative Committee
COMSATS' Network of International Science and Technology Centres of Excellence
So far, 22 Centres of Excellence (highly reputed centres of science and technologies in the South) have been selected as nodes and are playing leading roles in their respective areas of specialization.

COMSATS Secretariat
Shahrah-e-Jamhuriat, G-5/2, Islamabad, Pakistan
Phone: (+92-51) 9214515-7
Fax: (+92-51) 9216539
Email: comsats@comsats.org
Website: www.comsats.org