Republic of Yemen has joined the Commiss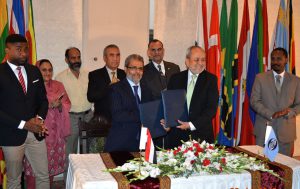 on on Science and Technology for Sustainable Development in the South (COMSATS) as its 27th Member State on November 06, 2018. The membership agreement was signed in Islamabad by H. E. Mr. Mohammed Motahar Alshabi, Ambassador of the Republic of Yemen to Pakistan, and the Executive Director COMSATS, Dr. S.M. Junaid Zaidi, on behalf of Yemen and COMSATS, respectively. The ceremony was witnessed by H. E. Mr. Muhammad Azam Khan Swati, Federal Minister for Science and Technology, Government of Pakistan, Ambassadors and High Commissioners from different countries based in Islamabad, representatives of International organizations and the Ministry of Foreign Affairs.
Speaking on the occasion, the Minister noted with satisfaction Yemen's acc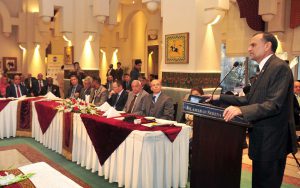 ession to COMSATS, which he believed is going to further build the edifice of the Organization and enlarge the scope of collaborative activities of the Commission. "We look forward to an active engagement with Republic of Yemen in accordance with the aims and objectives of COMSATS", stated the Minister.
In her opening remarks, President, Institute of Peace and Diplomatic Studies (IPD), Mrs. Farhat Asif, introduced her organization as Research, Advocacy, and Public Diplomacy Think Tank. She considered it a momentous occasion and hoped that Yemen would greatly benefit from COMSATS' membership, especially the Yemeni students, faculty members and emerging scientist and academicians. IPD and COMSATS have been collaborating for expansion of the latter's membership since signing of an MoU between the two in 2017.
In his remarks after the signing ceremony, the Executive Director COMSATS welcomed Yemen as a member state, and hoped that the country would benefit fully from the programmes of the organization. These include, scholarship offers scholarships at COMSATS 22 Centres of Excellence in different Member Countries; multilateral research on important topics; capacity building activities; triangular cooperation. He thanked the Minister for his Ministry's continuous support to COMSATS.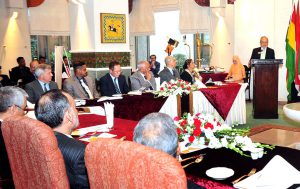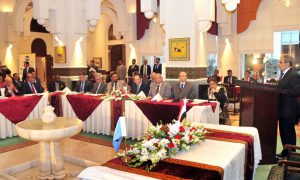 The Ambassador of Yemen said that Yemen is honored to be part of COMSATS in view of its important standing in S&T-led development efforts for the South. He hoped for Yemen to benefit from COMSATS' membership. He lauded both COMSATS and IPD for making it possible.