The Minister for Higher Education & Scientific Research, Republic of the Sudan, H.E. Prof. Khamis Kajo Kunda, along with the Sudanese Ambassador to Pakistan, H.E. Mr. El Shafie Mohamed Ahmed, visited COMSATS Secretariat on September 25, 2013. Welcoming the Sudanese Minister, Dr. Qureshi expressed his desire to elevate COMSATS' cooperative ties with the Government of Sudan to a higher level. He thanked the Ambassador of Sudan in Islamabad for the continued support of the Sudanese Embassy towards COMSATS' activities in Sudan.
The Sudanese Minister, who was visiting Islamabad as a Head of Sudanese delegation for the Vice Chancellors' Forum 2013, co-organized by COMSATS Institute of Information Technology (CIIT) on 23-24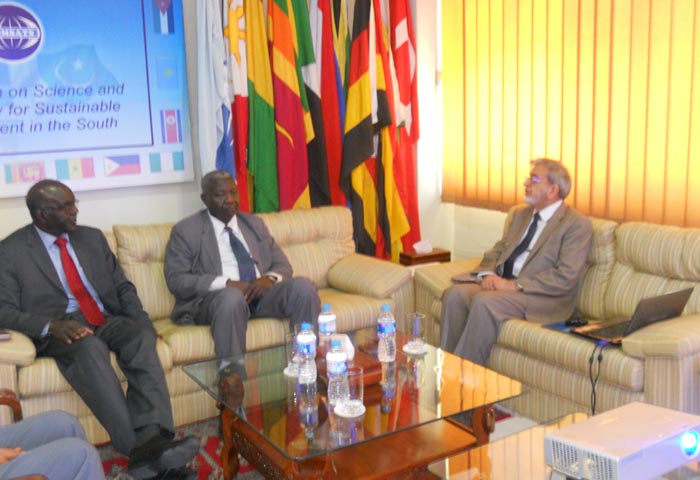 September, received a briefing from the Executive Director on COMSATS' international role, S&T cooperation programmes, and research & training activities for member countries. Introducing COMSATS as an inter-governmental organization and a proponent of science and technology for sustainable development in the South, Dr. Qureshi noted that it was late Prof. Abdus Salam, a Nobel laureate from Pakistan, who envisioned the establishment of COMSATS as a high level forum comprising Heads of State and Government. Dr. Qureshi noted that Prof. Salam had a firm belief in the power of science and technology and zealously advocated to the world community the role of this power for fuelling socio-economic growth and development. In his briefing, Dr. Qureshi also highlighted COMSATS' current leadership, organizational structure, membership, synopsis of flagship projects, scope of international programmes and activities, channels used for outreach, as well as the financial status of the organization vis-à-vis member countries' voluntary contributions. While highlighting various working organs of COMSATS, he noted that these organs provide the organization with the necessary means to seek and maintain political patronage, government support, international oversight, and technical cooperation.
The international collaborations, education and training and capacity-building opportunities in the member countries created by COMSATS over the years that directly benefited policy-makers, researchers, scientists and students from Sudan were recounted to the participants of the meeting. It was noted that the National Workshop on 'Repair and Maintenance of Scientific, Engineering Equipment in Universities, Research Institutions and Small Scale Industries', held in Khartoum from 18-22 August 2013, presents a good example of the South-South cooperation efforts of COMSATS. The event provided technical training to over 35 Sudanese engineers, researchers and technicians from all over the country, who are expected to carry out their roles as master trainers for building the local capacity on repair and maintenance of scientific equipment and machinery in the future.
Discussing Sudan's participation in COMSATS' activities and international programmes, it was brought to the notice of the Sudanese Minister that since the induction of IRCC in COMSATS Network, the Centre has had representation in all the 7 international meetings of COMSATS' Coordinating Council held in different parts of the world that provided unique opportunity for knowledge sharing and scientific exchanges at the level of Heads of Centres of Excellence. It was further noted that high officials of Sudan have also participated in the two Consultative Committee meetings of COMSATS held in Abuja-Nigeria (2009) and Accra-Ghana (2013), whereby the official stance of the Member States/Governments on S&T-based development were shared to help the organization strategically realign its international programmes as per the current developmental needs of the Member States and thus help achieve the organization's goals. The Executive Director also recalled exploring avenues of cooperation in his meetings held with a three-member country delegation of Sudan that participated in the 2nd Commission Meeting of COMSATS in Islamabad, in April 2012, as well as with the State Minister for Science and Communications during his visit to Sudan in November the same year.
While outlining the future cooperation with Sudan, Dr. Qureshi highlighted the following areas: education; training; joint-research; international S&T events; and international linkages. He explained various on-going activities in each of the areas, such as COMSATS' scholarship and fellowship opportunities at its Centres of Excellence. It was informed that currently two Sudanese students are undertaking their MS degrees from COMSATS Institute of Information Technology, and five applications from Sudanese researchers seeking Ph.D scholarships have been forwarded to COMSATS' Centre of Excellence in Iran, the Iranian Research Organization for Science and Technology (IROST).
COMSATS' offer to involve scientific institutions of member countries in thematic research was reiterated to the visiting Sudanese Minister and Ambassador. It was noted that at present three scientific institutions of Sudan – IRCC, National Center for Research (NCR), and Sudan Meteorological Authority (SMA) – are actively involved in the on-going research activities of the two International Thematic Research Groups (ITRGs) of COMSATS on 'Natural Products Sciences', and 'Climate Change and Environmental Protection'. The other areas of cooperation highlighted by Dr. Qureshi included, COMSATS' capacity-building and training activities in its Member States, active participation in its body meeting as well as literary contributions to COMSATS' various publications, especially its bimonthly newsletter and biannual scientific journal.
The Sudanese Minister thanked Dr. Qureshi for his detailed presentation on COMSATS' a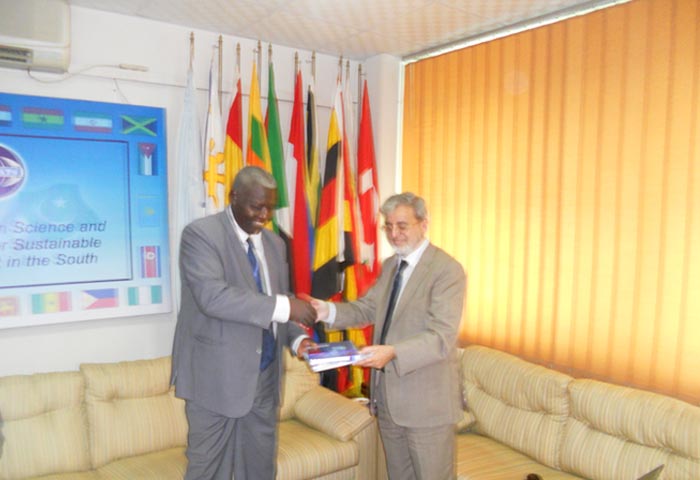 ctivities and programmes, especially the ones involving Sudanese researchers, scientists and students. He stated that a lot can be achieved for development through South-South cooperation, especially from the platform of COMSATS. Sharing his views on meeting the developmental needs of his country, he stressed that the only way forward for Sudan is to focus its efforts on higher education. He stated that his Ministry was making all-out efforts to providing necessary facilities at the higher education institutions in the country for conducting relevant scientific research and creating international linkages.
In the context of regional and international collaboration, Prof. Kunda appreciated the mechanism of establishing Centres of Excellence in specialized areas and using the network for conducting shared/thematic research. He opined that such a mechanism will be cost effective for developing countries like Sudan, and desired for his country to benefit from the programmes of COMSATS' Network of Centres of Excellence. He further noted that it is high time for Sudan to focus on scientific and technological cooperation, which is the gateway to sustainable development. In the end, the Minister reiterated his pledge to follow up on the commitments made by his fellow colleagues in the government viz. COMSATS' programmes and activities.
At the end of the meeting, the Executive Director presented a set of COMSATS' publications to the Sudanese Minister for Higher Education and Scientific Research.