His Excellency Maj. General (R) Jayanath C. P. Lokuketagodage, High Commissi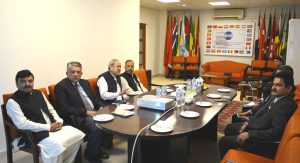 oner of Democratic Socialist Republic of Sri Lanka to Islamic Republic of Pakistan visited COMSATS Secretariat on 4th May 2018. The High Commissioner was accompanied with Mr. Mohamed Anas, Counsellor/Head of Chancery, High Commission of Sri Lanka in Islamabad. These officials were received by the Executive Director COMSATS, Dr. S. M. Junaid Zaidi. Other senior officials of COMSATS were also present on the occasion, including Maj. Gen. (R) Muhammad Tahir, Advisor (China Desk) and Mr. Tajammul Hussain, Advisor (Programmes), COMSATS Headquarters.
The Executive Director made a presentation, in which he highlighted the vision and mission, member countries, flagship projects, ongoing programmes and activities, and future plans of COMSATS. The High Commissioner was briefed about the various organs of COMSATS, including the Network of International S&T Centres of Excellence.
It was recalled that Sri Lanka is one of the founding members of COMSATS, and the Industrial Technology Institute (ITI), Sri Lanka, is affiliated with COMSATS as a Centre of Excellence. It was informed that the Director ITI is expected to visit COMSATS Secretariat soon in order to explore opportunities of collaboration.
The honourable High Commissioner expressed keen interest in the programmes of COMSATS, especially the scholarships being offered by various Centres of Excellence including COMSATS University Islamabad (CUI), as well as COMSATS' International Thematic Research Groups (ITRGs). Other matters discussed during the meeting included potential collaboration and institution building in higher education sector, capacity building of scientists and researchers through focused trainings, exchange of faculty and students, etc.
The High Commissioner was presented a Shield as well as COMSATS' publications by the Executive Director COMSATS.