A four-member delegation of COMSATS headed by Dr. S. M. Junaid Zaidi, Executive Director COMSATS, and comprising of Mr. Tajammul Hussain, Advisor (Programmes); Dr. Kamran Jahangir, Advisor (TAC); and Mr. Farhan Ansari, Senior Assistant Director (Programmes) visited the International Centre for Genetic Engineering and Biotechnology (ICGEB) Headquarters, Trieste, Italy on 16th November 2017 and held a meeting with ICGEB Scientific Coordinator, Dr. Lawrence Banks and other senior officials / scientists of ICGEB. The visit was paid with the purpose to identify and establish possible joint initiatives in light of the MoU in place between the two organizations since 2009.
After a brief introduction of the host group, Dr. Banks apprised COMSATS' delegates about the activities of ICGEB and its six main instruments of action viz. Research; Long- and Short-Term Fellowships; Annual Meetings and Courses; Competitive grants; Technology Transfer; and Scientific and Advisory Services. During his presentation, Dr. Banks informed that the Centre comprises of almost fifty (50) active groups which are conducting research in six (06) macro-areas. Dr. Banks also mentioned the fellowships awarded by ICGEB to twenty eight (28) scientists from COMSATS Member States in the year 2016.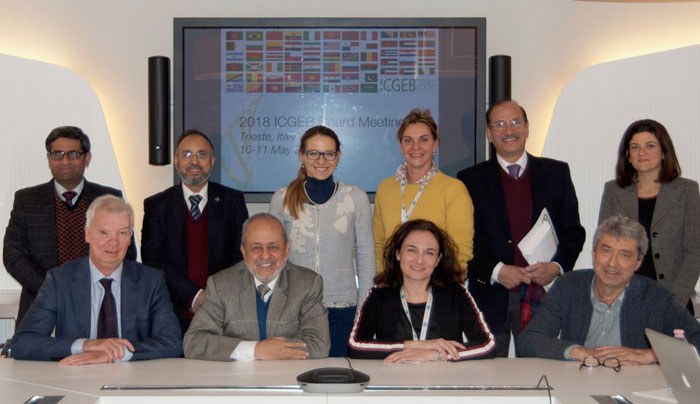 Subsequently, Dr. S.M. Junaid Zaidi, Executive Director, COMSATS acquainted the officials of ICGEB with mandate and mission of COMSATS, its statutory bodies, Member Countries and its Network of International S&T Centres of Excellence as well as COMSATS' flagship projects. Dr. Zaidi noted that COMSATS, an intergovernmental organization (IGO) like ICGEB, has the patronage of Government of Pakistan. He indicated that COMSATS in its capacity has organized 255 scientific events since 1997 and signed 56 MOUs with Ministries, Governments, other IGOs and academic institutions. He indicated that COMSATS aspires to expand its Network and extend its outreach in pursuit of South-North-South triangular cooperation. Dr. Zaidi also solicited technical support from ICGEB for setting up of high quality biotechnology institutes in COMSATS' Member States.
In her presentation, Dr. Martina Viviani, Head, Fundraising, Technology Transfer & Innovation, ICGEB briefed about the biotechnology and technology transfer activities in Trieste, New Delhi and Cape Town, the three components of ICGEB. Dr. Viviani talked about the health bio-economy production lines pursued by the Centre, including bio-similars (new age biopharmaceuticals), diagnostic kits and recombinant vaccines, including one against Dengue currently being developed. The future plans for development in biosimilars by the Group in Trieste and their model for the transfer of know-how to industries were elucidated by Dr. Natasa Skoko, Research Scientist, Biotechnology Development. Ms. Suzanne Kerbavcic, Head, Communications & Outreach, External Relations noted with satisfaction that ICGEB and COMSATS share 16 Member States and that ICGEB has recently pursued membership with six (06) non-ICGEB Member States. She informed that ICGEB shall finalize membership with Ghana, whose President is also the Chairperson of COMSATS, and sought COMSATS' support in this regard.
After meaningful discussions and deliberation between the two sides, proposition was made to set up centres of excellence in COMSATS Member States akin to ICGEB Regional Research Centre (RRC) initiative. The participation of scientists from ICGEB in COMSATS' International Thematic Research Group (ITRG) on 'Agriculture, Food Security and Biotechnology' and ITRG on 'Renewable Energy' was highly encouraged by COMSATS' officials. The two sides agreed upon the initiation of Joint Fellowship Programmes in respective Member States. Besides, it was consented that the calendar of scientific events and annual meetings shall be shared between the two Organizations and sponsorship and/or travel grants shall be provided to scientists belonging to common Member States. The congregation also nominated reference personnel to pin down areas for collaboration and possibilities for joint programmes and agreements as well as to pursue the initiatives taken in this regard.
The meeting concluded with a pledge to facilitate collaboration between COMSATS and ICGEB for achieving the common objective of socio-economic development in developing countries through the judicious use of science and technology.