Prof. Jibin Sun, Deputy Director General of COMSATS Centre of Excellence in China, i.e., Tianjin Institute of Industrial Biotechnology (TIB), visited Pakistan, from 11th – 15th September 2019. During his visit, Prof. Sun held detailed meetings with a view to cultivate and foster cooperation with TIB's counterparts in Pakistan for the benefit of COMSATS' Network and Member States.
On 11th September, Prof. Jibin accompanied by Dr. S. M. Junaid Zaidi, E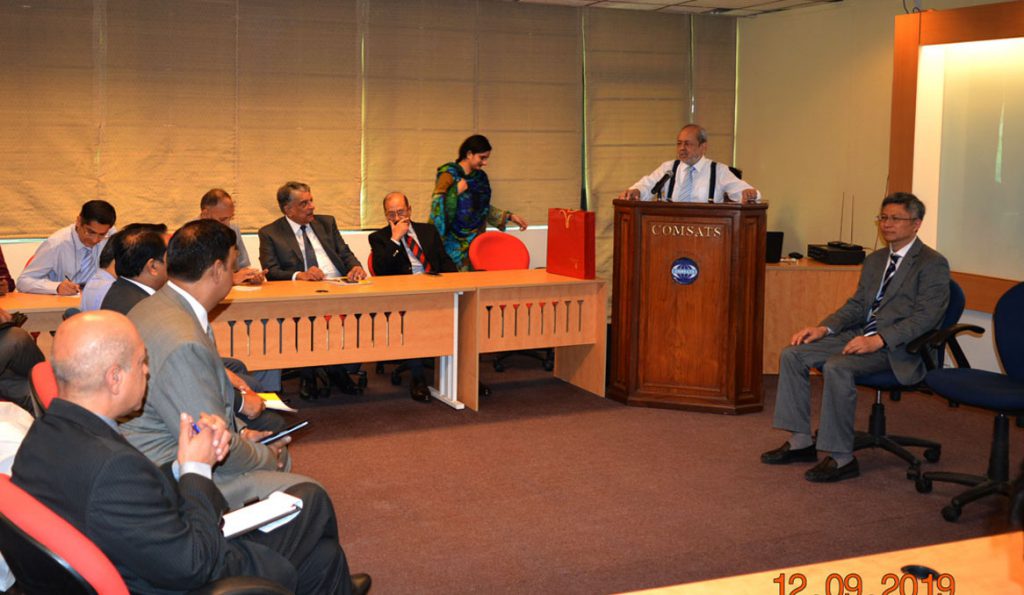 xecutive Director COMSATS and COMSATS' officials met with H.E. Mr. Chaudhry Fawad Hussain, Federal Minister for Science and Technology, Government of Pakistan. During the meeting, the two sides discussed the possibility of establishing an S&T Park for Biotechnology/ Herbal Plants in Pakistan. Possibilities to seed bilateral cooperation between TIB and academic institutes in Pakistan, establishment of R&D laboratories through joint collaboration as well as training of scientific and technical human resource, were explored during the meeting. The Honourable Minister expressed desire to benefit from TIB's expertise in the production of bio-degradable plastics. He was of the view that such technology is the need of the hour in Pakistan which has resolved to reduce plastic usage in the country.
Following the meeting with the Minister, Prof. Jibin Sun visited COMSAT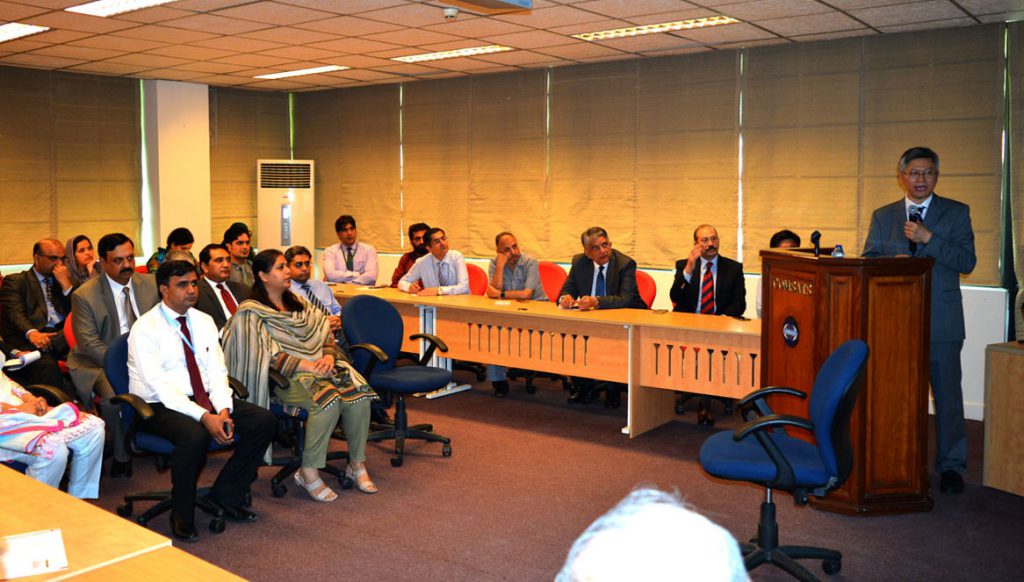 S University Islamabad (CUI), COMSATS Centre of Excellence in Pakistan, and held discussions with the senior faculty members of the various department of the University. Some common areas for bilateral cooperation identified during the discussions were: joint R&D projects, fellowships/scholarships, and faculty exchanges. An important highlight of Prof. Sun's visit to CUI is the signing of a Document of Understanding (DoU) between the two sides. The Document signed by Prof. Sun and Dr. Fahim Qureshi, Registrar CUI, on behalf of their Institutions, aims to enhance cooperation in the field of Industrial Biotechnology. Subsequent to the signing, Prof. Sun was shown around various laboratories of the university's Biosciences department.
Later during the day, Prof. Sun visited National University of Medical Sciences (NUMS), Rawalpindi, and held a meeting with the University's Vice Chancellor, Syed Muhammad Imran Majeed and other senior officials. Some areas of mutual interest indicated during the meeting were: biodegradable plastics, herbal medicines and pharmaceuticals.
On September 12, Prof. Jibin Sun visited COMSATS Secretariat and deliv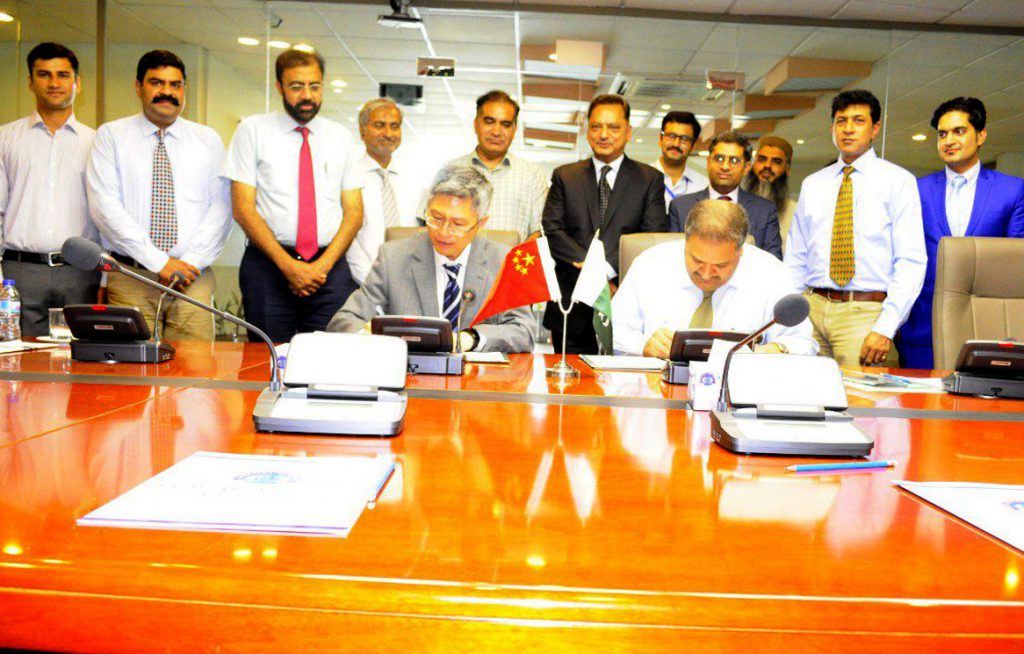 ered a talk in connection with the United Nations South-South Cooperation Day. He underscored the importance of South-South Cooperation for achieving excellence in science, technology and innovation. During his talk, Prof. Sun introduced means through which Industrial Biotechnology could help achieve United Nations Sustainable Development Goals, in particular, Goal 1, 2, 3, 7, 9, 11, 13 and 17.
Prof. Sun informed that TIB is producing value-added products for health, energy, food, and environment sector in a sustainable and cost effective manner. He elucidated the ways in which three dimensional R&D organization model is facilitating TIB's mission of achieving biotechnological innovation system for the promotion of eco-friendly development of industrial sectors. He mentioned that TIB, which is ranked among top 10 CAS institutes in terms of technology transfer, has forged collaboration with 170 companies for technology transfer.
Further, Prof. Sun informed that TIB is setting-up a National Technology I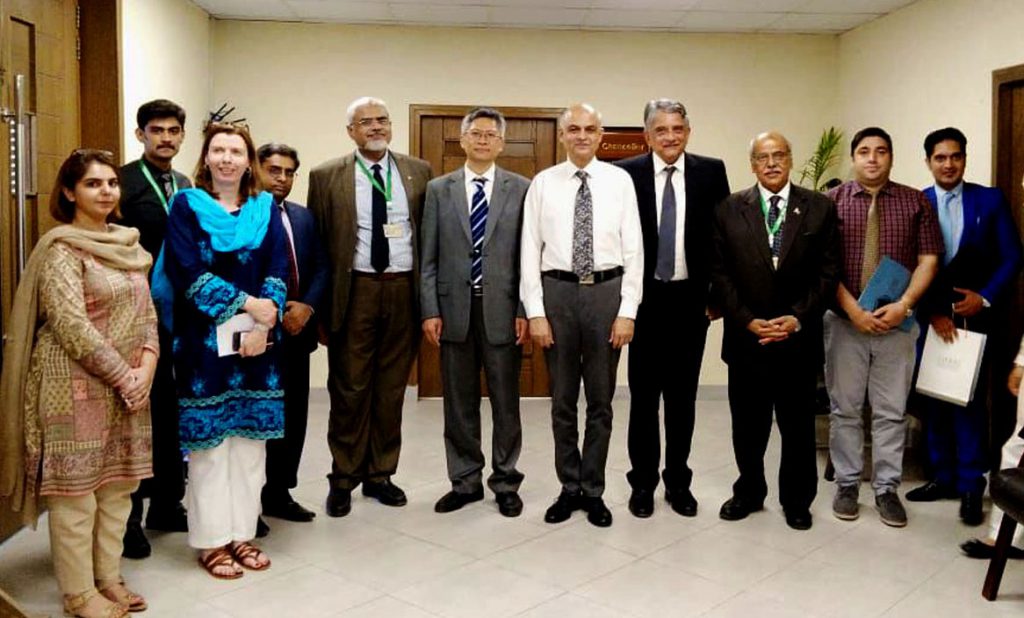 nnovation Centre for Synthetic Biology that will serve as a comprehensive, integrated and open-access platform to boost the development of disruptive technologies in synthetic biology for material synthesis, energy supply, intelligent healthcare and environment protection.
Subsequent to his talk, Prof. Sun held a detailed meeting with COMSATS' officials during which the particulars of joint centre for synthetic biology for COMSATS Member States were deliberated upon. Prospects for collaboration with other Centres of Excellence in technology transfer were also explored. Furthermore, in connection with COMSATS' Silver Jubilee, Prof. Sun agreed to hold an event jointly with the other COMSATS' Centre of Excellence in China, i.e., International Centre for Climate and Environment Sciences (ICCES).