Tianjin Institute of Industrial Biotechnology (TIB), COMSATS, and Alliance of International Science Organization (ANSO) organized a 2-day International Forum on Innovative Development of Biomanufacturing in Tianjin, China on 9-10 Nov. 2023 from the platform of COMSATS Joint Centre for Industrial Biotechnology (CCIB).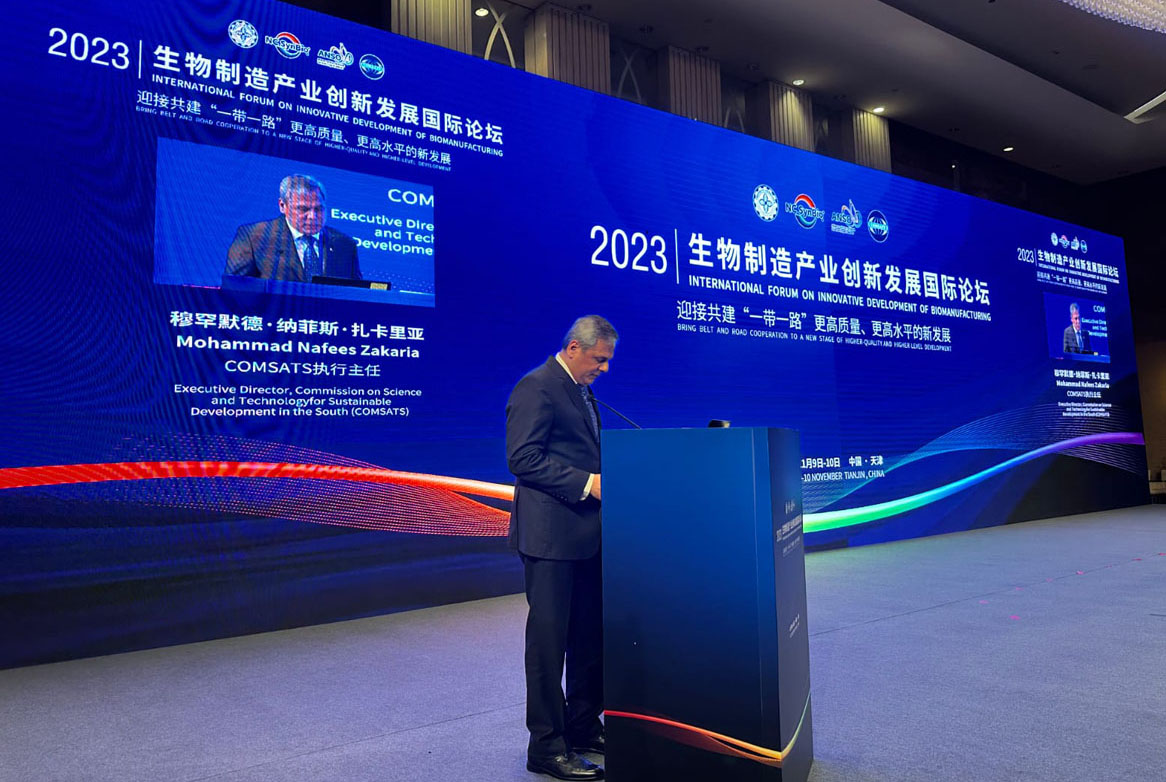 The importance of international cooperation for developing innovation and tech based biomanufacturing and Belt & Road Initiative's sentiment of shared future are at the centre stage.
Executive Director COMSATS, Ambassador Dr. Mohammad Nafees Zakaria, in his remarks at the opening ceremony, underlined cross border ties for strengthening Biomanufacturing sector to addressing the multifaceted developmental challenges facing the humanity, like climate change, population growth, environmental degradation, emergence of diseases and pandemics. He said the collaboration will yield tangible outcomes in areas of healthcare, agriculture, and environmental sustainability.
Earlier in his welcome remarks, Prof. Yanhe Ma, Director General, TIB, expressed delight in collaborating with COMSATS. He noted that this collaboration led to the establishment of CCIB in 2021. The 10th anniversary of BRI that preceded the event, marked the prosperous industrial development of biomanufacturing sector in China. In order to facilitate R&D activities in the Member Countries, COMSATS and TIB signed the milestone agreement to launch 'China-COMSATS Belt and Road Joint Laboratory on
Industrial Biotechnology' on the occasion. These cooperative arrangements are in line with the goals set out by President Xi, Prof. Yanhe Ma noted.
Prof. Jinghua Cao, Executive Director, ANSO, expressed appreciation for Chinese Academy of Sciences, COMSATS and various other agencies and stakeholders for enabling ANSO to play its role in promoting practical ways in building scientific capacity.
Mr. Zhengyu Wang, Deputy Director of the International Cooperation Bureau, Chinese Academy of Sciences, thanked TIB and COMSATS for their good work done that is helping China achieve BRI objectives in line with national agenda of net zero carbon emission. He assured the Academy's continuous support to initiatives such as those outlined under BRST.
Ms. Rongfang Wang, Director General for International Cooperation, Ministry of Science and Technology of China, expressed satisfaction that TIB has been working closely with ANSO and COMSATS. She reassured her Ministry's strong support to the efforts and initiatives towards such a cooperation.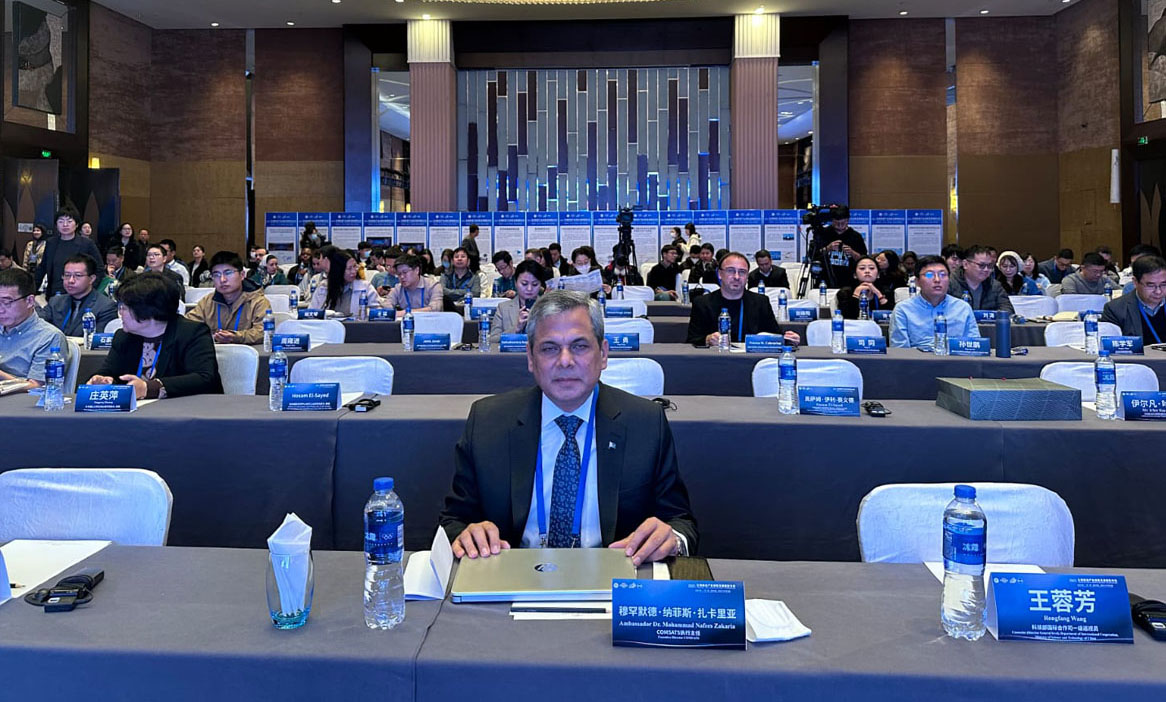 The Forum was attended by the policy makers, scientists particularly the young scientists, researchers, entrepreneurs, industry representatives, as well as representatives of local, national and international organizations, from COMSATS Member States.
During the plenary session, Amb. Zakaria made elaborate presentation on COMSATS' contributions to promoting international cooperation and shared his vision on policy guidelines.
The Chief Organizers informed the audience that the programs of COMSATS Joint Centre for Industrial Biotechnology (CCIB), that epitomized South-South cooperation, has also been duly recognized as 'Good Practice' by UNOSSC in its publications brought during Global South-South Development (GSSD) Expo 2022.
The experts' presentations focused on Biomanufacturing of Chemicals, Materials, Pharmaceuticals, enabling Technologies, Future Food, Natural Products and New Resources. A report on innovative development of biomanufacturing in COMSATS Member States was also presented during the event. On the sidelines of the Forum, 2nd Consultative Committee Meeting of CCIB was held that discussed the future directions for the Centre.