On August 31, 2012, Mr. M. Babür Hızlan, Ambassador of Turkey to Pakistan, and Dr. I.E. Qureshi, Executive Director COMSATS, signed an agreement on behalf of the Republic of Turkey and COMSATS, respectively, to induct Turkey as the 22nd Member State of COMSATS. The agreement will come into force after a notification is issued in this r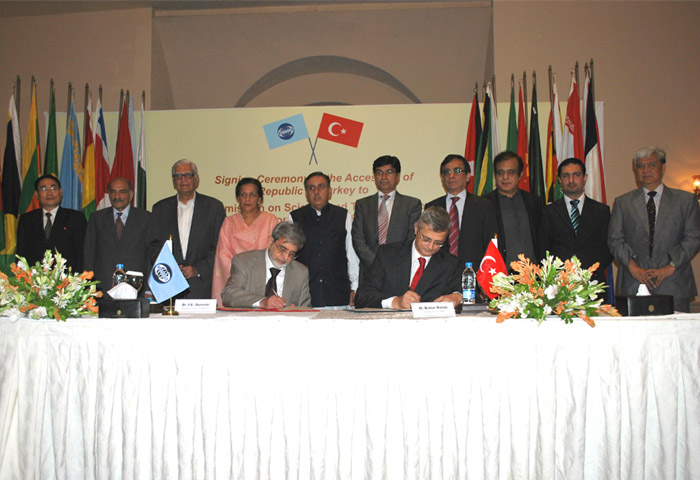 espect by the Government of Turkey. This Eurasian country has been associated with COMSATS since its inception through its Centre of Excellence, TÜBİTAK Marmara Research Center (MAM).
H.E. Mir Changez Khan Jamali, Federal Minister for Science & Technology, Government of Pakistan, graced the occasion as the Chief Guest. Expressing his views, Mr. Jamali opined that Turkey's membership will greatly benefit the programmes and activities of COMSATS and set an encouraging precedent for more countries to join the organization. He further noted, "Turkey's advancement in science, technology, innovation and industrial production will greatly benefit the South-South cooperation existing among the COMSATS' Member States and will greatly enrich the potential of the Member States to accelerate their pace of development".
In his Welcome Remarks, the Executive Director COMSATS stated that it is a matter of honour for COMSATS to have Turkey as a Member State. For Turkey, the excellent infrastructure and cooperation framework available through COMSATS is another door to reach out to a group of 21 developing countries across three continents.
Considering it a personal privilege to sign the accession agreement, Ambassador Hızlan showed Turkey's eagerness to contribute to South-South cooperation in S&T through the platform of COMSATS and expected mutually beneficial outcomes for both Turkey and COMSATS. "Turkey is ready to contribute to COMSATS and believes in the strength of this cooperation", pledged the Turkish Ambassador.
Speaking on the occasion, H.E. Ms. Shahnaz Wazir Ali, Special Assistant to t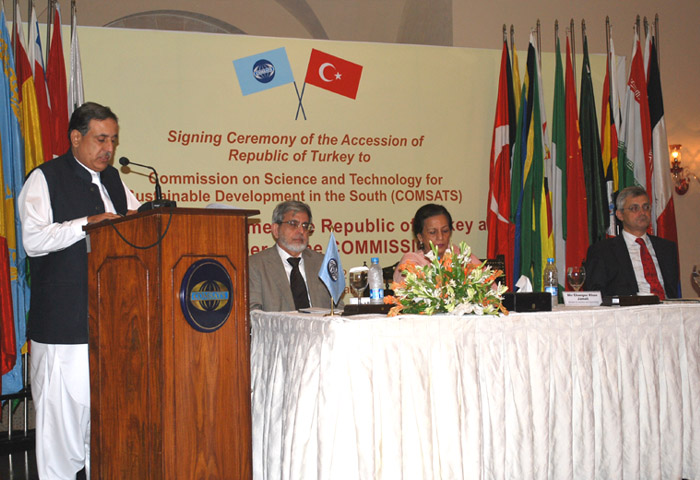 he Prime Minister on Social Sector, recalled her past and present association with COMSATS and considered it to be one of the most important forums through which Pakistan is extending help to other developing countries and in exchange benefitting from bilateral and multilateral cooperation. "Both Turkey and Pakistan", she believed "have an abiding interest in each other's progress and unwavering support for each other's policies."
Among other distinguished guests attending the ceremony were: Mr. Akhlaq Ahmad Tarar, Federal Secretary, Ministry of Science and Technology (MoST); Dr. Ishfaq Ahmad, Former Senior Advisor on Climate Change and Development at the Planning Commission of Pakistan; Dr. Javaid R. Laghari, Chairman Higher Education Commission of Pakistan and Coordinator General COMSTECH; and Dr. S. M. Junaid Zaidi, Rector COMSATS Institute of Information Technology (CIIT). In addition to the Ambassadors/High Commissioners of COMSATS' Member States and potential member states, the ceremony was attended by officials from MoST, Ministry of Foreign Affairs, COMSATS Secretariat, CIIT and COMSATS Internet Services.
In addition to the country's already existing participation in COMSATS' Coordinating Council, Turkey will be represented at the Heads-of-State level Commission and the ministerial-level Consultative Committee of COMSATS by virtue of its State membership. This will bring in a new perspective and added value, which would provide impetus for development initiatives and strengthen COMSATS' regional and international programmes. Moreover, Turkey could serve as a window for effective North-South cooperation as it has representation in regional and international organizations, such as UN, OECD, ICSU, ICGEB, ECO, IEA, KEİ, APSCO, and OIC; as well as various European research programmes, such as COST, ESF, ESA, EuroHORCS, EUREKA, and EMBC.