The Prime Minister of Pakistan, Syed Yousuf Raza Gilani received a presentation by the Executive Director COMSATS, Dr. Imtinan Elahi Qureshi, at the Prime Minister's Secretariat in Islamabad on 20th September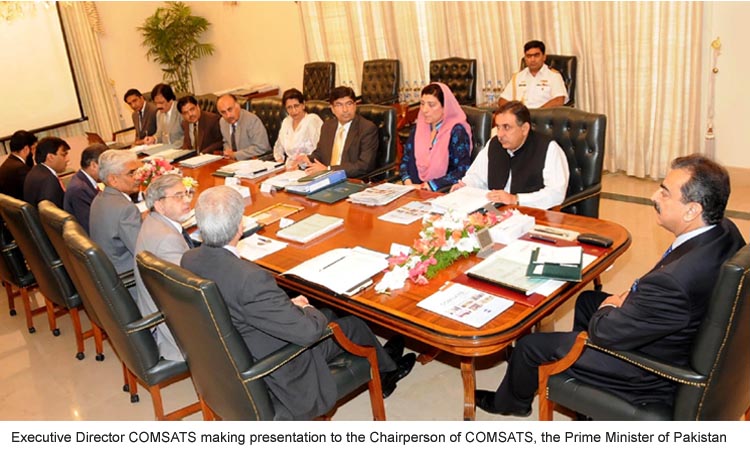 2011. Also present on the occasion were the Minister for Science and Technology, H.E. Mr. Changez Khan Jamali, Federal Secretary, Ministry of Science and Technology, Mr. Akhlaq Ahmed Tarar, Member National Assembly of Pakistan, Ms. Farzana Raja, Additional Secretary PM Secretariat, Mrs. Fauzia Sana, Dr. Haroon Rashid, Director External Campuses of COMSATS Institute of Information Technology (CIIT) and senior officers of the Ministry of Science and Technology.
The Executive Director highlighted the important role being played by COMSATS for the promotion of scientific cooperation among the developing countries. Giving an overview of COMSATS' recent initiatives, he elaborated the mechanism of Thematic Research Groups adopted by COMSATS, whereby researchers belonging to different R&D institutions in COMSATS Member States undertake joint research work on specific topics under the directions of group leaders based in lead countries. Among the capacity building programmes, the Executive Director cited the example of 'Internet Security Workshop' held in July 2011 in Damascus, in which more than 80 relevant participants, mostly from Syria, benefited from state-of-the-art lectures and training modules.
The Prime Minister was also informed about the phenomenal success of COMSAT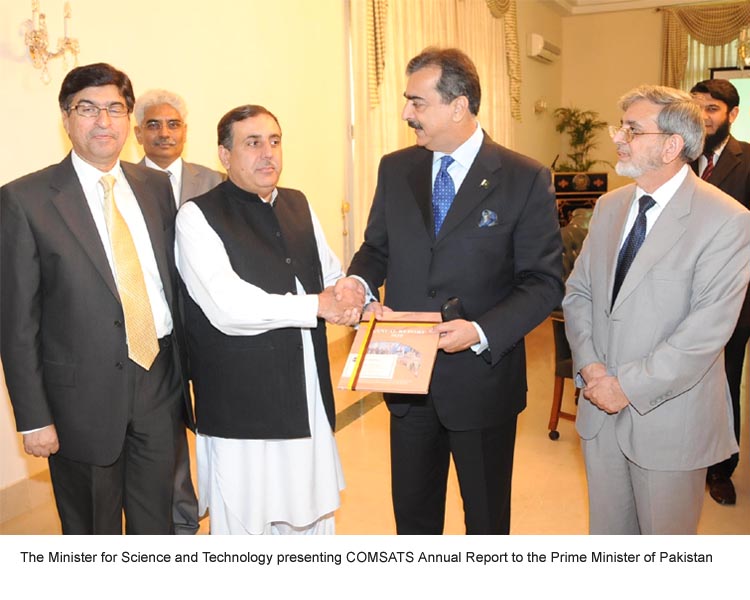 S Institute of Information Technology, where more than 18000 students are enrolled in 53 degree programmes. The Prime Minister was kind enough to accept the invitation to inaugurate the new Campus of CIIT in Islamabad. He assured that the financial problems of the Institute will be solved in spite of severe constraints faced by the Govt. of Pakistan.
The Prime Minister appreciated COMSATS' international role and gave his consent to hold the COMSATS Commission meeting in 2012 at the level of Ministers of Science and Technology of Member States. In spite of a generous grant of Rs. 40 M (~ $ 0.5 M) being disbursed to COMSATS on annual basis by the Govt. of Pakistan, he directed the Ministry of Science and Technology to provide an extra $ 20,000/- per year for COMSATS scientific programmes.