On 23rd Feb., 2009, The Prime Minister of the Islamic Republic of Pakistan, Mr. Syed Yousaf Raza Gilani, in his capacity as the Chairperson of COMSATS, rece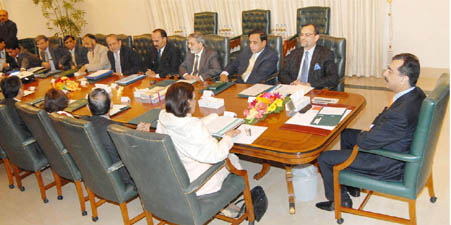 ived a briefing in the P.M. House on the programmes of this organization in Pakistan and abroad. The Executive Director COMSATS, Dr. Imtinan Elahi Qureshi, highlighted the contributions of COMSATS as a think-tank addressing the role of S&T in national and regional development plans; as an advocacy forum for strengthening R&D institutions in the developing countries and making them responsive to national needs; and as a facilitator of South-South cooperation in S&T through exchange visits and training programmes.
The organization has an impressive record of institution-building, since two of its flagship projects, the COMSATS Institute of Information Technology (CIIT) and COMSATS Internet Services (CIS) are well-known all over Pakistan. The Rector CIIT, Dr. S.M. Junaid Zaidi apprised the P.M. about the phenomenal growth of this Institution from one campus with 300 students in 2000 to 6 campuses with 14000 students at present, while maintaining high standards of education.
The Prime Minister appreciated that the organization has the capacity to build international scientific collaborations among developing countries. He pledged the support of his Government to enhance the role and effectiveness of this important platform. The P.M. directed the relevant departments and ministries of Pakistan to extend help to COMSATS in fulfilling its international obligations and implementing national initiatives.
The meeting was attended by: Mr. Muhammad Azam Khan Swati, Minister for Science and Technology; Begum Shahnaz Wazir Ali, Special Assistant to the Prime Minister on Social Sector; Dr. Samar Mubarakmand, Member (Science & Technology), Planning Commission; and other high officials of the Ministries of Science & Technology, Foreign Affairs, and Finance.