On March 3, 2015, a meeting was held between the Executive Director COMSAT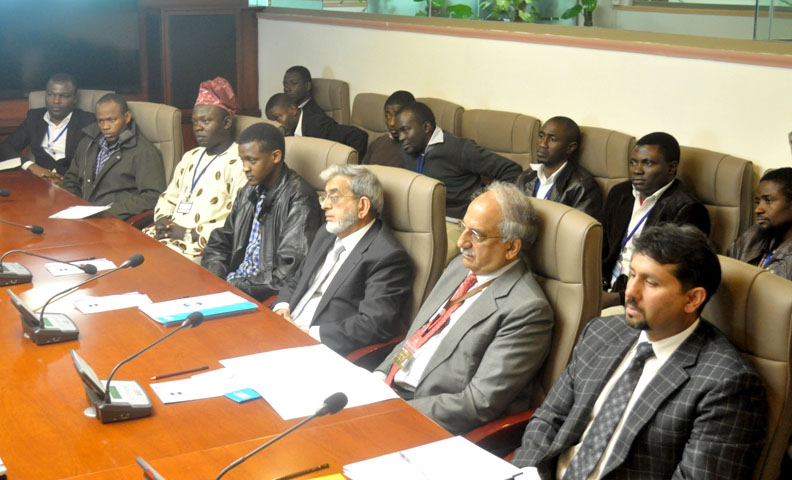 S, Dr. I. E. Qureshi and the High Commissioner of the Federal Republic of Nigeria to Pakistan, H.E. Mr. Dauda Danladi, at the Islamabad campus of COMSATS Institute of Information Technology (CIIT). Mr. Danladi was accompanied by senior officials of the Nigerian High Commission, while besides Dr. Qureshi, COMSATS delegation comprised of Advisor Programmes, Mr. Tajammul Hussain, and Director (International Affairs), Dr. Majid Khan. Also in attendance were senior officials of CIIT's International Office, including Dr. Arshad Saleem Malik (Head), Dr. Abdul Aziz Khan (Advisor), Dr. Tariq-ur-Rahman (Advisor), as well as the representatives of the departments of Electrical Engineering, Computer Science and Physics. Additionally, fourteen Nigerian students pursuing their post-graduate studies at CIIT were also present.
After a formal welcome to the Nigerian High Commissioner, Dr. Qureshi gave a brief introduction of COMSATS. He informed the High Commissioner about COMSATS' international programmes and activities conducted through a network of 19 Centres of Excellence, predominantly from its 21 Member States. The joint research activities being conducted by COMSATS International Thematic Research Groups (ITRGs), which are clusters of some of COMSATS' Centres of Excellence and scientific institutions from other developing countries, were highlighted. It was informed that four of these Groups are active in the area of Information and Communication Technologies (ICTs); Natural Products Sciences; Climate Change and Environmental Protection; and Mathematical Modeling.
While overviewing the previous and ongoing collaboration between COMSATS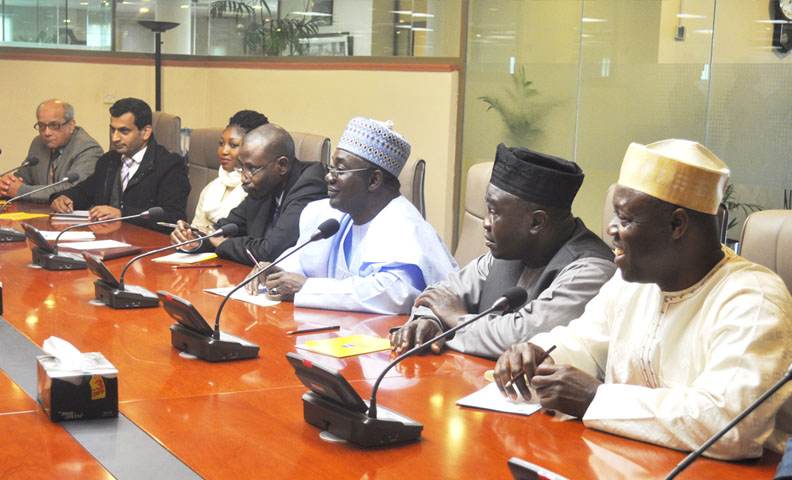 and its Centre of Excellence in Nigeria, the National Mathematical Centre (NMC), the Executive Director shared that NMC is leading the COMSATS' ITRG on 'Mathematical Modeling', which was formally launched during its foundation meeting held on December 02, 2014, in Abuja, Nigeria. It was informed that the Group is conducting joint research for assessing the impacts of air and water pollution and proposing their remedies. It was noted that NMC is regularly represented during the annual meetings of COMSATS Coordinating Council, and has also hosted the 12th meeting of COMSATS Coordinating Council and 1st meeting of COMSATS Consultative Committee in April 2009 in Abuja. The Executive Director also recounted COMSATS' support extended to the scientific community of Nigeria over the years in various forms, including travel grants to five Nigerian scientists for facilitating their participation in capacity-building meetings; organization of two capacity-building events in Nigeria, as well as awarding of postgraduate scholarships to fourteen Nigerian students at CIIT (Pakistan), in addition to supporting them with travel grants.
After the briefing by the Executive Director COMSAST, the Nigerian High Commissioner expressed his personal gratitude to Dr. Qureshi for inviting him to visit the Institute that allowed him to meet the Nigerian students pursuing post-graduate studies mostly in the field of Mathematics. During the course of discussion, H.E. Mr. Danladi requested if COMSATS could assist Nigeria with the tools and equipment that could be utilized to detect and treat viruses, such as Ebola, that played havoc in West Africa. Moreover, he added if CIIT, with the help of its researchers, could identify possible solutions for bringing down pollution levels in Nigerian cities, such as Lagos. He shared some of the other common challenges being faced by the developing world, including energy crisis, and urged for finding a permanent solution through research and technology.
With regard to the environmental concerns of his country expressed by the Nigerian High Commissioner, Dr. Qureshi apprised him about the research work being done by COMSATS International Thematic Research Group on 'Climate Change and Environmental Protection'. He also informed the Nigerian officials about the meaningful research work of the Institute's Departments of Pharmaceutical sciences; Bio sciences; and Center for Micro and Nano Devices and; and their search for solutions to address developmental challenges faced by COMSATS' Member States. It was also noted that according to the Higher Education Commission (HEC) of Pakistan, CIIT ranks top most in terms of 'Research Productivity' among the Pakistani universities. Endorsing the ideas of the High Commissioner for further collaboration on S&T among the developing countries, Dr. Qureshi quoted the example of the cooperation between Sri Lankan and Pakistani institutions for dealing with Dengue, an epidemic that badly affected Pakistan during recent years.
| | | |
| --- | --- | --- |
| | | |
In continuation with his remarks, the High Commissioner appreciated the quality of post-graduate education the Nigerian students are receiving at CIIT. He requested if COMSATS could explore the possibility of providing educational opportunities to undergraduate students of Nigeria. The Executive Director noted that bilateral agreements between the governments of Pakistan and Nigeria may help work out special arrangements for Nigerian students to study at CIIT and other higher education institutions of Pakistan, in various fields, including medicine and engineering.
On the matter related to the Annual Membership Contribution (AMC) of the Member Countries towards COMSATS, Dr. Qureshi informed that these contributions are voluntary in nature and are used as trust fund for the contributing country. The High Commissioner was also informed about the correspondence made with the relevant government institutions of Nigeria to invite AMC. Mr. Danladi pledged to pursue the matter with the relevant Nigerian officials, and also to encourage them to visit COMSATS Secretariat and CIIT.
The meeting ended on a note of understanding for more cooperative measures between COMSATS and Nigerian institutions.