The Executive Director COMSATS called on H.E. Dr. Joe Oteng-Adjei, FGhIE, Minister f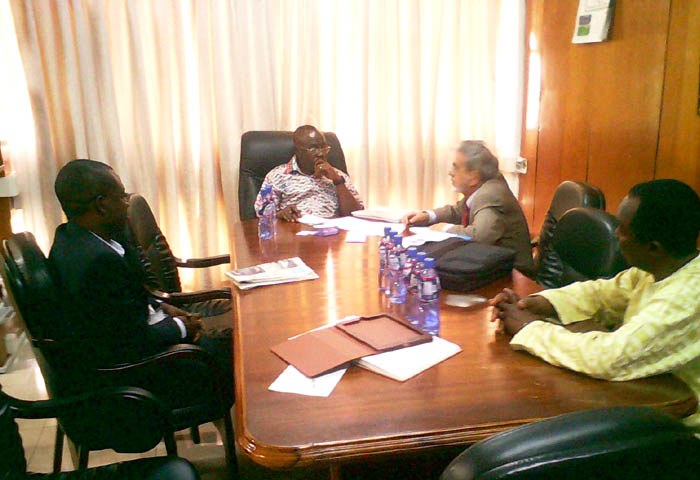 or Environment, Science, Technology and Innovation, Government of Ghana, in his office in Accra to discuss the on-going and future programmes of COMSATS with special reference to Ghana's participation. The meeting held on 3rd May 2013 was attended by the Director of one of the research Institutes under the Ghana's Council for Scientific and Industrial Research (CSIR), Dr. Eugene Atiemo, representing Director General CSIR and the outgoing Director for Science, Technology and Innovation, Dr. Benony Komla Kortatsi.
While thanking the honourable Minister for hosting the meetings of COMSATS' two major organs, consecutively on 1-3 May 2013 in Accra, he emphasized the need for Ghana to exercise its leadership as the Chair of COMSATS and entrust COMSATS Secretariat to achieve specific targets of S&T cooperation in Member Countries, especially in Africa.
The Executive Director further informed the honourable Minister that 14 Member States were represented in the meeting of COMSATS Consultative Committee held on 1st May, whereas 12 Centres of Excellence participated in the Coordinating Council meeting on 2-3 May 2013.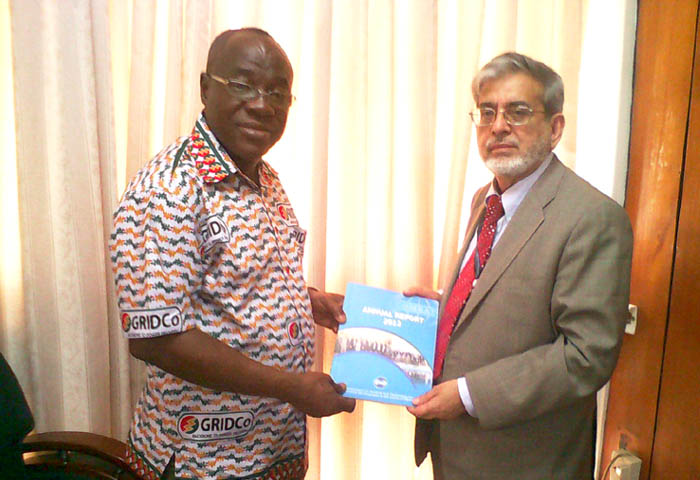 The representative of 2 prospective Centres also presented the profiles of their Centres as part of the induction process in the Network.
The Minister welcomed the Executive Director and expressed his delight at the presence of high-level officials and eminent scientists in Accra. While regretting his inability to be present in the joint opening ceremony of the meetings, he assured that the contents of the message read out on his behalf in the ceremony were based on his personal commitment to support COMSATS' activities in Ghana. He also expressed keen interest in the International Thematic Research Groups of COMSATS and the educational facilities offered to the students of COMSATS Member Countries at COMSATS Institute of Information Technology, Islamabad.
Among other matters that were agreed upon, during the meeting included:
| | |
| --- | --- |
| (i) | Preparations for a meeting of COMSATS' officials with the Chairperson COMSATS; |
| (ii) | Closer contacts with COMSATS Secretariat through the office of the relevant Deputy Minister in the Ministry of Environment, Science, Technology and Innovation (MESTI), Ghana; |
| (iii) | Consideration of setting up video-conferencing link between MESTI and COMSATS Headquarters; |
| (iv) | Review of the possibility of launching the Thematic Group on "Construction Materials" under the Lead Centre, Building and Road Research Institute, Ghana; |
| (v) | Exploring the possibility of sending an officer of MESTI on secondment in COMSATS Secretariat; |
| (vi) | Placement of Ghanaian students in the graduate studies programme of COMSATS Institute of Information Technology. |
At the end of the meeting, the Executive Director presented COMSATS Annual Report 2012 and COMSATS Shield to the honourable Minister.