On July 21, 2011, Mr. Akhlaq Ahmad Tarar, Federal Secretary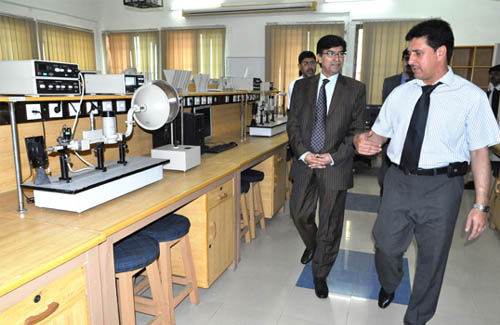 , Ministry of Science and Technology (MoST), Government of Pakistan, visited COMSATS Institute of Information Technology (CIIT), Islamabad, to attend a briefing on CIIT's role as a higher education institute in Pakistan, evaluate the research and teaching facilities available at the Institute, and to hold meetings with the senior officials of CIIT, COMSATS Internet Services (CIS) and their parent organization, COMSATS. Mr. Tarar has recently succeeded Mr. Irfan Nadeem as the Federal Secretary MoST and, by virtue of his designation, has also become the Chairperson of Consultative Committee that comprises of COMSATS' Focal Points in 21 member countries.
The Rector CIIT, Dr. S. M. Junaid Zaidi, made a detailed presentation elucidating the infrastructure and performance of the Institute during the recent years. Facts and figures were shared viz. the faculty, student-enrollment, academic programmes, number of graduates produced, research-paper productivity and linkages with national and international organizations, etc. It was observed that CIIT, currently, has a total strength of 18,700 students and 1,745 faculty members, and offers 53 academic programmes. CIIT's Vision 2020 and a dual-degree programme with the Lancaster University, UK, were also highlighted. The Federal Secretary was informed that CIIT stands 6th in research ranking amongst 128 Universities of Pakistan. It was noted that CIIT has completed 26 development projects worth of PKR 1,826 M, and has 6 on-going projects worth of PKR 6,000 M. The Federal Secretary was also informed about the recent visit of the British Prime Minister, David Cameron, to CIIT-Islamabad. He was also shown around the research facilities available at different research centres and laboratories of the Institute.
The Federal Secretary later met the Executive Director COMSAT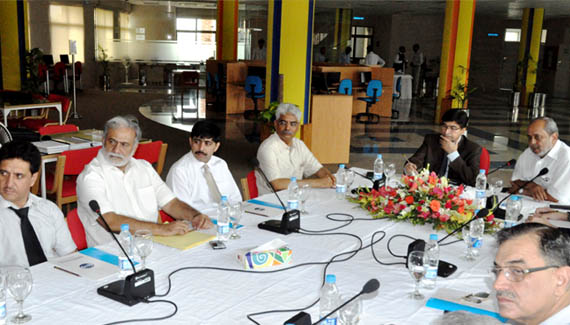 S, Dr. I. E. Qureshi, who made a detailed presentation on COMSATS' mission & objectives, working scope, organizational structure, and on-going projects and programmes, as an inter-governmental organization. The Federal Secretary was further apprised about the deliberations and outcomes of the 14th meeting of COMSATS Coordinating Council, recently held in Bogotá-Colombia, and Dr. Qureshi's recent visits to Colombia, Brazil and Turkey. In his capacity as the Chairman Board of Governors CIIT and the Board of Management CIS, Dr. Qureshi shared with the Federal Secretary some issues and challenges being faced by these institutions.
The Federal Secretary was appreciative of the effective role being played by CIIT in providing quality higher education in Pakistan as well as its international linkages, faculty and student-exchange, and offer of graduate and post-graduate scholarships made to the students of other developing countries.