Upon invitation from Dr. S.M. Junaid Zaidi, the Executive Director COMSATS, the High Commissioner of Republic of Kenya to Pakistan, H. E. Prof. Julius K. Bitok, paid a visit to COMSATS Secretariat, on 27th September 2017. His Excellency was accompanied by Abdikadir Doyo Wario, Second Counselor at the Kenyan High Commission. The meeting was also attended by Ms. Tehmina Doultana, Member National Assembly, Pakistan and senior officials of COMSATS.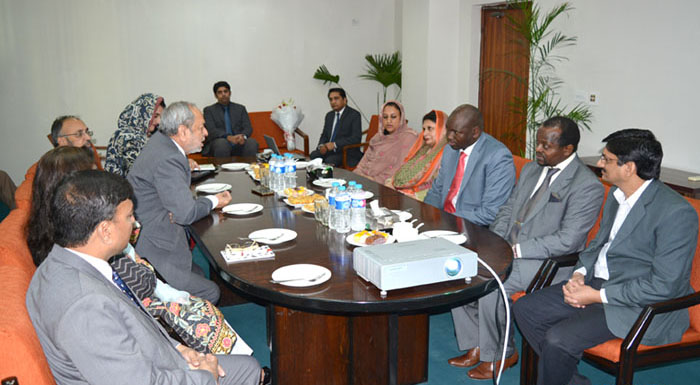 Welcoming the High Commissioner, Dr. Zaidi introduced COMSATS as an organization of 25 countries connected for the South-South Cooperation. The High Commissioner was informed that the Secretariat of the organization permanently stands in Islamabad, Pakistan, and the Government of Pakistan provides the expenses for Secretariat, while the member states make a voluntary Annual Membership Contribution (AMC) for various technical programmes.
Dr. Zaidi highlighted the role of COMSATS Network of Centres of Excellence in South-South Cooperation. He mentioned that some of these Centres also offer different scholarships to the students of the member states. He informed the High Commissioner about COMSATS organizational structure with the President of Ghana as Chairperson. The mandate and activities of COMSATS statutory bodies were also described. He also informed the High Commissioner about the Technical Advisory Committee of COMSATS comprising of ten experts that provide technical inputs and recommendations for programmes of COMSATS.
COMSATS Institute of Information Technology (CIIT); COMSATS Internet Services, and COMSATS tele-health were presented as the organization's flagship projects in the Host country that can be emulated in other countries. The ITRGs, he noted are the COMSATS International Thematic Research Groups for the collaborative research in key areas. These groups are led by scientists from COMSATS Centres of Excellence, and are currently undertaking research in key areas for socio economic development, such as: e-Solutions for Community Using Low-cost Wi-Fi; Drug Discovery from Nature for Neglected Diseases; Air and Water Pollution: Effects and Remedies; Extreme Climate Events under the Climate Change Background; Biotechnological Approaches to Improve some Wheat Lines Productivity under Biotic and Abiotic Stresses.
The Ambassador was informed that the 21 Centres of Excellence of COMSATS are Research and Development, and higher education institutions in developing countries working together for mutual benefits. Scientists and researchers are exchanged between these organizations for capacity building. Dr. Zaidi further informed that COMSATS has conducted more than 250 capacity building events in collaboration with different international organizations.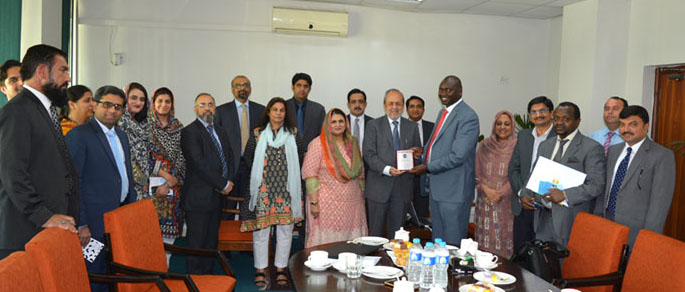 The High Commissioner thanked Dr. Zaidi for his presentation and expressed that cooperation among the countries of the South through the Commission is an interesting idea. He called Kenya an engine of east and central Africa and showed interest in having it as a part of the Commission. He pledged to take up the matter with concerned departments in Nairobi for further consultation. The High Commissioner pledged his support for South-South cooperation.
Also present during the meeting was Ms. Farhat Asif, President Institute of Peace and Diplomatic Studies (IPD). She noted that Kenya is an emerging country in both research as well as education. Agreeing with the special importance of Kenya in Africa, she endorsed that Nairobi is a gateway to East and Central Africa. She opined that under the guidance of the Kenyan Ministry of Science and Technology, the country has made a lot of progress in Science and Technology. She also highlighted the country's focus on building polytechnic capacity through equipping its youth with relevant technological skills.
His Excellency noted COMSATS' potential for sharing knowledge and helping Kenya overcome the challenges in achieving science and technology excellence. Dr. Zaidi showed his intent to send a letter to the Kenyan Ministry of Science and Technology with regard to accession of Kenya as a COMSATS Member state.
The meeting ended on a note of cooperation for Science and Technology led South-South Cooperation.