On 29th December 2017, the High Commissioner of Pakistan to Australia, Her Excellency Mrs. Naela Chohan, visited COMSATS Secretariat to hold a meeting with Executive Director COMSATS, Dr. S. M. Junaid Zaidi. The meeting was also attended by the officials of COMSATS Secretariat and Institute of Peace and Diplomatic Studies.
The agenda of the meeting included a brief presentation introducing COMSATS followed by a discussion session. Dr. Zaidi introduced COMSATS as an idea of Dr. Abdus Salam, the first noble laureate of Pakistan. He mentioned that COMSATS is an intergovernmental and international organization having 26 countries as its member states, and 21 research and development organizations comprising its Network of International S&T Centres of Excellence. He discussed COMSATS Institute of Information Technology, COMSATS Internet Services, and COMSATS Tele-Health project, as successful flagship projects of the organization.
The High Commissioner was very receptive of the presentation made by Dr. Zaidi and gave her inputs regarding possible collaborations with Australian universities and institutions, United Nations Sustainable Development Goals, scholarship programmes, and brain drain. She informed that Australian universities are keen to provide scholarships to Pakistani students because of their good conduct. COMSATS can collaborate with Australian universities for bilateral exchange programmes and scholarships for the students. She pledged to support COMSATS through her office. She also discussed the Memoranda of Understanding signed by CIIT and the Australian universities, which is considered a way forward for exchange of information and resources. Her Excellency pledged to facilitate implementation of the MoUs on the other side.
She expressed that Sustainable Development Goals are very important in view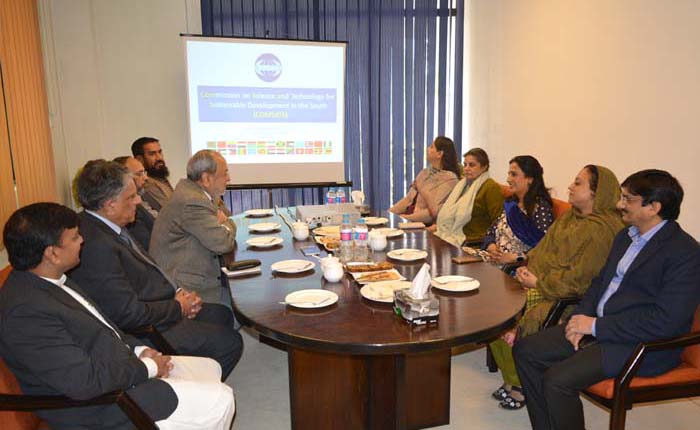 of their global nature of mutual interests. She mentioned that the idea of COMSATS to link stake holding countries and institutions up for achieving SDGs is commendable. She believed that the brain drain in developing countries could be reduced with the provision of increased resources.
She mentioned with pleasure that Pakistan has observer status in Pacific Island Development Forum (PIDF), which is an active agent of capacity building in the Pacific. The High Commissioner agreed to take a letter from the Executive Director COMSATS to PIDF mentioning the important areas of interests for collaborations between the two organizations. She also stated that an Australian student has come to Pakistan for pursuing his studies under the New Colombo plan.
The Executive Director COMSATS also discussed his idea for establishing a sports department or institute in Pakistan in collaboration with Australian institutes. Mrs. Chohan showed keen interest in the idea and mentioned that these kind of collaborative activities of socio-cultural bearing can be beneficial for both the COMSATS and Australia. She pledged her support for the activities and projects of COMSATS.