The fourth meeting of COMSATS' International Thematic Research Group (ITRG) on 'Climate Change and Environmental Protection' was held on May 16, 2015, at Industrial Technology Institute (ITI), Colombo, Sri Lanka, on the sidelines of the International Symposium on 'Impacts of Extreme Atmospheric Events on Geo-Surface in a Changing Climate' (May 14-15, 2015, Colombo, Sri Lanka).
The ITRG meeting was chaired by Prof. Zhaohui Lin, Director, International Center for Climate and Environment Sciences (ICCES), China (Group Leader), to review the progress of the joint research project being un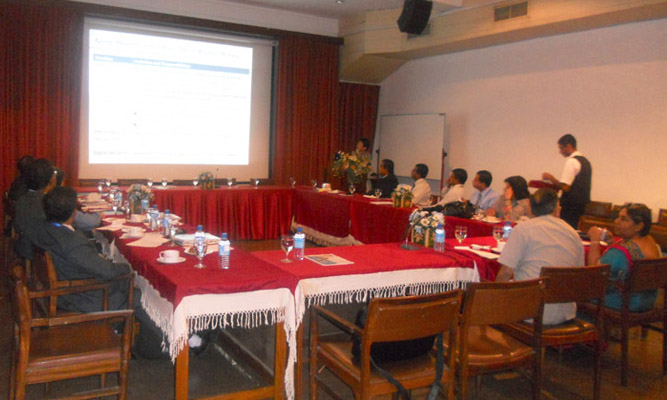 dertaken by its members entitled 'Characteristics and Mechanism of the Extreme Climate Events under the Climate Change Background'. The Group comprises of scientists and researchers from meteorological departments, scientific and research organizations, and higher education institutions of various developing countries. The meeting was attended by group members belonging to Bangladesh, China, Iran, Malaysia, Pakistan, Sri Lanka and Thailand.
Mr. Tajammul Hussain, Advisor (Programmes) COMSATS, in his opening remarks, overviewed the objectives of COMSATS' ITRGs approved during the 13th Coordinating Council Meeting (Italy, 2010). It was informed that these groups were constituted to undertake collaborative research for finding solutions to common problems of the developing countries. He also highlighted the facilitative role being played by COMSATS for the exchange of technical know-how and sharing of necessary laboratory resources among the Group members. Mr. Hussain thanked the Group Leader for his commitment to coordinate the research work of group members, as well as paid gratitude to ITI for hosting the fourth meeting of the group.
In his welcome address, Prof. Lin recalled the history, objectives, an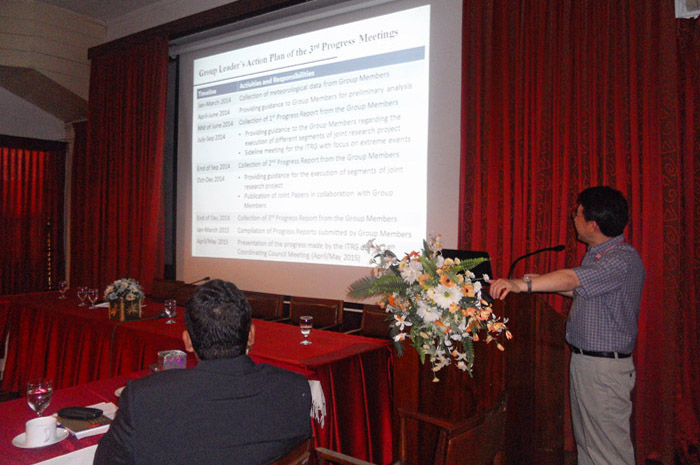 d technical contributions and achievements made by the members of the group. He shed light on the capacity building activities held under the umbrella of the group, including international workshops, short-term trainings, and post-graduate scholarships, some of which were executed with support from COMSATS Headquarters. Discussing the future course of action of the group, Prof. Lin proposed to divide the different components of the research project under several sub-groups having a coordinator and members from amongst the ITRG members. He informed that ICCES will continue supporting the capacity building of ITRG members in future as well, and invited the ITRG members to participate in the upcoming International Training Workshop on 'Land-hydrological Model System and Its Applications (3-12 September 2015, Beijing, China).
Dr. J.K.R.R. Samarasekara, Additional Director General (Research & Development), ITI, thanked the foreign participants of the meeting for sparing time and traveling long distances to discuss and solve the issues faced by the developing countries due to climate change. She assured of ITI's active participation in the activities of the group.
The group members attending the meeting included: Dr. Gorakanage Arosha Chandima Gomes, Associate Professor (Electrical Engineering), Department of Electrical & Electronics Engineering, Universiti Putra Malaysia, Malaysia; Dr. Shahina Tariq, Chairperson, Department of Meteorology, COMSATS Institute of Information Technology (CIIT), Pakistan; Mr. Warnage Ransisi Keerthi Fonseka, Principal Research Engineer, Industrial Technology Institute (ITI), Sri Lanka; Prof. Dr. G. M. Tarekul Islam, Institute of Water and Flood Management (IWFM) of Bangladesh University of Engineering and Technology (BUET), Bangladesh; Dr. Ali Akbar Noroozi, Soil Conservation & Watershed Management Research Institute, Iran; Mr. K.H.M.S. Premalal, Director, Research and Training, Department of Meteorology, Sri Lanka; Mr. Ruwan M. Weerasingha, Senior Deputy Director, Electro Technology Laboratory, Industrial Technology Institute, Sri Lanka; Dr. Senaka Basnayake, Head, Department of Climate Change and Climate Risk Management, Asian Disaster Preparedness Centre, Thailand; Dr. He Zhang, Institute of Atmospheric Physics, Chinese Academy of Sciences, China; and Prof. A.K.M. Saiful Islam, Institute of Water and Flood Management (IWFM), Bangladesh University of Engineering and Technology (BUET), Bangladesh. Mr. Tajammul Hussain, Advisor (Programmes) and Mr. Farhan Ansari, Sr. Assistant Director (Programmes) represented COMSATS Headquarters during the meeting as programme coordinators.
The participants of the meeting presented their progress reports and shared their c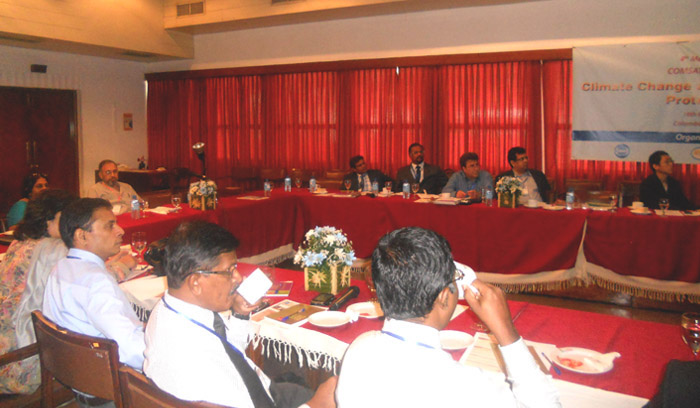 ountry-specific meteorological data. It was noted that a joint paper entitled 'Lightning incidents in Mongolia, Geomatics, Natural Hazards and Risk' (March 2015) has been jointly published by two ITRG members, Ms. Doljinsuren Myagmar (Mongolia) and Dr. Chandima Gomes (Malaysia). During the discussions on the joint research project, it was decided that the SAARC Meteorological Research Centre based in Dhaka will be requested to nominate its representative for participating in the activities of the group. The ITRG members agreed to prepare specific proposals based on their research expertise and national priorities to be submitted to relevant ministries and funding organizations in their respective countries, with support of COMSATS Headquarters.
The meeting created the following nine sub-groups and designated their respective coordinators and members, in order to effectively execute different components of the research project: (i) Dust Storms, (ii) Floods and Landslides, (iii) Droughts, (iv) Hydrological Extremes, (v) Thunderstorm and lightening, (vi) Cyclones and Storm surge, (vii) Air, Water and Land Pollution, (viii) Climate Modeling, and (ix) Risk Management. The meeting also finalized Work Plan and time-line for the activities of the afore-mentioned sub-groups during 2015-2016, which entails gathering the relevant meteorological data of collaborating countries; preliminary analysis of the data; execution of different segments of the joint research project; and publishing joint research papers based on their collaborative research findings through participation in the group activity. It was decided that the support provided by COMSATS Headquarters will be duly acknowledged in the research publications by the ITRG members.
The ITRG members expressed commitment to dedicatedly contribute towards the joint research project, and pledged to adhere to the responsibilities and timeline chalked out in the Work Plan.