Mr. Jia Wei, First Secretary (S&T), Embassy of China in Islamabad, visited COMSATS Headquarters on 12th June 2017, and held a meeting with Dr. S. M. Junaid Zaidi, Executive Director COMSATS. Mr. Tajammul Hussain, Advisor (Programmes) and Mr. Farhan Ansari, Sr. Assistant Director (Programmes) also attended the meeting.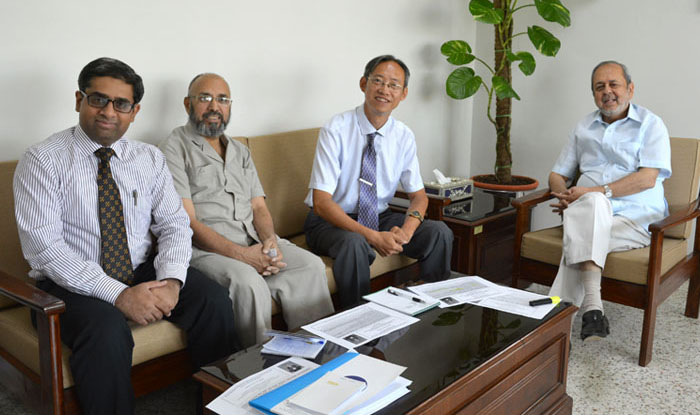 During the meeting, the Executive Director praised the Chinese R&D organizations and universities for their excellent research activities and achievements, and informed that COMSATS wishes to enhance collaboration with such organizations of China in various fields of science and technology. In this regard, the officials of the two organizations discussed avenues of COMSATS' collaboration with R&D organizations working under the Chinese Ministry of Science and Technology (MoST) as well as the Chinese Academy of Sciences (CAS). With regard to COMSATS' S&T collaboration with Chinese S&T organizations, it was agreed that the possibilities will be explored for benefitting from the funds available under the China-Pakistan Economic Corridor (CPEC). The potential areas of collaboration include: setting-up of joint laboratories and establishment of an S&T Park in Pakistan. COMSATS will also explore the possibility of inducting more Chinese R&D organizations in its Network of International S&T Centres of Excellence.
It was agreed that the afore-mentioned collaboration opportunities will be further discussed by the Executive Director COMSATS with the honourable Ambassador of China during a formal meeting. Moreover, the Executive Director also requested the Chinese Embassy to arrange a brief meeting with the honourable Minister for Science and Technology, Government of China, who is expected to visit Islamabad during the first half of July 2017.