COMSATS and the Islamic Educational, Scientific and Cultural Organization (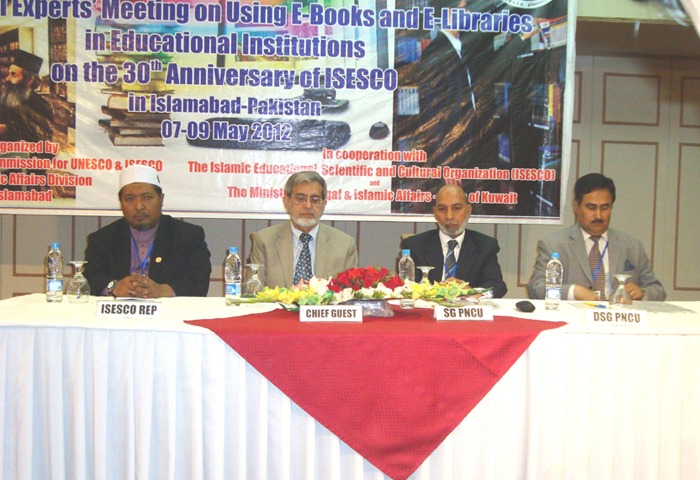 ISESCO) share a strong tradition of collaboration in S&T with each other and organizations with similar mandates. Since 2004, the two organizations have been collaborating for capacity-building and knowledge-sharing for socio-economic development of their Member States.
On May 7, 2012, the Executive Director COMSATS, Dr. Imtinan Elahi Qureshi, participated in the opening ceremony of the Regional Experts' Meeting on 'Using E-Books and E-Libraries in Educational Institutions' as the Chief Guest. Held in Islamabad from 7-9 May 2012, the three-day event was organized on the occasion of the 30th Anniversary of ISESCO, in collaboration with the Ministry of Awqaf and Islamic Affairs, Kuwait, and Pakistan National Commission for UNESCO (PNCU). Other guests of honour of the event were Mr. Muhammad Ikram, Secretary General PNCU; Mr. Muhammad Dawood, Deputy Secretary General-PNCU; and Dr. Md. Yusnan Bin Yusof, Representative from ISESCO Headquarters, Morocco.
Delivering his Inaugural Address, Dr. Qureshi considered Information and Communication Technologies as the most important among the new technologies in terms of socio-economic impact on societies across the globe; e-libraries being an important off-shoot of this new technology. He opined that the electronic management of the academic resources through e-libraries would become a norm in the near future, which is in line with the Plan of Action agreed by 175 countries during the World Summit on Information Society (2003), Geneva, Switzerland. As delineated by Dr. Qureshi, there are three-fold challenges for developing countries in this respect: i) to create enabling environment for access to e-books for a large fraction of their populations; ii) to develop new content or digitize their knowledge resources that preserve their social and economic interests; and iii) to ward off cultural invasion and negative stereotyping of their faiths and values. Referring to COMSATS' collaborative activities with ISESCO and PNCU, Dr. Qureshi appreciated the excellent working relations with the two organizations.
Earlier, the Secretary General PNCU in his Welcome Address thanked the honou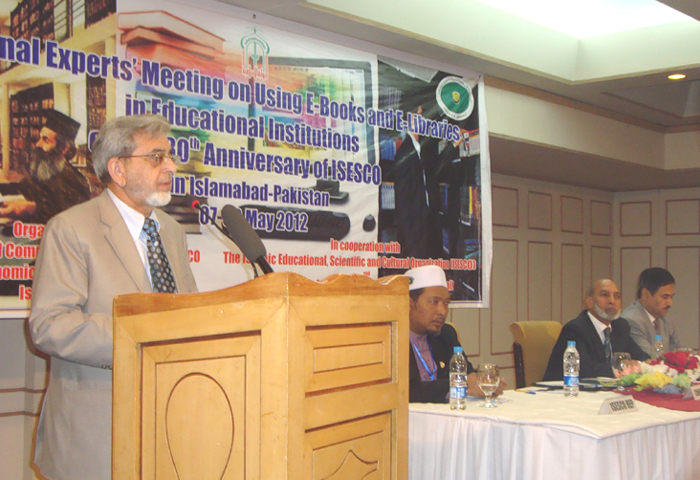 rable guests and the experts for their participation in the Meeting. Speaking on behalf of H.E. Dr. Abdulaziz Othman Altwaijri, Director-General ISESCO, Mr. Ikram highlighted the need for joint action to address the challenges faced in development of education, science, culture and communication.
Speaking on the occasion, Dr. Yusof considered it important for the developing countries to see e-books and e-libraries as good options for accessibility to important information resources, as many important books are not printed but are disseminated electronically. Dr. Yusof highlighted the digital library of classical Arabic literature– MAJALISS – that has been launched under ISESCO-UNESCO cooperation programme. Dr. Yusof also enumerated and elucidated the key objectives of the meeting on e-books and e-libraries.
The objectives of the event included: determining a list of websites for authentication and integration of their e-book contents; creation of a guide for the library procedures and policies in acquiring e-books and e-libraries for educational institutions in the Asian countries; and promotion of new synergies among relevant stake-holders. Experts from Bangladesh, Malaysia, Maldives, Pakistan, Philippines, Sri Lanka, and Thailand participated in the event deliberating on various aspects of optimal utilization of e-resources in the light of the experience gained in their countries.