On March 8, 2017, Dr. S. M. Junaid Zaidi, Executive Director COMSATS Secretariat, delivered a lecture at workshop being conducted at Faculty Development Academy of COMSATS Institute of Information Technology (CIIT). The 5-week long workshop is being conducted from February 27th – March 31st 2017 for the young facul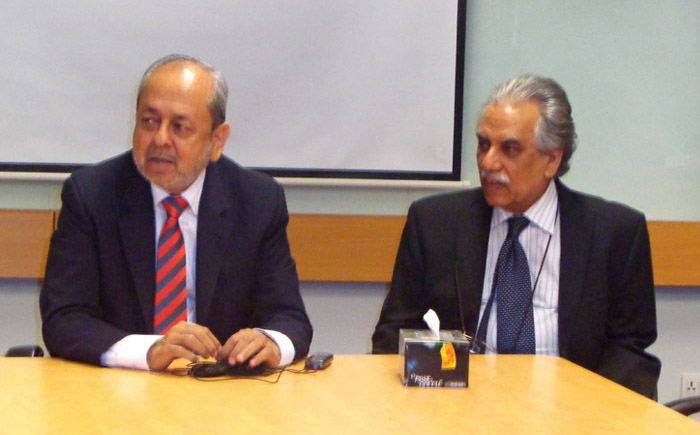 ty of CIIT at FDA, which is housed at the premises of COMSATS Secretariat.
The Director FDA, S. M. Junaid, welcomed Dr. Zaidi and introduced to them FDA as the latter's brainchild. FDA was created in 2005 as a training wing of CIIT and was given the mandate to arrange series of training programmes for newly inducted teachers as well as existing faculty of CIIT and other higher education institutions of the country. The objective is to help teachers grow as competent professionals, both as reflective practitioners, and applied researchers.
In his lecture to the faculty members attending the workshop, Dr. Zaidi shared his view of an ideal teacher – dedicated, compassionate and a dynamic role model. For him such a teacher is not only an effective facilitator in imparting knowledge, but is also a catalyst of change at a larger scale. He noted that a teacher must be a life-long learner, knowledge-seeker and reflective practitioner, whose role goes beyond teaching students in a classroom. Although their priority is promoting students' learning and achievement, they must also reinforce in them basic principles of academic integrity, civility and tolerance, as well as build their character. He also shared several examples of passionate teachers, mentors and selfless leaders. He asserted that good teaching cannot be reduced to a technique, as good teaching comes from the identity and integrity of the teacher based on his observation and experience.
Dr. Zaidi's lecture was followed by a brief Q&A session. Director FDA profoundly thanked the worthy guest for his insightful talk and enlightening the audience.