The Board of Governors of COMSATS Institute of Information Technology (CIIT) held its 19th meeting on March 14, 2011, at Chak Shahzad Campus of CIIT in Islamabad. The Executive Director COMSATS, Dr. Imtinan Elahi Qureshi, chaired the meeting in his capacity as the Chairman of the Board. Besides the Executive Director COMSATS, the other ex-officio members of the Board include Rector CIIT; Federal Secretary, Ministry of Science and Technology; Federal Secretary, Ministry of Education; Chairman Higher Education Commission; Registrar CIIT; and Directors of variou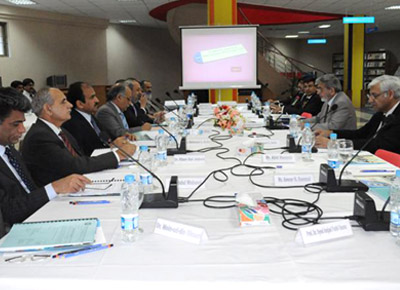 s campuses of the Institute.
The Board that has been recently re-constituted now includes: Prof. Dr. Atta-ur Rahman, Coordinator General COMSTECH; Mr. Anwar H. Rammal, Chairman Asiatic Public Relations Network (Pvt.) Limited; Dr. Inam-ur-Rahman, Scientist Emeritus (PAEC); Dr. Mohammed Yaseen, Chairman Pakistan Telecommunication Authority; and Prof. Dr. Syed Amjad Farid Hasnu, Dean of Faculty of Business Administration. The Chairman welcomed and thanked the distinguished new Members for their consent to serve on the CIIT Board of Governors. He also paid rich tributes to the former members who have served the board for two terms of 3 years each.
The Board deliberated on the recommendations of Statutory Bodies of CIIT. A review was made of the progress, programmes and future plans of the Institute in the light of the facts and figures on faculty, centres, departments and academic programmes; student enrollment; graduates; staff strength; national and international collaboration; R&D; restructuring and reassignment of functions, etc. Other matters discussed during the meeting included appointments of chairpersons of various departments of CIIT, establishment of new campuses, as well as evaluation of the performance of National Testing Service (NTS) for providing scholastic testing services to a large number of partner organizations. The issues related to the establishment of campuses of CIIT in Azad Jammu and Kashmir, and Sindh were also discussed. Currently, CIIT has seven campuses with an enrollment of 17,902 students. The total faculty strength is 1,721 with 2089 staff members. The University is offering 53 degree programmes. In the last 10 years, the number of students who have graduated from the University is 12,280.