The Executive Director COMSATS, Dr. S.M. Junaid Zaidi, paid a visit to the Embassy of United Arab Emirates (UAE) in Islamabad in order to hold a meeting with His Excellency, Mr. Hamad Obaid Ibrahim Al Zaabi, the Ambassador of UAE to Pakistan. Dr. Zaidi was accompanied by senior officials of COMSATS Secretariat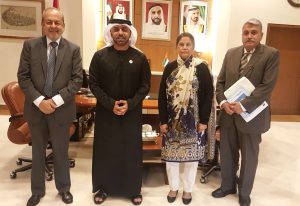 , Islamabad – Ambassador (R) Ms. Fauzia Nasreen, Advisor (SDGs) and Mr. Naim Uddin Anwar, Consultant, HCA.
The meeting was held with the agenda to take the Ambassador on board about the joining of UAE as a member state of COMSATS and induction of a renowned R&D / S&T Centre from UAE in COMSATS' Network of International Science and Technology Centres of Excellence.
After a briefing on COMSATS' structure and activities, Dr. Zaidi acquainted the Ambassador with the benefits and obligations of joining COMSATS. It was informed that through COMSATS' membership Emiratis would be able to avail the various scholarships offered by COMSATS' Centers of Excellence (CoEs) located in twenty (20) Asian, African and Latin American countries. Besides, scientific community of UAE would also be able to participate in capacity building events held in COMSATS' Member States and CoEs; join International Thematic Research Groups (ITRGs) which are executing projects in diverse thematic areas; as well as exchange visits of scientists for exploring the avenues of bilateral and multilateral cooperation.
A formal letter of accession to COMSATS was also handed over to the Ambassador for onward submission to the Government of UAE and relevant Ministries for due consideration and action. The Ambassador pledged his full support on the matter of UAE's membership to COMSATS.
The meeting concluded on a note to further the cooperation in the future.