His Excellency Walid Abu Ali, Ambassador of State of Palestine to Pakis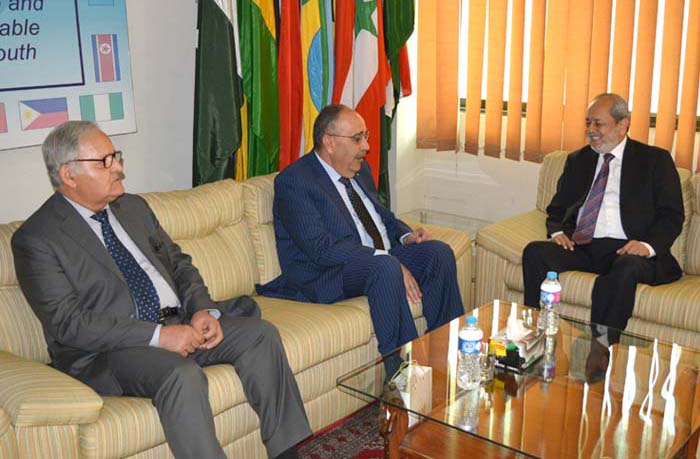 tan, visited COMSATS Secretariat along with the Embassy's Cultural Attaché Mr. Husni Muhammad Mustafa, on Monday, 27th March 2017. The visit was a courtesy call to extend the Palestinian Embassy's best wishes to the newly appointed Executive Director COMSATS, Dr. S.M. Junaid Zaidi. His Excellency was shown around the Secretariat building, where he was also introduced to the foreign students studying at CIIT working as interns at COMSATS Secretariat.
Speaking on the occasion, the Ambassador pledged his Embassy's full support to COMSATS Secretariat. He further informed about his close contact with the Federal Minister for Science and Technology and Federal Minister of State for Education, Pakistan, to seek relevant opportunities for cooperation between the two countries. Ambassador Abu Ali desired to host a small gathering of Ambassadors from existing member countries of COMSATS and few from potential countries to introduce them with the COMSATS, its functions and objectives for the expansion of the membership of COMSATS and to seek new opportunities of collaboration. He further expressed his desire to send Palestinian students in Pakistan for Post-graduate and Undergraduate studies on scholarships.
The Executive Director COMSATS welcomed the idea and said that COMSAT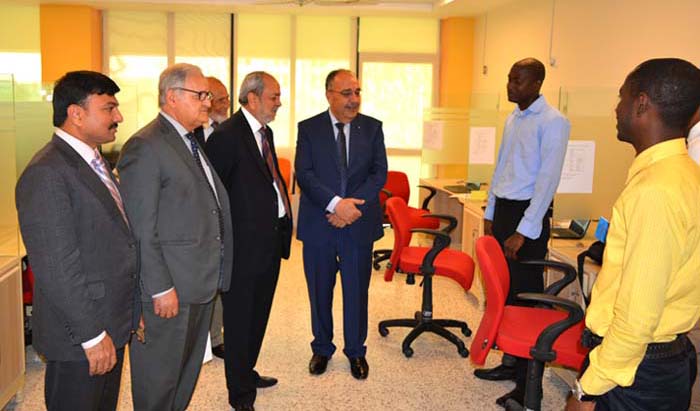 S is ready to accommodate more than 100 students in Undergraduate and Post-graduate programmes being offered by CIIT. He further explained that Palestinian students availing the scholarships would only have to bear the travel and food expenses, while their lodging in Pakistan tuition fees will be covered by CIIT. His Excellency and Executive Director also agreed to seek financial support from Islamic Development Bank (IDB) Jeddah to facilitate more students from Palestine in higher education institutions of Pakistan. In this regard, both agreed to write formal letters to IDB to seek the Bank's support. Dr. Zaidi stressed upon the need for intellectual exchange to mutually benefit from their expertise. He hoped to have a better mobility of researchers, scholars and scientists that would travel from Palestine to Pakistan and vice-versa to share their knowledge and explore new horizons of R&D.
Both the Ambassador and Executive Director COMSATS were on the same page about the expansion of COMSATS' mandate and activities. He also welcomed the idea of holding the aforementioned gathering of Ambassadors in the near future. Dr. Zaidi thanked His Excellency on expressing his support to COMSATS and noted that he is the first Ambassador from any Member State to visit COMSATS Secretariat since the former assumed the charge.