A three-member delegation of Sudan, led by Prof. Azhari Omer Abdelbagi, Undersecretary, Ministry of Higher Education and Scientific Research (MOHESR), Government of Sudan, visited COMSATS Secretariat on June 2, 2016, for a meeting with the Executive Director COMSATS, Dr. I. E. Qureshi. The other members of the delegation were Prof. Ahmed Hassan Fahal, Director of Scientific Research, MOHESR; and Dr. Rashid A. Saeed, Associate Professor, Sudan University of Science and Technology. The meeting was also attended by representatives of the Sudanese Embassy in Islamabad, Mr. Ahmed Abdel Rehman Muhammad, Charge d' Affaires and Ms. Ebtihal Mohamed, First Secretary. Also present on the occasion were senior COMSATS' officials, Mr. Tajammul Hussain, Advisor (Programmes), Mr. Sabih ur Rahman, Advisor (HCA), Mr. Irfan Hayee, Deputy Director (Programmes) and Mr. Nisar Ahmad, Deputy Director (Systems).
After a formal welcome to the Sudanese delegation visiting Islamabad in c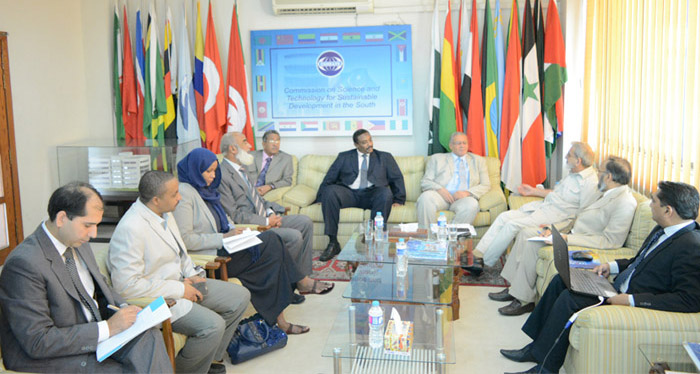 onnection with the 15th General Assembly Meeting of COMSTECH, Dr. Qureshi noted that COMSATS highly values its close ties with Sudan, which became a Member State in September 1999 and since has been actively participating in the programmes and activities of the organization. Dr. Qureshi accentuated that COMSATS, as an organization, belongs to the developing countries, which was established in 1994 to support socio-economic development of the South. He recalled his visit to Sudan in 2012 and holding meetings with the high officials of the Ministry of Science and Communication to strengthen S&T cooperation between COMSATS' Centre of Excellence in Sudan and other Centres of the Network. Prof. Azhari noted that now the portfolio of science and technology is held by his Ministry due to some reshuffling done by the Government of Sudan. He informed about the existing hierarchy and structure for managing S&T in the country. In this regard, it was agreed that necessary steps would be taken to designate MOHESR as COMSATS' focal ministry in Sudan.
In order to apprise the visiting Sudanese delegation about the organization's engagements with Sudan, the Executive Director made a multimedia presentation introducing COMSATS as a fully autonomous organization mandated by the international community to promote S&T-led development of the countries of the South. Dr. Qureshi noted that the structure of COMSATS helps ensure the success of its international programmes, as the statutory organs of COMSATS, the Commission, the Consultative Committee, and the Technical Advisory Committee (TAC) enable it to seek and maintain highest political patronage, support of civil administrations, and international oversight, respectively. He informed that COMSATS is a unique organization owing to its affiliated Network of International S&T Centres of Excellence. The Network is represented by COMSATS Coordinating Council, which provides platform for real-time scientific exchange and South-South cooperation.
Dr. Qureshi noted that the Industrial Research and Consultancy Centre (IRCC),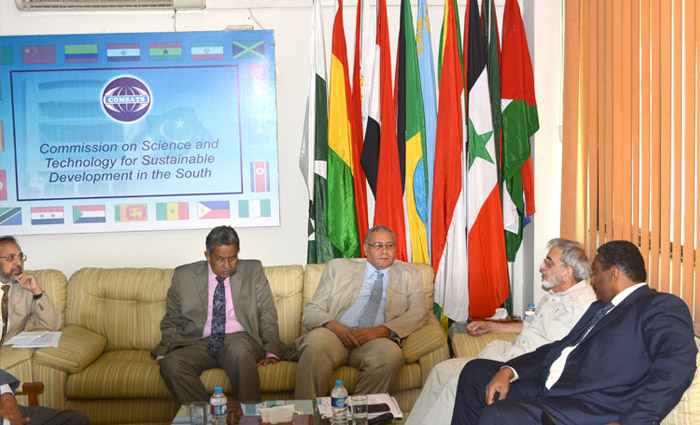 Khartoum, as a member of COMSATS' Network has been benefiting from the scientific programmes of COMSATS. He made a mention of the active participation of IRCC's Director General in the last Council meeting held in May 2016, in Islamabad. Mr. Tajammul Hussain, Advisor (Programmes) COMSATS added that the Director General IRCC while in Islamabad availed the opportunity of holding a meeting with the Chairman of the Pakistan Council of Scientific and Industrial Research (PCSIR) and the two organizations inked an agreement in the area of industrial development. In this regard, Dr. Qureshi highlighted the facilitator's role played by COMSATS in making the two parties meet.
Mr. Hussain informed the delegates that under COMSATS Postgraduate Scholarship programme, two Sudanese students graduated from COMSATS Institute of Information Technology (CIIT), while another is pursuing his degree programme. Dr. Qureshi informed that the Institute was launched by COMSATS as a project in 1998, which has transformed into a full-fledge institution over the years. The Institute has a standing offer of 100 postgraduate scholarships for students from Member States, whereby students are given full fee-waiver, and subsidized boarding & lodging by CIIT, while air travel is covered by COMSATS. Dr. Qureshi encouraged MOHESR to considering nominating more students from Sudan to avail scholarships offered through COMSATS' platform. He presented the Undersecretary with a set of COMSATS' publication and a prospectus of CIIT.
Dr. Q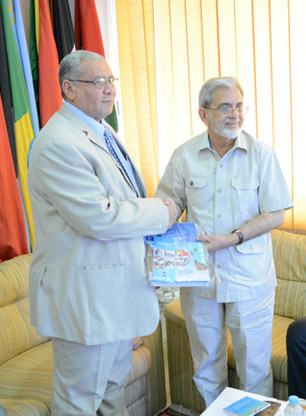 ureshi also introduced COMSATS Internet Services (CIS) as another success story of the organization and briefed about the mechanism of COMSATS' International Thematic Research Groups (ITRGs) that mainly engages groups of scientists from COMSATS' Centres of Excellence for thematic research in key areas of development. He noted that IRCC is member of three of the active ITRGs conducting research in the areas of ICTs, natural products sciences, and agriculture, food security and biotechnology.
In terms of capacity building and training activities conducted by COMSATS, the Executive Director noted that a number of such events organized in Sudan in the recent years, especially the repair and maintenance workshop that was held twice. He informed the meeting that COMSATS would be organizing another international conference in Khartoum this year in October, with cooperation of ISESCO. The conference has the theme, 'Agriculture, Food Security and Biotechnology'. Dr. Qureshi was of the view that a relevant local institution needs to host the event as IRCC, though a Centre of Excellence of COMSATS, has a different focused area of industrial development. He also noted that COMSATS would welcome nomination of another Sudanese institution from Government of Sudan to join COMSATS Network of Centres of Excellence in order to further benefit from the organization's international programmes. Dr. Qureshi informed that Sudan having two Centres of Excellence would not be an exception as Pakistan is one such precedence. In this connection, the Undersecretary pledged that his Ministry will take up the matter of supporting the upcoming conference in Sudan as well as of nominating of a suitable Centre affiliated with his Ministry to join COMSATS' Network.
During the meeting, it was also agreed that the liaison officers of COMSATS and MOHESR would be Mr. Tajammul Hussain and Prof. Ahmad H. Fahal on behalf of their respective organizations.
At the end of the meeting, the Executive Director reiterated that COMSATS has a special association with Sudan as it is the country of origin of an eminent scientist and former Executive Director TWAS, Dr. M.H.A. Hassan, who contributed immensely in the establishment of COMSATS. The meeting concluded on the note of expanded cooperation and support for the scientific capacity-building of Sudan.
After the meeting, the delegation proceeded to COMSATS Internet Services to get briefing on their ongoing telehealth activities. The delegation was accompanied by Mr. Tajammul Hussain.