COMSATS Centres of Excellence continue to make their presentations during the post 23rd Co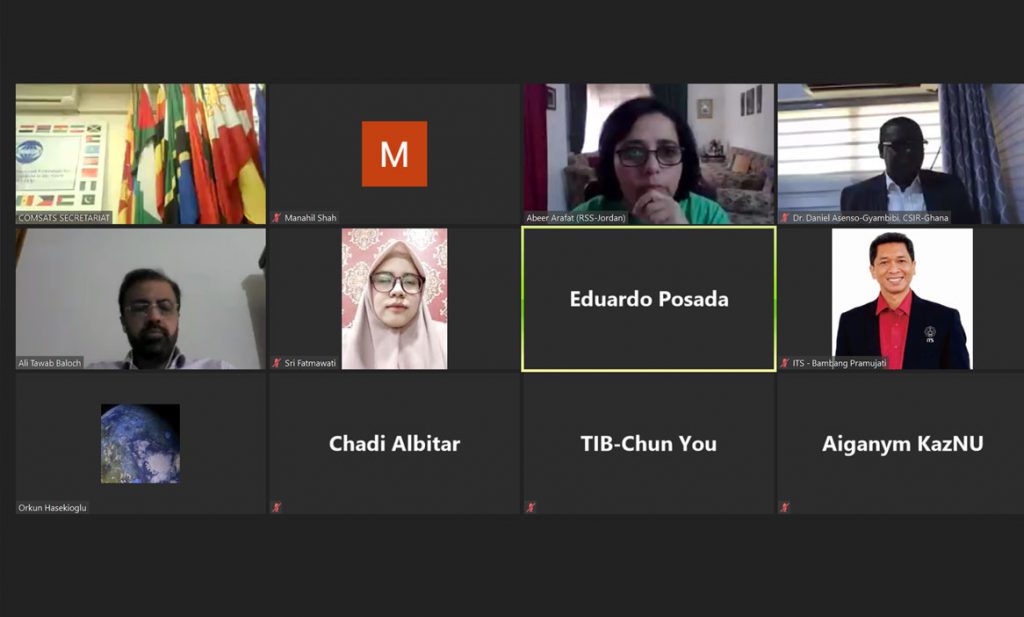 ordinating Council 7th session that covered Scientific and Technological Research Council of Turkey (TUBITAK), Turkey, and the Council of Scientific and Industrial Research (CSIR), Ghana. Held on 27th October 2020, this session was attended by representatives from the Centres in Jordan, Turkey, Colombia, Pakistan, Ghana, Indonesia, Syria, and Kazakhstan.
In TUBTAK's presentation, Prof. Dr. Orkun Hasekioğlu gave an account of the organization's structure, mission, programmes, research centres & units, and achievements. He noted that TUBITAK is a leading agency for funding as well as conducting research in Turkey and also serves as a key advisor of the Government on S&T and research issues. Prof. Orkun noted that 27 technological areas have been prioritized in the framework of TUBITAK, which include information security, bioenergy, biomedical equipment, big data and data analytics, energy storage, internet of things, artificial intelligence and machine learning, and agriculture and veterinary biotechnology.
Prof. Orkun stated that TÜBİTAK is supporting academic and industrial R&D studies as well as carries out research in line with national technological needs and priorities. He informed that in 2018, 27,468 projects/experts received funding, and an amount of 1.9 Billion TL was given to departments as academic research funding, technology innovation funding, science fellowships grants, and science and society programmes funding.
While highlighting the international collaboration of TUBITAK, Prof. Orkun informed that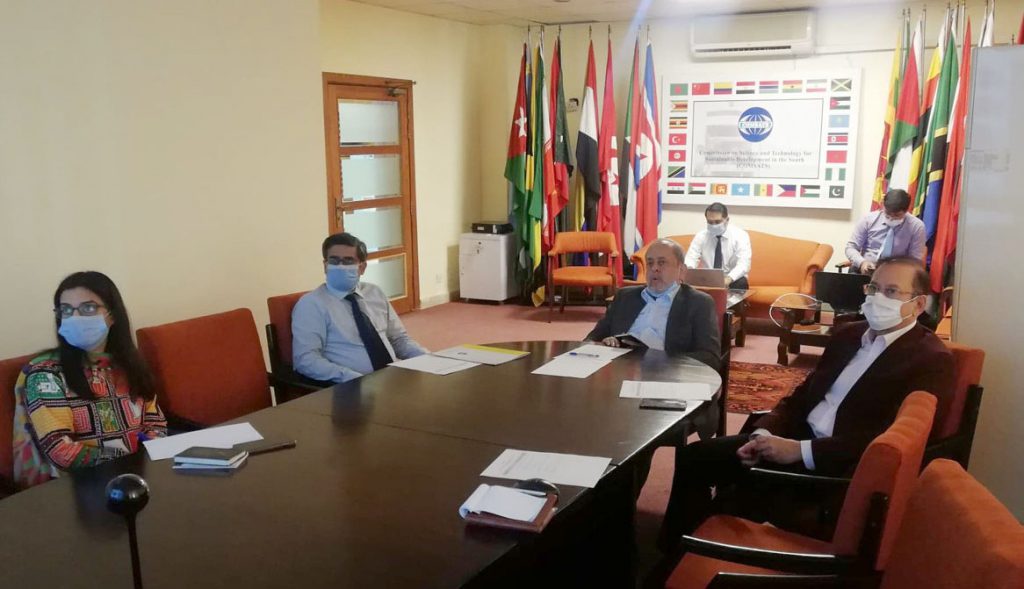 the institution has bilateral cooperation with 65 international organizations in 53 countries which include joint research and innovation projects, scientific activities, exchange of researchers. He also informed that TUBITAK has 348 ongoing international cooperation projects, including 161 bilateral, 105 COST, and 82 ERA-NET.
Prof. Orkun informed that Marmara Research Centre (MAM) and Informatics and Information Security Research Center (BILGEM) are the main research and development centers of TUBİTAK. Moreover, TÜBİTAK has research and development units in metrology, R&D in defense industry; space technologies research; basic sciences research; industrial management; technopark; test and analysis; national observatory, and academic network and information.
Prof. Orkun also apprised that BİLGEM of TUBITAK guides the future of technology in Turkey as well as bringing out technologies up to technology level 6 (prototype level) to make technology transfer to the industry. Prof. Orkun informed that BİLGEM works in areas of forensic XP, underwater telephone, glass stress, crypto devices, submarine battery monitoring system with a number of countries including Egypt, Germany, Mexico, Netherlands, Pakistan, and United Kingdom.
Dr. Daniel Asenso-gyambibi, Director CSIR-Building and Road Research Institute, (CSIR),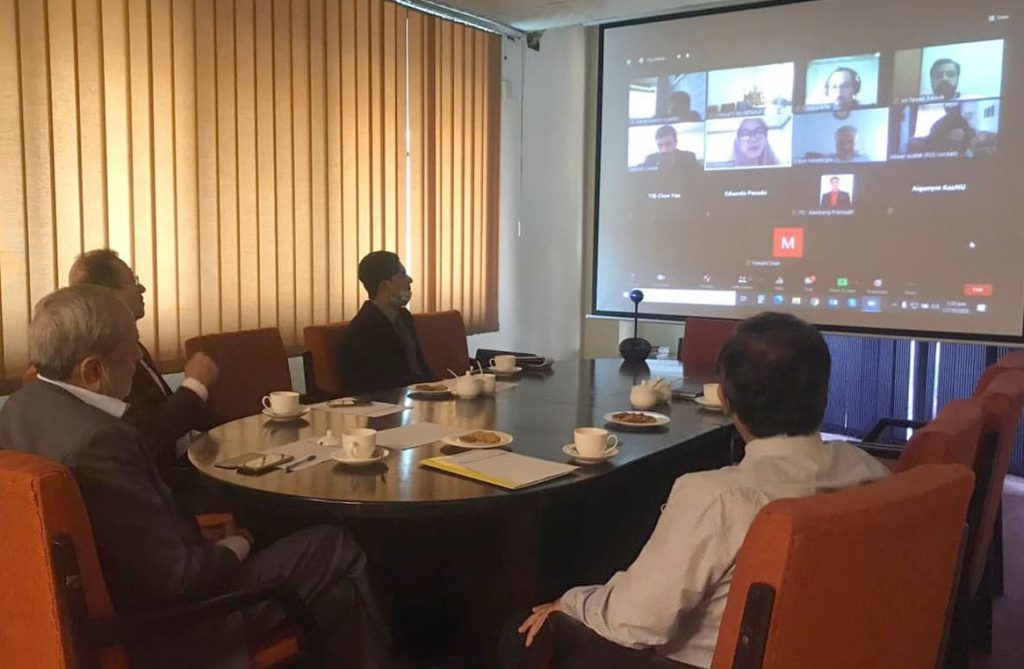 presented on behalf of CSIR. He introduced CSIR as the foremost scientific and technological institution in Ghana, with 13 research institutes located throughout the country in all the agro ecological zones. These institutes specialize in animal research; building and roads; crops; food; forestry; scientific & technological information; industrial research; oil palm; plant genetic; savanna agricultural research; S&T policy; soil; water; biotechnology and biomedicine.
It was informed that CSIR is using Biotechnology for crop production with a focus on cereals, roots & tubers, as well as horticultural crops, tree crops and food processing. Other advances by the Institute that were highlighted included improved "Akosombo Strain" of Nile Tilapia fish which grows 25-30% faster than the wild and other local stocks; collaborative work with Unilever and World Agroforestry Centre, Nairobi; work on technologies for production of Allanblackia Oil
Dr. Daniel informed that the Centre is working on enhancement of public health status through sound disease control, environmental and pollution control strategies that also has a bearing on response towards COVID-19 disease.
During the discussion session, Dr. Orkun (TUBITAK) highlighted the robotics and drug discovery disciplines as areas of potential collaborations with other Centres of Excellence. Other possible collaborations in areas of common interest among Centres were also explored. These included Sepuluh Nopember Institute of Technology (ITS), Indonesia; CSIR, Ghana; TUBITAK; COMSATS University Islamabad (CUI), Pakistan; Royal Scientific Society (RSS), Jordan; and International Centre for Physics (CIF), Colombia.