COMSATS in collaboration with the Centre for Belt and Road Initiative an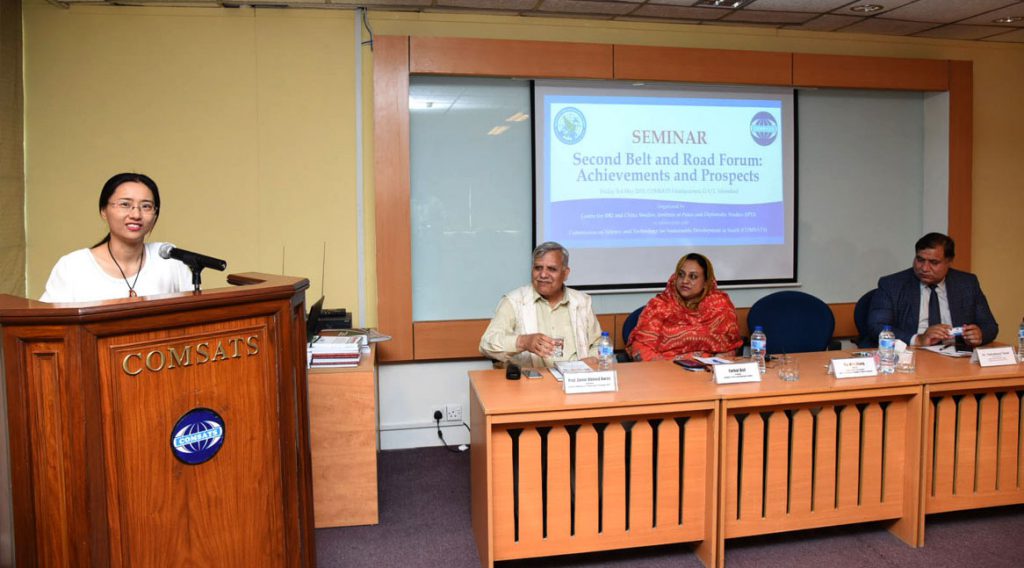 d China Studies Institute of Peace and Diplomatic Studies (IPD) organized a seminar on "Second Belt and Road Forum: Achievements and Prospects" on 3rd May 2019 at COMSATS Secretariat, Islamabad. The seminar organized within the framework of the Second Belt and Road Forum held in Beijing, China, had the participation of diplomatic community, students and members of the civil society.
Speaking on the occasion, Ms. Farhat Asif, President, IPD, stated that information material on China–Pakistan Economic Corridor (CPEC) is issued periodically through IPD's platform for larger audience in Pakistan and rest of the world. Appreciating Pak-China friendship, Ms. Asif encouraged students to learn the best practices, principles and values of developing countries such as China.
Dr. Muhammad Munir, Assistant Professor, National Defence University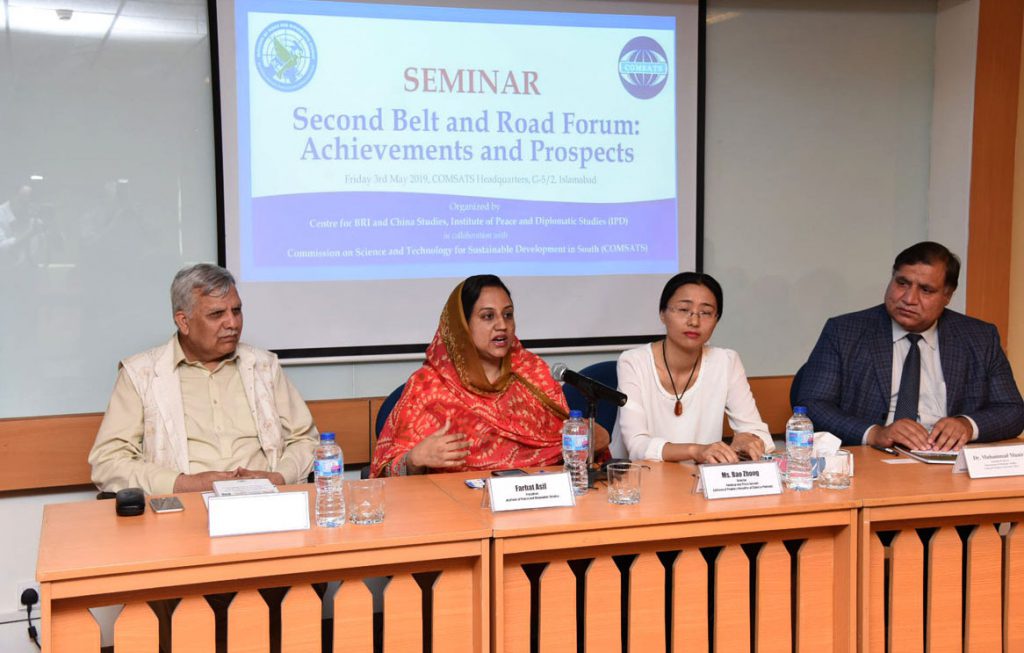 (NDU), Islamabad, was of the view that the first world countries should join hands with the developing world on the path of economic growth and prosperity. While speaking on the occasion, Prof. Dr. Zameer Ahmed Awan, Sinologist, China Studies Centre, National University of Science and Technology (NUST), Islamabad, noted that CPEC has emerged as a silver lining for the developing countries who have struggled in the past to achieve peace and prosperity.
In her talk, Ms. Bhao Zong, Head of Political and Press Section, Embassy of People's Republic of China, stated that "China will continue to stand by Pakistan in its development and prosperity drive for better future and peace". She noted that the Belt and Road Initiative (BRI) is aimed to promote development in the region and beyond through inclusiveness. The Initiative encourages bilateral and multilateral cooperation through various means and at various levels. It was further informed that projects under the umbrella of BRI have a bearing on social and economic aspects of national development.