The Regional Workshop on Biosafety and Biosecurity in Life Sciences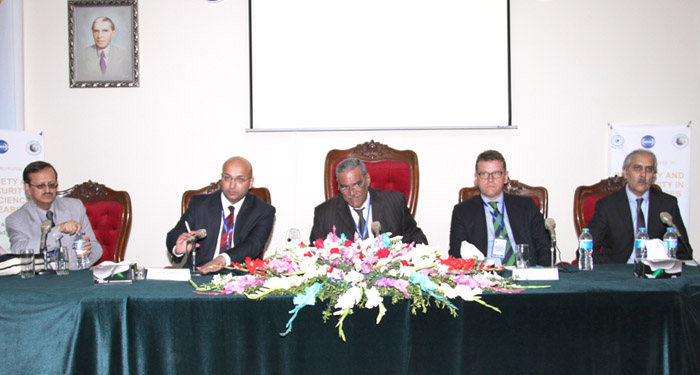 Research successfully concluded in Islamabad, Pakistan, on 28th April 2016. The event, held at Pakistan Academy of Sciences (PAS), was jointly organized by COMSATS, ISESCO, and PAS. The Federal Secretary, Ministry of Federal Education and Professional Training, Government of Pakistan, Mr. M. Humayun, graced the concluding ceremony of the workshop as Chief Guest.
The event was held to raise awareness about biosafety among researchers, laboratory personnel and academicians; share recent developments, emerging trends and standards in the area of biosafety and biosecurity; as well as build and strengthen necessary linkages among researchers from the developing countries. The three-day workshop comprised of six technical sessions, a moderated discussion forum on 'Emerging Challenges in Biosecurity in Asia' and a poster presentation contest. There were 11 invited talks, 13 contributed lectures, and 10 poster presentations. The 22 resource persons of the workshop including 8 foreign speakers, belonging to Bahrain, Jordan, Kazakhstan, USA, Iran and Nigeria, made technical presentations on various topics under the theme.
The technical sessions covering a wide range of subjects had the participation of 150 scientists, researchers, and students from 20 R&D institutions and universities. Key topics discussed at the workshop included: international biosecurity treaties; sustainable biosafety education, training and networks; emergence of biosecurity, biosafety and bioethics in academic medicine and public health; biological risk assessment/mitigation and communication; role of institutional biosafety committees (IBC); global health security; issues related to transgenic plants; standardization and best practices for biosafety; biological waste management; and code of conduct for life scientists.
Country case-studies and overview of the trends in Islamic States including, Iran, Jordan, Pakistan, and Nigeria were also presented. The deliberations made during the discussion session called for sharing of information on global biological holdings, research facilities, and infectious disease patterns; increasing awareness of issues pertaining to biosafety and biosecurity among researchers; enhancing interdisciplinary coordination to support global biosecurity; and ensuring bio-scientists' compliance with national and international laboratory biosafety and biosecurity guidelines.
A poster exhibition during the event invoked interest of future scientists and researchers in adopting best practices in life sciences research. Postgraduate students and early-career researchers from various institutes of Pakistan participated in the exhibition, which focused on current research topics in the field. The topics of poster presentations included: 'SWOT Analysis of Biosafety in OIC countries'; 'CRISPR CAS9'; 'Precautionary Principles vs. Proactionary Principles in Biosafety'; and 'Future Trends, Challenges and Solutions in Biosecurity: A Global Perspective'.
In his remarks at the concluding ceremony, Mr. Humayun observed some important trends in the state of education in Pakistan, specifically the number of out-of-school children, which is estimated to be 24 million. Quoting the example of Singapore as a small country with good global standing in education sector and having two of its universities among the top ten universities of Asia, he hoped that other developing countries, like Pakistan, would strive to have similar achievements. Commenting on the theme of the workshop, he considered biosafety, biosecurity and biocontainment important areas of concern around the globe and lauded COMSATS, ISESCO and PAS for successfully holding the event on this crucial topic. He considered the strong participation of both young and experienced researchers as an indication of the event's success.
Dr. I. E. Qureshi, Executive Director, COMSATS; Dr. AbdulAzeez Hameed Ali, ISESCO Representative, UAE; and Prof. Dr. Zabta Khan Shinwari, Secretary General PAS, also addressed the gathering attending the concluding ceremony.
Thanking Mr. Humayun on gracing the concluding ceremony with his presence, Dr. Qureshi noted the participation of two Federal Secretaries of Pakistani Ministries as a strong endorsement and support from Government of Pakistan towards the event and its objectives. He stated that he was pleased with the outcomes of the event. He emphasized that such events have a strong intrinsic significance in view of the opportunities provided for information-exchange, and scientist-to-scientist interactivity, as well as the inspiration gained by junior researchers from the work of experienced scholars. Underscoring the importance of the theme of the event, he hoped that this activity could be continued for other countries and regions with support from ISESCO.
Dr. Hameed Ali extended special gratitude of ISESCO to COMSATS for its partnership. He presented a brief overview of the event and expressed satisfaction over the meeting outcomes. His report covered the key statistics and recommendations of the event. The event recommendations called for enhanced cooperation between the collaborating institutions; active participation of scientists and researchers from common Member States of COMSATS and ISESCO in building relevant capacities; increasing awareness and education in biotechnology ethics; developing relevant curricula; and creating necessary regulatory bodies.
The event concluded with presentation of souvenirs to the distinguished guests, and certificates to the participants and organizers. The winners of the poster presentation contest were awarded cash prizes. The posters presented by students from Quaid-i-Azam University and Abasyn University, Islamabad, took the top positions in the contest.
In his vote of thanks, Dr. Shinwari admired the commitment of COMSATS' team for conceiving and planning the much-needed workshop, and thanked ISESCO for its support.