On 20th April 2018, Dr. Laura Altinger, Regional Advisor on Climate Change, United Nations Economic and Social Commission for Asia and the Pacific (ESCAP), visited COMSATS Secretariat in Islamabad, Pakistan. The UNESCAP official was warmly welcomed by the Executive Director of COMSATS, Dr. S. M. Junaid Zaidi, along with his team including, Ambassador (R) Shahid Kamal, Head/Advisor, Centre for Climate Research and Development (CCRD); Ambassador (R) Fauzia Nasreen, Advisor (SDGs); Dr. Kamran Jahangir, Advisor (Technical Advisory Committee); Ms. Huma Balouch, Sr. Assistant Director (Programmes), and Ms. Mehwish Durrani, Sr. Program Officer.
The Executive Director COMSATS provided an overview of how COMSATS'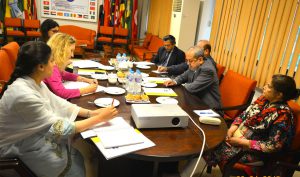 activities and programmes are facilitating South-South Cooperation in its 26 member countries to build and improve knowledge societies, based on Science and Technology, towards the delivery of the Agenda 2030 for Sustainable Development.
The agenda of the meeting was to explore the possible collaboration with UNESCAP especially in the field of Climate Sciences and to discuss a roadmap to ensure the effective establishment of the Climate Change center. Dr. Altinger hoped to follow-up action to the earlier meeting for a concrete implementation of the synergies between the programmes of UNESCAP and COMSATS identified in the Memorandum of Understanding, signed between both organizations in December 2017. Joint intersectoral and interregional project proposals in the field of Climate Change, ensuring reciprocal representation of both organizations at their respective Statutory bodies meetings; and UNESCAP's support to enhance COMSATS' membership drive are among several potential areas for cooperation between COMSATS and UNESCAP which were subsequently discussed.
In order to optimally utilize South-South cooperation and maximize it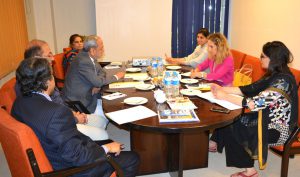 s impact on sustainable development, Dr. Zaidi stressed the importance of engaging the North with COMSATS' International Network of Centres of Excellence. Dr. Zaidi also mentioned that the cooperation between COMSATS and UN office for South-South Cooperation will be soon formalized through an agreement of intent to collaborate on establishing a partnership to bring about more effective international knowledge exchange, extension and technology transfer of forest science and research relating to climate change.
With regard to the available research expertise relevant to the Climate Change at COMSATS platform, Dr. Zaidi briefly introduced the activities of Climate Research Centres affiliated with COMSATS' Network of Centres of Excellence, International Centre for Climate and Environment Sciences (ICCES), China, and Centre for Climate Research and Development (CCRD), at COMSATS Institute of Information Technology (CIIT), Pakistan. Ambassador (R) Shahid Kamal briefed Dr. Altinger about the center's research efforts in climate change adaptation, providing support to other institutions in Pakistan for designing policies and programs in the framework of the national Climate Change Policy.
Further discussions focused on the development of initiatives that will help to build resilience and provide support and funding for adaptation activities for scaling up the Climate Adaptation and Mitigation Program in common Member countries of COMSATS and UNESCAP through the Green Climate Fund (GCF).
Dr. Altinger informed that Pakistan is one of the most vulnerable countries to the impacts of climate change. The climate finance in Pakistan is very low and requires international funding. The country, however, is good option for implementation of the projects on green bonds. She agreed to pursue the vision of COMSATS to the concerned officials at UNESCAP. Ambassador (R) Fauzia Nasreen added that Climate change is one of the major environmental drivers that threatens the prospects for achieving global sustainable development. In this regard, relevant organizations must collaborate for bringing the transformation through research and development.
Both sides agreed to seek funds for climate finance project proposals, exchange proposals for initiating bilateral collaboration, to materialize the things in future meetings, and to explore the possibilities of capacity-building. Dr. Altinger assured her highest support for facilitation of further developments regarding the climate change research centre.