In line with COMSATS' efforts to expand the scope of its programmes and its international partnerships, a delegation from European Union, Pakistan, was invited by the Executive Director COMSATS, Dr. S. M. Junaid Zaidi, to visit COMSATS Secretariat. In this regard, Ms. Anne Marchal, Charge d'Affaires, EU, Pakistan, and Mr. Husnain Iftakhar, Senior Economist, visited COMSATS Secretariat, Islamabad, on 28th August 2017. The main purpose of the engagement with EU is to explore the possibility of expanding COMSATS' membership to European countries and scientific organizations, in order to strengthen the North-South dynamic of its efforts for S&T-led socio-economic development.
After being warmly received at the Secretariat, an interactive meeting was held with the delegation. Chaired by the Executive Director, the meeting also had a presence of senior officials of COMSATS, which included: Mr. Tajammul Hussain (Advisor Programmes); Ambassador Fauzia Nasreen; Ambassador Shahid Kamal; and Dr. Abdul Aziz Khan.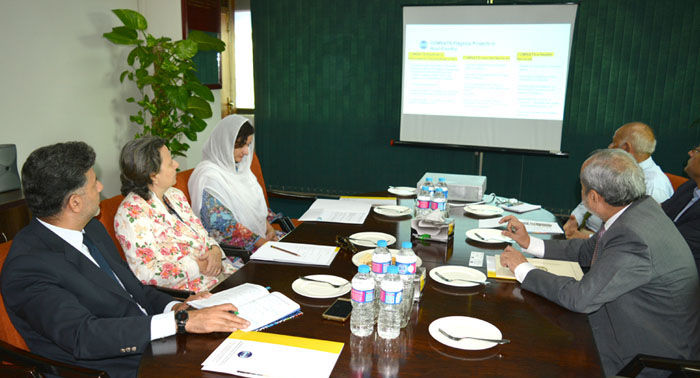 The Executive Director made a brief presentation about COMSATS to Ms. Marchal to better acquaint her with the organization. COMSATS' mission, international presence, organizational structure, technical programmes, membership, present activities and future aspirations were highlighted. Dr. Zaidi expressed his desire to work out proposals of collaboration with European countries/institutions that could be presented to COMSATS' Coordinating Council for review in its upcoming meeting to be held in May 2018. Dr. Zaidi expressed his vision for having European institutions to join the COMSATS Network, which would be beneficial for the existing Network members which are R&D, S&T and higher education institutions from developing countries.
Ms. Marchal thanked the Executive Director for his kind invitation to the Secretariat and the briefing. She was of the opinion that some avenues of cooperation with EU already exist and can be explored by COMSATS right away, e.g., Horizon 2020. She noted three pillars that constitute this mega cooperation programme: industrial leadership, excellence in science, and societal change. Pakistan Science Foundation is focal point for promoting Horizon 2020 in Pakistan, she noted. Currently, this programme includes 7 projects with Pakistani partners, and one each with Sri Lankan and Nepalese partners. The other cooperative project that is readily available for all partners for cooperation noted by Ms. Marchal was Erasmus programme, which offers exchange of faculties as individual scholarships to students. It was noted that there is no limit of collaborative proposals from partner countries and organizations.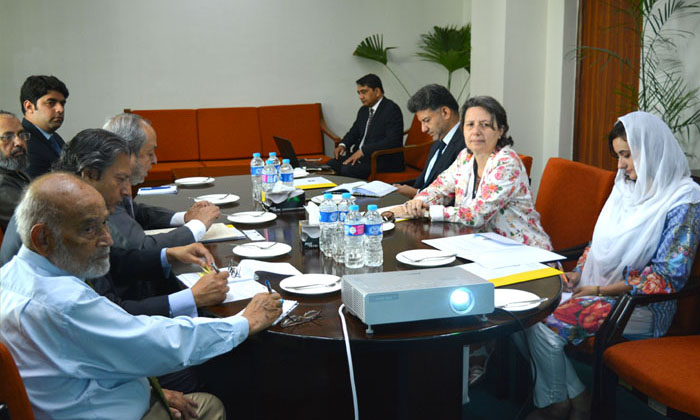 In addition to the aforementioned projects, any other cooperative arrangement with EU, Ms. Marchal noted, would need further homework, consultations and high-level meetings. In this regard, she offered to discuss the matters with her colleagues which might be followed by a formal letter seeking collaboration from COMSATS Secretariat. She believed that EU-COMSATS partnership could be useful, given the due channels are used and right resources mobilized in the regional office and EU HQ in Brussels.
Dr. Abdul Aziz, who has been associated with COMSATS Institute of Information Technology (CIIT) for last many years, informed the Charge d'Affaires that the University has been actively pursuing cooperation under Horizon 2020 and Erasmus programmes. He informed that a seminar on Horizon was conducted by EU in CIIT three years ago, which resulted in raising great awareness about the programme among the participating stakeholders. HORIZON 2020 is a multi-faceted and prestigious programme of EU which was launched in 2014. It has a number of components, like research projects, training, capacity building, and prizes in science. Dr. Abdul Aziz further informed that a number of universities in Pakistan including CIIT have immensely benefited from the capacity building programmes launched by EU. It was brought to Ms. Marchal's notice that subsequent to the capacity building workshop, COMSATS Institute of Information Technology has successfully won three projects under Horizon 2020 in the fields of Advance Bioinformatics, Community-based Policing, and Research and Innovation Staff Activity.
Dr. Abdul Aziz highlighted the need for having similar capacity building programmes by EU in other member countries of COMSATS for their benefit. He considered this an important step towards enabling the developing countries to bid for the research projects, reap their benefits and enhance their capability of Science and Technology. The proposal was well-received by Ms. Marchal who pledged to take it up with Brussels. She also advised that COMSATS Secretariat should consider reaching out to European Commission in Brussels to have direct meetings with relevant officials/specialists.
Speaking on the occasion, Ambassador Kamal highlighted some technologies emerging in the South offering huge potential for bilateral and multilateral cooperation. He noted that Horizon 2020 is a product of International Strategic Framework for using Science and Technology with non EU Countries, which took place in 2002. He suggested that COMSATS, with its active South-South cooperation mechanism spread over 25 developing countries, can provide EU a platform for inter-regional linkages. He further opined that through the platform of COMSATS, the European Union can better engage developing countries into working for issues like food security, adaptation to climate change, and entrepreneurship.
Ms. Marchal thanked Mr. Kamal for pointing out some key areas of cooperation and was generally receptive of the ideas shared during the meeting. The meeting concluded on a note of cooperation for establishing cooperation between European Union and COMSATS.