Dr. Panjwani Center for Molecular Medicine and Drug Research (PCMD) of the International Center for Chemical and Biological Sciences (ICCBS), Karachi, Pakistan, organized the first Women World Neuroscience Conference on July 1-2, 2010. This Conference was sponsored by an international organization, Women World Neuroscience (WWN), Internation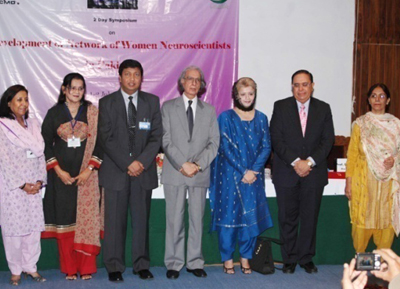 al Brain Research Organization (IBRO). Established in 2008 as a standing ad hoc committee of IBRO, WWN has the mission to improve career development, mentoring and networking opportunities for women neuroscientists around the world, with special attention to women in disadvantaged regions.
This Conference aimed to highlight the role and achievements of Pakistani women in various fields of science and technology, especially neuroscience. Women working in the field of neuroscience were provided a platform to interact with each other and develop a network so as to contribute in developing a knowledge-base for brain sciences, and find ways to address the prevailing neurological diseases in the country.
In the opening session of the two-day conference, Director ICCBS, Prof. Dr. Iqbal Choudhary; Coordinator General COMSTECH, Prof. Dr. Atta-ur-Rahman; and Vice Chancellor of Karachi University, Prof. Dr. Pirzada Qasim Raza Siddiqui, among others addressed the audience. The event was considered a first step to a life-long journey to promote neuroscience among Pakistani women.
Fifty neuroscientists, physiologists and clinical neurologists participated in this first of its kind event in Pakistan.