A group of six mid-career diplomats from the COMSATS' Member Countries visited COMSATS Secretariat, Islamabad on an invitation from Dr. S. M. Junaid Zaidi, Executive Director COMSATS on 16th March 2017. The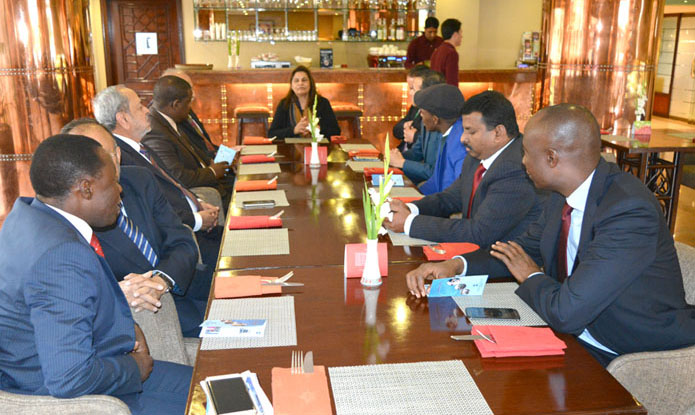 se diplomats are currently receiving training at 25th Advanced Diplomatic Training Course organized by the Foreign Services Academy, Ministry of Foreign Affairs, Government of Pakistan. The Group comprised of Mr. Idrees Yaqub and Mr. Bin Yameen Yahya Tanko, Deputy Directors, Ministry of Foreign Affairs (Ghana); Mr. Achach Abdellah, Secretary, Ministry of Foreign Affairs (Morocco); Mr. Joseph Alto Ahois Kapuiga, Foreign Services Officer, Ministry of Foreign Affairs (Tanzania); Mr. Christy Ruban Augustin, Deputy Director, Ministry of Foreign Affairs (Sri Lanka); and Mr. Tickakunde E. M. Mutseyekwa, Deputy Director, Ministry of Foreign Affairs (Zimbabwe).
These foreign trainees had an informal discussion with the senior officials of COMSATS Secretariat that included Dr. S. M. Junaid Zaidi, Executive Director COMSATS; Mr. Tajammul Hussain, Advisor (Programmes) COMSATS; Mr. Bilal Chouhan, Director (A&E) COMSATS; Ambassador Fauzia Nasreen; and Dr. Arshad. S. Malik, Advisor, International Office of the COMSATS Institute of Information Technology (CIIT).
Dr. Zaidi welcomed the participants and informed them that his motivation behind hosting the meeting is to improve coordination with representatives from COMSATS' Member Countries. He considered the role of diplomatic community of these countries essential for sensitizing the political leadership in their respective countries towards multilateral cooperation for sustainable development particularly in Science and Technology. He sought their support for making COMSATS available to the Member Countries as a platform for effective South-South cooperation. He was optimistic about the outcomes of the meeting and hoped that more young bureaucrats from COMSATS' member countries will join hands with COMSATS to make rigorous progress on the forefront of Science and Technology.
Mr. Tajammul Hussain briefly gave an overview of the mandate and activities of COMSATS, including a few programmes with regard to Tanzania, specifically. Participants from Morocco and Zimbabwe pledged their support in their respective capacities with regard to the efforts to sensitize their countries about COMSATS. Speaking on behalf of the visiting group, the Sri Lankan delegate thanked the Executive Director and his team for the opportunity to learn about COMSATS and the potential role they could play for the development of their countries by supporting COMSATS.
The Executive Director further extended his hospitality by hosting a high-tea for the young delegate.