H.E. Major General (Retd.) Waqar Kingravi, High Commissioner Designate of Pakistan to the Federal Republic of Nigeria (also accredited to The Republic of Ghana), visited COMSATS Secretariat on 23rd June 2018, to hold a meeting with the Executive Director COMSATS, Dr. S. M. Junaid Zaidi. The meeting was also attended by the senior officials of COMSATS Secretariat.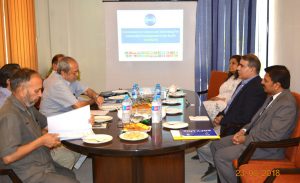 The key agenda of the meeting was to seek the support of Pakistani High Commission for reinforcing COMSATS' ties with Nigeria and Ghana, the latter also holding the Chair of COMSATS. In a brief presentation by Dr. Zaidi, the High Commissioner Designate was apprised of COMSATS structure, its programmes and activities as well as the relationship of the Organization with its twenty-six (26) Member States.
During the meeting, the possibilities of actively engaging Ghana and Nigeria in COMSATS programmes and activities were discussed including scholarships for their students at COMSATS University Islamabad; efforts for meeting their capacity building needs; and deputing an official from Ghana to work on secondment at COMSATS Secretariat. The matter of upgradation of Council for Scientific and Industrial Research (CSIR), COMSATS' Centre of Excellence in Ghana, was also discussed.
Dr. Zaidi expressed willingness to launch various initiatives for sustainable socio-economic development in COMSATS Member States belonging to Africa. In this regard, guidance shall be sought from COMSATS' Chairperson (Honourable President of Ghana), who is the Co-Chair of Sustainable Development Goals Advocates. The High Commissioner assured his full support for facilitating the liaison between office of President of Ghana and Executive Director COMSATS.