The 2030 UN agenda with its universal dimensions pertaining to economy,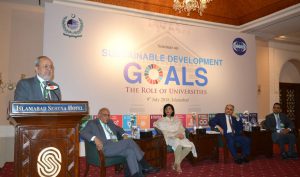 society and environment have acquired a prominent place in global cooperation efforts for development. All the stakeholder states and international agencies have a strong interest in achieving the 2030 agenda.
The Commission on Science and Technology for Sustainable Development in the South (COMSATS) aligning its strategies to the SDGs, COMSATS organized the first of its kind event in Islamabad on July 9, 2018. The seminar on 'Sustainable Development Goals: The Role of Universities' was organized as a first step in this direction in Member States. For Pakistan, COMSATS partnered with the relevant institution in the country, the Higher Education Commission of Pakistan. Vice Chancellors and other senior officials from around a 100 universities from across Pakistan gathered at the event. The purpose of the Seminar was to raise awareness in the academia and research organizations on the promotion, advocacy and implementation of Sustainable Development Goals.
Speaking at the Inaugural, Dr. S. M. Junaid Zaidi, Executive Director COMSATS, highlighted the importance of UN 2030 agenda for sustainable development across the globe. Universities are important for cultivating practices for innovation and the implementation on sustainable development goals. He considered COMSATS University and other Centres of Excellence in three continents important tools for COMSATS' relevant efforts. Chairperson HEC, Dr. Tariq Banuri, while speaking on the inaugural session, highlighted the role of Millennium Development Goals (MDGs) in serving the poor segments of the world. UN Resident Coordinator, Mr. Neil Buhne, also spoke on the occasion and mentioned the importance of brining institutions and politicians on the same forum for relevant policy making process. He highlighted the needs of universities for attaining the Sustainable Development Goals.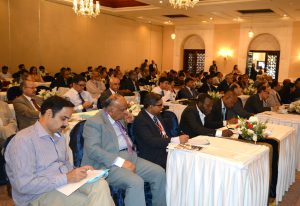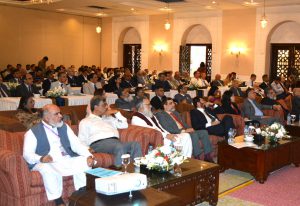 Prominent names from Pakistan and abroad delivered key note addresses on the occasion. These included Prof. Dr. John Thwaites, Chair of ClimateWorks Australia; Dr Max Paoli, Programme Coordinator, TWAS, Italy; and Dr. Adil Najam, Dean, Frederick S. Pardee School of Global Studies, USA.
Dr. John Thwaites highlighted the usefulness of UN Sustainable Development Solutions Network (SDSN) in fostering university linkages within the framework of North-South cooperation.
Dr. Max Paoli emphasized the need for awareness, knowledge and unders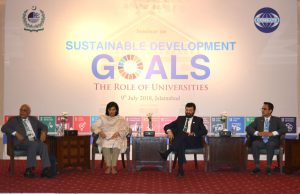 tanding of sustainability and to develop a more responsible attitude towards the planet through knowledge. He advised the education and research institutions to engage with people, especially with the younger generations, to convey key messages and promote sustainable solutions.
Dr. Adil Najam noted that the challenge of actualizing the potential of SDGs is also a challenge for implementation and innovation. He highlighted universities as an ideal vehicle, as they cultivate entrepreneurship and innovation for implementation of UN 2030 agenda.
The panel comprised renowned experts from Pakistan; Dr. Sania Nishtar, Heartfile, Pakistan; Mr. Shoaib Ahmed Siddiqui, Ministry of Planning Development and Reforms, Pakistan; Prof. Abdul Aziz Irfan Mufti, UET Peshawer, Mr. Shaoib Sultan Khan, Chairperson Rural Support Programmes Network; Dr. Abid Suleri, SDPI; Mr. Ali Tauqeer Shiekh, LEAD, Pakistan; Dr. Khalid Riaz, COMSATS University; Dr. Asma Hyder, Member Planning Commission; Prof. Dr. Javed Ashraf, Quaid-i-Azam University, Islamabad, Pakistan; Dr. Umer Saif, UNESCO Chair for ICTD; Prof. Dr. Fazal Ahmed Khalid, UET Lahore; Prof. Masoom YasinZai, International Islamic University; and Dr. Orkun HASEKİOĞLU, Scientific and Technological Research Council of Turkey (TÜBİTAK)..
The panelists spoke on various aspects of Promotion and Advocacy of SD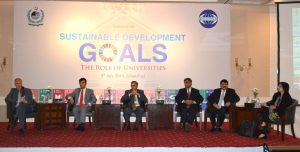 Gs, SDGs Implementation: Perspectives of Education, Research and Development, and Frontier Technologies: Scientific Institutions driving Innovation. Their views helped raised interest of the participants who asked a number of pertinent questions.
The event proceedings were made available through live web-streaming to wide range of audience including COMSATS Ministerial focal points, Centres of Excellence, and stakeholders in different continents.
A graduate from COMSATS Centre of Excellence, COMSATS Universit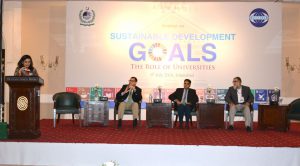 y, Ms. Sadia Bashir CEO, Pixel Arts Games Academy, shared her case of successful entrepreneurship through innovation. Ms. Bashir's success secured her a spot in Forbes Asia's 30 under 30.
The event resulted in a set of recommendations that were presented at the closing session. The recommendations emphasized the need of the research activities which help in promotion of sustainable development agenda, involvement of students in campus operations, bridging the gap between science and policy, and incubation of ideas and conversion of data into learning.
Dr. Arshad Ali closed the event with his closing remarks and vote of thanks.