The Honourable Minister for Science and Technology, Government of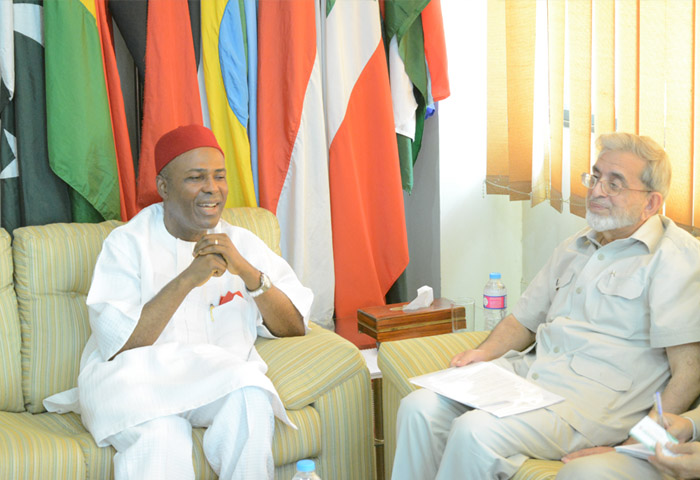 Nigeria, H.E. Dr. Ogbonnaya Onu, paid a visit to COMSATS Secretariat, Islamabad, on June 2, 2016. The Minister visiting Islamabad for participation in 15th General Assembly of COMSTECH was invited to COMSATS Secretariat by the Executive Director COMSATS, Dr. Imtinan Elahi Qureshi, for exchange of views on matters of mutual interest and COMSATS' ongoing cooperation with Nigeria. His Excellency was accompanied by five Nigerian officials. Dr. Dan Azumi M. Ibrahim, Director General, National Office for Technology Acquisition and Promotion (NOTAP) was part of the Nigerian delegation. COMSATS Secretariat was represented by its senior officials.
The Nigerian delegation received a briefing on COMSATS and its programmes by Dr. Qureshi, with special reference to Nigeria. He considered it a personal privilege to hold a meeting with the Minister, and expressed satisfaction over Nigeria's active and consistent participation in COMSATS' programmes.
The Minister reciprocated the warm welcome he received at the Secretariat with his expression of contentment with Nigeria's engagement with COMSATS. He showed keen interest in learning about more areas in which cooperation can be strengthened with COMSATS.
Briefing the Nigerian delegation, Dr. Qureshi stated that COMSATS is an in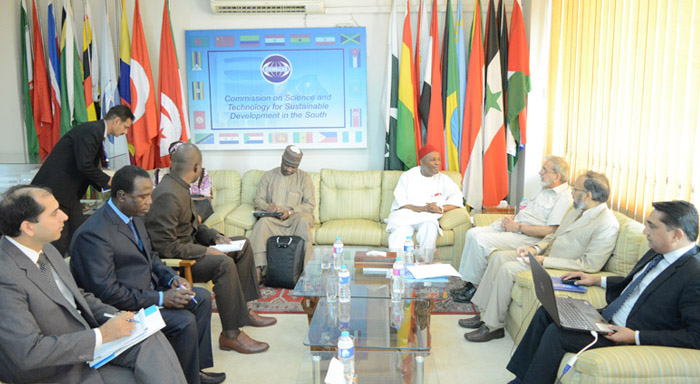 ter-governmental organization of 24 developing countries, who have voluntarily joined hands to promote South-South cooperation in Science and Technology. With its Secretariat hosted by Pakistan, the organization enjoys a complete autonomy in initiating and implementing cooperation programmes. Shedding light on structure of COMSATS, Dr. Qureshi noted that the Heads-of-States level Commission of COMSATS is Chaired by Ghanaian President, H.E. Dr. John Dramani Mahama, while the operations of COMSATS are overseen by an Executive Director.
The Nigerian delegation was informed that COMSATS engages with the political leadership of Member States through designated focal Ministries in the country that are represented at the Consultative Committee, and COMSATS Coordinating Council is another important statutory organ of the organization that provides a platform for scientists-to-scientist interaction within COMSATS Network of Centres of Excellence comprising 20 specialized institutions from developing countries. A special mention was made of a Pakistani node of the Network, COMSATS Institute of Information Technology (CIIT), which is also a flagship project of COMSATS. On a related note, COMSATS Internet Services was highlighted as another IT related flagship project of COMSATS. Dr. Qureshi said that the organization helps manage the affairs of both these projects through representation at their supreme governing bodies. The Minister was also informed of CIIT's standing offer of scholarships to students from COMSATS' Member States for postgraduate education at its different campuses.
Elucidating on COMSATS' other projects and programmes, Dr. Qureshi categorized them in the following major categories: S&T Capacity-Building; South-South Cooperation; Postgraduate Scholarships; Consultancy on S&T Policy and Science Diplomacy; Scientific Publications; International Thematic Research Groups (ITRGs); and sponsorship of scientific activities. He was happy to note Nigeria's strong participation in most of these activities.
Introducing COMSATS' ITRGs, Dr. Qureshi apprised the Minister of the mod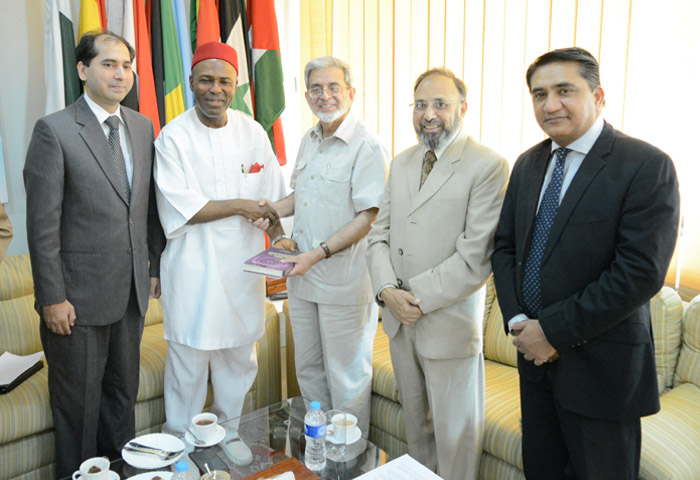 alities of cooperation under these groups for joint research aimed at finding scientific solutions for socio-economic problems of the developing countries. One of the groups, which also has the patronage of ISESCO, is being led by COMSATS' Centre of Excellence in Nigeria, the National Mathematical Centre (NMC), Abuja. The group is working on a joint research project, entitled 'Mathematical Modeling and Simulation of Air and Water Pollution: Effects and Remedies'.
Dr. Qureshi stated that COMSATS' capacity-building events, despite not being high-profile, have a great impact on the development of its Member States, in terms of practical usefulness. He quoted the example of the workshop on 'Repair and Maintenance of Scientific Equipment', recently held in Enugu, Nigeria (23-27 May 2016). To give him a better understating of Nigeria as a beneficiary of COMSATS' membership, Dr. Qureshi presented the honorable Minister with a dossier on COMSATS activities in and for Nigeria, as well as a list of equipment repaired in the Enugu workshop.
The Minister was pleased to learn COMSATS' role in the scientific capacity building of Nigerian scientists and institutions, and appreciated the holding of the recent Repair and Maintenance Workshop. Hoping for further strengthening the existing relations with COMSATS, his Excellency appreciated the working relations between COMSATS and NMC. Indicating his willingness to strengthen scientific cooperation with other countries and institutions, the Minister shared the discussions he held with his Pakistani counterpart. He expressed his desire to expand bilateral relations with relevant institutions of the country.
The Executive Director informed that Pakistan's Ministry of Science and Technology (MoST), being COMSATS' focal Ministry in the host country, therefore COMSATS maintains close working relations with the MoST, which has 17 scientific institutions under its umbrella. He noted that the expertise available in these institutions can be availed to benefit COMSATS' Member States. He further noted that for the series of workshops on Repair and Maintenance of Scientific Equipment, experts are mobilized from the Pakistan Council of Scientific and Industrial Research (PCSIR), which is an affiliated institution of MoST. It was noted that under COMSATS Scholarship Programme, 18 Nigerian students graduated from COMSATS Institute of Information Technology (CIIT), which is now a public-sector university under the MoST.
The strong historical bond between NMC and COMSATS was also highlighted during the meeting, as both were the fruits of Dr. Abdus Salam's vision of strengthening scientific institutions in developing countries.
The meeting concluded with a pledge of stronger cooperation for future activities and presentation of COMSATS' publications to the honorable Minister, who was kind enough to present his book entitled, "From Opposition to Governing Party: Nigeria's APC Merger Story" for COMSATS Library.