The 8th national workshop on "Repair and Maintenance of Scientific Engineering Eq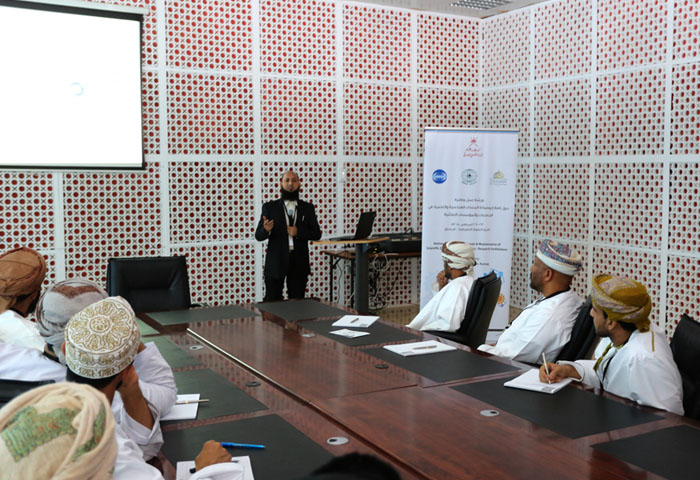 uipments in Universities, Research Institutions and Small Scale Industries" successfully concluded on August 23-27, 2015 in Rustaq, Oman. The 5 days workshop was jointly organized by the Commission on Science and Technology for Sustainable Development in the South (COMSATS), Islamic Educational, Scientific and Cultural Organization (ISESCO); and Ministry of Higher Education (MoHE), Oman. The workshop was hosted by College of Applied Sciences, Rustaq, MoHE, Oman under the COMSATS-ISESCO Cooperation Programme-2014-15.
During the 5-day workshop (August 23-27, 2015), over 30 researchers, academicians, technicians, and engineers from different organizations of Oman were imparted training by resource persons from Pakistan Council of Scientific and Industrial Research (PCSIR), Pakistan, Mr. Arif Karim and Mr. Faisal Ghazanfar.
The workshop was comprised of 10 technical sessions including lectures, hands-on training and visits to different labs of College of Applied Sciences, Rustaq and Sultan Qaboos University, Muscat. During the technical sessions of the workshop, the participants were provided training on troubleshooting and repairing of Spectrophotometer Systems; Flame Photometer Systems; Atomic Absorption system and XRF system; Thermal Analyzer; Gas Chromatographic Systems; HPLC Systems; Electron Microscopes; Laboratory Balances; Thermal Equipments (Oven & Furnace); and pH Meters. These sessions comprising lectures will be complemented by hands-on training in the labs of College of Applied Sciences, Rustaq and Sultan Qaboos University, Muscat.
The workshop provided the participants an opportunity to learn latest repair and maintenance techniques. The workshop is expected to have developed an indigenous capacity by training the master-trainers for maintenance of scientific equipment used in the academic and research institutions of Oman, enabling them to locally address the maintenance issues of the important and very expensive scientific instruments.
Using the knowledge and techniques, learnt during the workshop, participants and experts successfully repaired/made operative a number of expensive and important equipments. The equipment that was repaired/made operational include; Spectrophotometer, Analytical Balances, Ph Meter, Conductivity Meter, Thermogravimetric Analyzer, Centrifuge, Digital Function Generator, Power Supply of CNC, Hot plates and Precision High Ampere power supply. The approximated worth of instruments repaired/made operational during the workshop is more than US $ 25,000.
It is hoped that the workshop has encouraged and promoted self-reliance among Omani scientists and institutions for repairing and maintaining their scientific equipment to help them save time, effort and finances involved in outsourcing the task. The workshop concluded on August 27, 2015, after training the participants as Master Trainers.
The closing ceremony of the event was held on August 27, 2015, H.E Dr. Abdullah Bin Mohammad Bin Al Sarmi, Under-Secretary MoHE, Sultanate of Oman, graced the occasion as Chief Guest. Mr. Nisar Ahmad (COMSATS) presented the technical report of the workshop. The participants expressed their gratitude to ISESCO and COMSATS for organizing the workshop and providing such an opportunity of learning and enhancing their technical expertise. H.E Dr. Abdullah Bin Mohammad Bin Al Sarmi, Mr. Nisar Ahmad and Dr. Hammod Amur Hamood Al Wardi, Dean College Applied Science, Rustaq, Oman, distributed the certificates among the participants. The ceremony concluded with the hope that scientists, engineers and technicians trained in the workshop will further train their colleagues in their respective organizations.