Mr. Michal Bobak, Economic Counsellor, Embassy of Czech Republic in Islama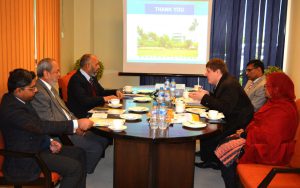 bad visited COMSATS Headquarters and held a meeting with the Executive Director COMSATS, Dr. S.M. Junaid Zaidi and other officials on 11th December 2018. After the exchange of pleasantries, the Adviser Programmes, Mr. Tajammul Hussain made a brief presentation on COMSATS covering the scope and activities of the organization. He highlighted various programmes of COMSATS, including Tele-health, International Thematic Research Groups, and capacity-building activities. He apprised Mr. Bobak regarding the flagship projects of COMSATS including COMSATS University Islamabad (CUI), and COMSATS Internet Services (CIS).
Mr. Bobak thanked the Executive Director for inviting him to COMSATS Headquarters. He expressed keen interest in bilateral cooperation between Czech Republic and Pakistan as well as other Member Countries, especially in the areas of Education and Health. Mr. Bobak suggested cooperation between CUI / Pakistani Universities with the Universities of Czech Republic from the platform of COMSATS especially in the areas of Mathematics and Physics. In this connection, possibilities of faculty / student exchange were discussed.
In order to nurture cooperation, the Executive Director COMSATS invited the delegation comprising of senior professors of Czech Republic' Universities to Pakistan in order to explore opportunities of faculty exchange, scholarships and joint research and development activities. Dr. Zaidi also highlighted the emerging initiatives of COMSATS i.e. establishment of COMSATS Centre for Climate and Sustainability (CCCS), efforts for establishing Universities and R&D Centres in various Member States and expansion of Tele-health programs.
Mr. Bobak extended gratitude for afore-mentioned proposals and expressed willingness to support and facilitate such visits. He also expressed interest in CCCS and virtual campus of COMSATS University Islamabad. Mr. Bobak solicited COMSATS assistance in the areas of Climate Change and the preservation of water resources. In response, Mr. Farhan Ansari, Sr. Assistant Director (Programmes), COMSATS, informed Mr. Bobak regarding the forthcoming workshop on 'Water Resources: Expected Crises and Strategies of Predomination', at National Research Centre, Egypt, on 11-12 March 2018. It was agreed that the Embassy will circulate this information to the relevant universities / R&D organizations of Czech Republic for possible participation. Likewise, Embassy would also facilitate the circulation of information regarding COMSATS activities in related organizations / universities of Czech Republic.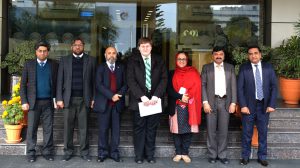 The meeting concluded with a pledge to deepen cooperation in S&T between COMSATS and Czech Republic for the good of the developing countries.