To strengthen the existing cooperation in the areas of common interest, the Com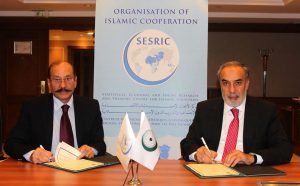 mission on Science and Technology for Sustainable Development in the South (COMSATS) has signed a Memorandum of Understanding (MoU) with the Statistical, Economic and Social Research and Training Centre for Islamic Countries (SESRIC) on 27th November, 2018 in Istanbul, Turkey.
The MoU was signed by Ambassador Musa Kulaklikaya, Director General of SESRIC and Dr. Kamran Jahangir, Advisor COMSATS. This MoU paves the way for the two organizations to enhance its collaboration in view of its earlier association for various cooperation initiatives as well as exchange of information and technical resources among their common member states.
Furthermore, through this MoU, both parties have agreed in principle to launch and execute joint cooperative schemes and programmes in areas of common interest including STI, sustainable and social development.