On 3rd October 2017, H. E. Mr. Dostain Khan Domki, the Honorable Minister of State for Science and Technology and Mrs. Yasmin Masood, Secretary for Ministry of Science and Technology, visited COMSATS Headquarters in order to hold a meeting with COMSATS Officials. The Executive Director COMSATS, Dr. S. M. Junaid Zaidi, welcomed the Minister and introduced the COMSATS officials as a bunch of workers who have laid a good foundation for the organization.
Dr. Zaidi informed that inception of COMSATS in 1994 was the idea of Dr. Abdus Salam. COMSATS, he informed, was founded in a meeting with 18 Prime Ministers from different countries, who signed an agreement. The Government of Pakistan agreed to provide funding for the Secretariat and its functioning. Ministry of Science and Technology, Pakistan, is the focal point of COMSATS.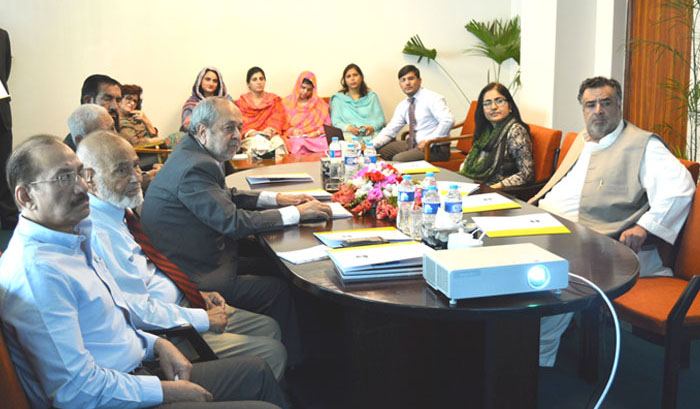 Dr. Zaidi stated that COMSATS is an International/ intergovernmental organization with 25 member countries. The organization constantly strives to enhance its membership. As a result of recent efforts in this regard, Turkey recently ratified its accession agreement, which made it the newest COMSATS' member state. The organization is aggressively approaching governments and ambassadors of different countries for the enhancement of membership.
Highlighting the role of COMSATS' Network in the organization's South-South cooperation programmes, Dr. Zaidi informed that scholarships are being offered to COMSATS' member states by different Centres of Excellence of COMSATS. He informed the Minister and the Federal Secretary about COMSATS' organizational structure with the President of Ghana as its current Chairperson. The mandate and scope of activities of different statutory bodies of COMSATS was also delineated. It was informed that apart from the regular annual meetings of COMSATS Coordinating Council comprising of Heads of Centres of Excellence, the fourth meeting of the Ministerial Consultative Committee is hoped to be held for which considerations of agenda and venue are being deliberated upon. It was also informed that COMSATS Technical Advisory Committee is to meet in a few weeks in Trieste, Italy, hosted by The World Academy of Sciences (TWAS). The Committee that comprises of experts from North and nominated by TWAS would provide technical inputs and recommendations for COMSATS' future programmes to be presented to the statutory body meetings that would meet subsequently.
Dr. Zaidi highlighted COMSATS Institute of Information Technology (CIIT) as one of COMSATS' flagship projects in Pakistan, which is also one of the organization's Centre of Excellence. CIIT, it was noted, is one of the top most institutions in the field of Computer Sciences in Pakistan. COMSATS Internet Services (CIS), another flagship project of COMSATS, was established in 1996, which is the pioneer in providing internet services in Pakistan. He also introduced the joint collaborative research in key areas of socio-economic development being led by scientists from China, Egypt, Nigeria, and Pakistan, under COMSATS' International Thematic Research Groups (ITRG).
Dr. Zaidi shared his aspirations for COMSATS to further strengthen the ties with international organizations, enhance its membership, increase South-South and North-South cooperation. He sought the Ministry's support for COMSATS' future endeavours and those already underway.
Dr. Zaidi informed that during a short period of 6 months, interactions with 28 ambassadors of different countries have led to enhanced interactivity with foreign mission, establishment of important contacts, which are expected to enhance the organization's membership and bilateral cooperation. He also brought to the Ministry officials' notice the recent meetings with relevant officials of international organizations including British Council, European Union, TWAS, European Commission, Universities UK International, for fostering mutual cooperation.
The Secretary MoST was very receptive of the presentation and made some pertinent queries with regard to various aspects of the organization. She advocated the need for enhancing the international character of the organization to better achieve its objectives. In this regard, she suggested devising necessary policies comparable to those of other organizations of similar mandate, such as UNESCO or ISESCO.
During the high-tea after the briefing, the Ministry officials interacted with the officials overseeing various programmes of COMSATS.