The Minister for Science and Technology, Government of Pakistan, H.E. Rana Tanveer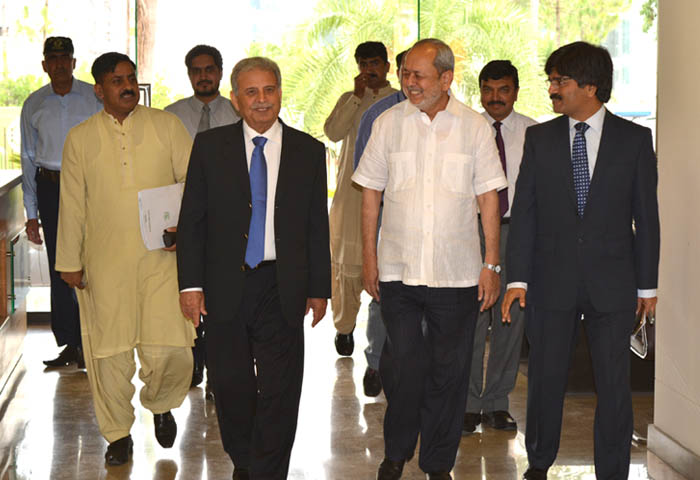 Hussain, visited COMSATS Secretariat, on June 21, 2017. The Minister heads COMSATS' focal Ministry in Pakistan, and has been supportive to COMSATS' programmes since assuming charge.
The Minister was received by the Executive Director COMSATS, Dr. S. M. Junaid Zaidi, and other senior officials of COMSATS, and was shown around the renovated facilities at COMSATS Secretariat building. During his visit to various departments, the Minister interacted with the human resource of COMSATS Secretariat and showed keen interest in their operations.
Speaking to the officials of COMSATS in a meeting later, Mr. Tanveer Hussain expressed his willingness and support to COMSATS' operations and efforts to expand the organization's membership. He also offered to write to his counterparts in member states for expansion of COMSATS' membership. Answering a question, His Excellency showed his concern over the state of S&T and the priority it has been given over the years at national level. Noting how well the developed countries are benefitting from prioritization of S&T, innovation and R&D, the Minister noted his efforts in the recent years to increase the allocated budget for S&T and R&D, which he hopes to have enhanced 10 times (up to 1% of GDP) by 2018. The initial success in this regard noted by the Minister was of four times enhancement, bringing it up to 0.29% of GDP.
| | | |
| --- | --- | --- |
| | | |
Noting the efforts made by his Ministry to enhance the finances for S&T sector, he also considered it important for the relevant institutions to make more efforts and execute effective projects of applied nature that would have a positive effect on development. In this regard, he especially noted the role of COMSATS' project, the COMSATS Institute of Information Technology, which is a government sector degree awarding institution soon to be upgraded to a University.
He considered it important to have versatility in the leadership of a country to meet the needs of various sectors, and advocated investing in human resource. He also considered it important to effectively engage the private sector for a more coherent and inclusive approach towards development. He considered it important to have more research centres in Universities and advocated the need for having novel approaches towards sustainably funding these.
The Minister was introduced to various officials of COMSATS and their assignments. His Excellency pledged his support towards COMSATS and its future pursuits within Pakistan and abroad.