The Commission on Science and Technology for Sustainable Development in the South (COMSATS) and the Sustainable Development Policy Institute (SDPI) have signed a Memorandum of Understanding (MoU). Based on the common interests and focus on sustainable development, the agreement aims at strengthening institutional networking, enhancing organizational capacities and extending out-reach.
Dr. Imtinan Elahi Qureshi, Executive Director COMSATS, and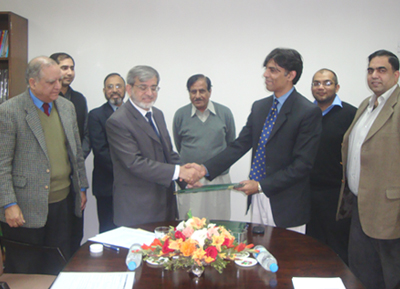 Dr. Abid Qaiyum Suleri, Executive Director SDPI, signed the MoU on behalf of their respective organizations in a ceremony that took place at COMSATS Secretariat on 15th December 2009. The MoU has resulted from the consultations held between the officials of COMSATS and SDPI over the last many months, the most important of these consultations having taken place on 26th November 2009.
According to the MoU, the two organizations will collaborate in the areas of education, healthcare and population, food and agriculture, renewable energy, institutional capacity building, information and communication technologies, employment generation, environment and South-South cooperation. The means and protocols of collaboration, as agreed by the two organizations, include: exchange of information; knowledge and expertise; assistance for educational and training opportunities; holding of national and international events; formulation of strategy and policy advice; and support in media and public relations. Both organizations will work within their respective mandates while conducting joint activities.
In view of this MoU, COMSATS would organize a special session on renewable energy in SDPI's forthcoming annual sustainable development conference titled "Fostering Sustainable Development in South Asia", to be held from 21st to 23rd December 2009.