On invitation of the Executive Director COMSATS, Dr. S.M. Junaid Zaidi, the Ambassador of the Republic of Tunisia to Pakistan, H.E. Mr. Adel Elarabi, and the Ambassador of Federal Republic of Somalia to Pakistan, H.E. Mrs. Khadija Mohamed Almakhzoumi, paid a visit to COMSATS Secretariat on October 2, 2017. These dignitaries met Dr. Zaidi in the presence of senior officials from COMSATS. It was a combined meeting, where the Tunisian Ambassador was first to arrive and was joined later by the Somali Ambassador.f
Dr. Zaidi warmly welcomed the Tunisian Ambassador and thanked him for sparing time for the visit. He appreciated the activities of COMSATS' Centre of Excellence in Tunisia, Water Researches and Technologies Centre of Borj-Cedria (CERTE) and participation in the Network. Dr. Zaidi expressed his desire to enhance COMSATS' Member States and sought help from Tunisia in this regard. He assured the Ambassador of possible support to Tunisia for the execution of any research project, such as establishment of state-of-the-art scientific institution/ university. He emphasized that COMSATS member countries should join hands for matters of mutual benefit. Dr. Zaidi informed the Ambassador about his upcoming tour to Europe based on the need for fostering linkages with the North.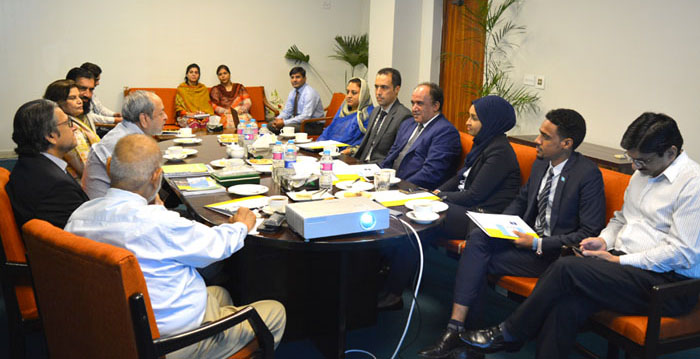 The Ambassador appreciated Dr. Zaidi's efforts towards achieving COMSATS' objectives. The Ambassador assured Dr. Zaidi of full support from Tunisia for induction of more Member States to COMSATS. The Ambassador urged the Executive Director to facilitate Tunisian students in winning graduate and post-graduate scholarships in African and European institutions. Further, he solicited support of COMSATS for strengthening scientific research in Tunisia and showed willingness for helping in execution of research projects/establishment of a Centre of Excellence in Africa or Europe with the financial support of COMSATS.
The Ambassador informed that Tunisia places special emphasis on education, health and women empowerment. He apprised that human resource development, S&T, environment and research are the strengths of Tunisia. While responding to a query, the Ambassador apprised that 40% of the judges in Tunisia are women and, after 2011, it has been made obligatory for every party in Tunisia to have 1:1 gender ratio. He acknowledged the efforts of H.E. Habib Bourguiba, former president of Tunisia, regarding women empowerment. The Ambassador proposed that a meeting should be held between Dr. Zaidi and the Minister of Higher Education and Scientific Research, Tunisia, in order to discuss matters of mutual interest.
Speaking on the occasion, Ambassador (R) Shahid Kamal observed that Tunisia has greater capacity in IT that can be useful for COMSATS' other member countries, Centres of Excellence as well as for African countries in general. He opined that a multilateral state-of-the-art institution can be established with support from Tunisia. He suggested that Tunisia could procure finances from International Agencies in order to meet SDGs related to health, education, environment, etc.
During the meeting, Advisor, Ambassador (R) Fauzia Nasreen, appreciated Tunisia's struggle during the economic transition. She urged His Excellency for collaboration with other CoEs and Member States in the field of water research.
The Tunisian Ambassador was presented the foundation documents of COMSATS being signed by founding Member States including Tunisia.
H.E. Mrs. Khadija Mohamed Almakhzoumi, Ambassador of Somalia to Pakistan, joined the meeting a little later. Her Excellency was briefed on the projects and programmes of COMSATS, and benefits and obligations of COMSATS' membership as well as on past invitations to Somalia to join COMSATS.
After a formal welcome to Somali delegation, Dr. Zaidi introduced COMSATS as a unique organization having the mandate of science-led sustainable development in the South with 25 Member States and an affiliated network of 21 International S&T Centres of Excellence providing scientific and technological strength for South-South Cooperation. Other projects of COMSATS that were introduced included COMSATS' Telehealth, International Thematic Research Groups, and capacity building events.
Dr. Zaidi elucidated the huge potential of collaboration between Somalia & COMSATS. He highlighted that membership of COMSATS will be very useful for Somalia as it will become easier for Somalia to collaborate with other COMSATS' member states and Centres of Excellence. He further informed that a relevant S&T governmental department/ministry serves as focal point in the country and has the representation in COMSATS Consultative Committee. Her Excellency was also informed about the Annual Membership Contribution (AMC). Mrs. Khadija was informed these contributions are voluntary and are kept as separate Trust Fund to be used for the contributing member only.
Moreover, Dr. Zaidi highlighted that in view of its financial constraints, COMSATS adopts a number of innovative approaches to optimally benefit its member states, one of which is resource-sharing with organizations with similar programmes and/or mandates, such as UNESCO, and ISESCO. He stated that becoming member of COMSATS can open doors for Somali students could benefit from scholarships for COMSATS' Member states and collaborations with Centres of Excellence in broader spectrum. The Tunisian Ambassador encouraged the Somali Ambassador to avail the opportunity and join the COMSATS.
The Ambassador of Somalia was handed a formal letter of invitation to the government of the Federal Republic of Somalia to join COMSATS. The meeting concluded with presentation of shields to the honourable Ambassadors.