Mr. Bako Bitrus Nabasu, mni, Permanent Secretary, Nigerian Federal Ministry of Science and Technology, who is also COMSATS' focal person in Nigeria visited COMSATS. He was accompanied by COMSATS' Liaison Officer for the FMST, Mr. Abayomi Oguntunde, Director Bio-resources Technology Research & Development; and Special Advisor to the Permanent Secretary, Mr. Samuel Thomas.
During his meeting at COMSATS Secretariat and a dinner hosted in his honor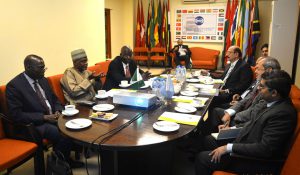 in Islamabad, the Permanent Secretary informed that Higher Education is a high priority of the Nigerian Government and hence welcomed the cooperation offered by COMSATS for establishment of R&D Centres such as the CSSS and new COMSATS' universities.
In the presence of senior officials from diplomatic community, Pakistani government officials, COMSATS Secretariat, and COMSATS University Islamabad, as well as foreign students studying at the university attending the dinner, the Permanent Secretary made a strong case for establishment of these institutions in Nigeria and looked forward to see more of COMSATS' Centres of Excellence in the areas based on the Country's national priorities. He also showed keen interest in availing expertise and resources available through the platform of COMSATS, including the knowledge and skills available at COMSATS' 22 Centres of Excellence, scholarship offers available at these Centres, and COMSATS' institution building experience.
"Nigeria is one of the five Member countries that are going to host a Centre each, the other four being Uganda, Tanzania, Palestine and Kazakhstan", informed the Executive Director of COMSATS Dr. S.M. Junaid Zaidi, who was hosting the delegation in Islamabad.
Mr. Nabasu expressed his desire to cooperate with other institutions of Pakis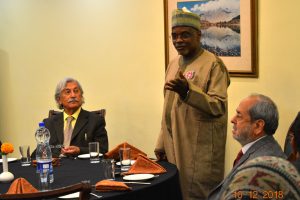 tan based on the needs of Nigeria and corresponding strengths available in Pakistan. He informed that Nigeria looks forward to diversifying its partnerships, including academic partnerships in Pakistan. He noted in this regard the excellent quality education received by Nigerian students in various institutions in Pakistan, especially the COMSATS University Islamabad. Many of these are availing graduate and post graduate education on COMSATS' scholarships offered to students from member countries. "Having experienced first-hand during this visit the facilities and faculty available, one feels even more inclined to having similar institution as COMSATS University Islamabad in Nigeria," expressed Mr. Nabasu.
Mr. Nabasu expressed desire to advance cooperation in areas of common interest between Nigeria and COMSATS' member states. For further improving prospects of cooperation in this regard, the Permanent Secretary was especially appreciative of the presence of Dr. Tariq Banuri, Chairperson of the Higher Education Commission (HEC) of Pakistan. Appreciating the effective patronage of the HEC to the Universities, he looked forward to this important institution of Pakistan.
In response to his desire to interact with other institutions and organizations of Pakistan, including HEC, Dr. Tariq Banuri extended strong support of his Commission to the Nigerian officials. Calling Nigeria a brother country, Dr. Banuri expressed solidarity to Nigeria based on the commonality of challenges and needs the country has with Pakistan. He recalled his past association with UN when he found the Nigerian officials strong participation in the important matters affecting the development agenda. He remarked on the cordial nature of the relations the two countries enjoy with one another.
Dr. Banuri highlighted a number of challenges facing developing countries that call for stronger and closer cooperation, including climate change. He called for stronger collaborations for knowledge sharing, and addressing common challenges, for greater impact of such efforts. He showed keen interest in continue working with COMSATS to help address the challenges.
Discussion with regard to the establishment of the COMSATS higher e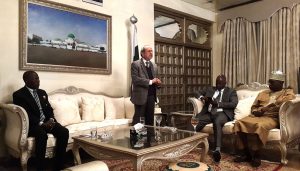 ducation institutions and CSSS in Nigeria continued later at the residence of the Nigerian Higher Commissioner in Islamabad, H.E. Maj. Gen. (R) Ashimiyu Adebayo Olaniyi. The High Commissioner hosted the delegation from Nigeria, officials from COMSATS' Secretariat and COMSATS University Islamabad, as well Nigerian students studying in Pakistan. The Higher Commissioner was also appreciative of the idea and expressed pleasure that Nigeria would be establishing a university with facilitation from COMSATS and its partners.
During his remarks, the High Commissioner opined that such collaboration between Nigeria and Pakistan is mutually beneficial. He noted the similarities between Pakistan and Nigeria and hoped that the two countries can join hands to address their common challenges. He appreciated COMSATS for facilitating the capacity building of Nigeria, especially through accepting Nigerian students to pursue postgraduate studies at CUI. He thanked the students for being good Ambassadors of Nigeria in Pakistan. He also highlighted the ongoing collaboration between COMSATS and NMC-Nigeria. He also informed that Edo State Polytechnic in Nigeria is establishing a research centre on natural products and naming it after Prof. Dr. Iqbal Choudhary, Director ICCBS, Pakistan.
Dr. Junaid Zaidi in his vote of thanks hoped to see more students from Nigeria enrolling in COMSATS University Islamabad in the coming years. He hoped to see a truly top-class university being established in Nigeria under COMSATS' auspices. He informed that a brief concept note on the establishment of the university in Nigeria would be shared with the officials of Federal Ministry of Science and Technology, Government of Nigeria, to initiate the process. He considered the visit of Nigerian officials very productive for opening new avenues of collaboration. He looked forward to Nigeria's collaboration with other Member States in the emerging areas of S&T including Artificial Intelligence, Robotics, Biotechnology, Nanotechnology, ICTs, etc.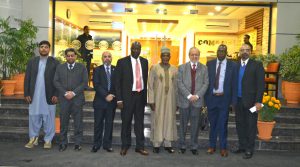 It was noted that Nigeria is one of COMSATS' Founding Members and has been active since the inception of the organization by way of, inter alia, holding statutory body meetings, including that of COMSATS Coordinating Council.
Other matters discussed during these interactions included bilateral and multilateral cooperation through the platform, and collaboration with more institutions from COMSATS' member countries including Pakistan.