On July 21, 2017, Dr. Abdul Aziz Khan, Advisor at COMSATS Secretariat, held a lunch meeting for senior officials of COMSATS Institute of Information Technology (CIIT) and the foreign interns of COMSATS Secretariat. The purpose of the meeting was to bid farewell to three of the interns who have completed their academic pursuits at CIIT, as well as to have informal discussions on their activity at COMSATS Secretariat.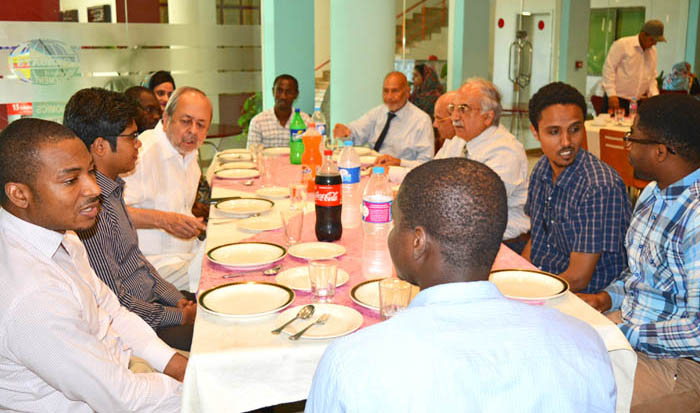 The Executive Director COMSATS, Dr. S. M. Junaid Zaidi, also graced the lunch meeting with his presence. Also present on the occasion were the following officials of CIIT, Dr. Arshad S. Malik, Head International Office; Dr. Tariq-ur-Rehman, Advisor (IO); Mr. Kashif Masood, Deputy Registrar, as well as Ms. Farhana Saleem, Sr. Publication and Communications Officer, COMSATS Secretariat, Islamabad.
During the informal discussion, Dr. Zaidi appreciated the dedication and responsibility with which the interns worked at the Secretariat and considered this initiative a success. He inquired the students about their academic experience at CIIT and assured them of continued facilitation in future.
The students who are departing for their home countries in the coming week have completed their MS in Biosciences (Mr. Hassanul Banna-Bangladesh) and Post-Doc Research under TWAS programme (Mr. Ruben Zeiba Falama-Cameroon; and Mr. Omer Abdie O.-Ethiopia).