Ambassador of the Republic of Kazakhstan to Pakistan, H.E. Mr. Yerzhan Kistafin calls on Executive Director and receives briefing on COMSATS' engagements with Kazakhstan
The Ambassador of the Republic of Kazakhstan to Pakistan, H.E. Mr. Yerzhan Kistafin, called on the interim Executive Director COMSATS, Dr. Akhtar Nazir, who is the Federal Secretary, Ministry of Science and Technology (MoST), Government of Pakistan. The meeting was held at COMSATS Secretariat, on 25th October 2021. The meeting was also attended Joint Scientific Advisor (International Liaison), MoST, Mr. Zain-ul Abedin and senior officials of COMSATS, Mr. Irfan Hayee, Deputy Director (Programmes); Mr. Nisar Ahmed, Deputy Director (Systems); Dr. Mehwish Durani, Deputy Director (Programmes);  Ms. Huma Balouch, Sr. Assistant Director (Programmes); Mr. Farhan Ansari, Sr. Assistant Director (Programmes).
The Ambassador was briefed about COMSATS and its international programmes and activities in the member states, particularly the engagements with Kazakhstan with an aim to improve the country's participation in COMSATS' international activities and statutory body aiding the organization's growth in strategic and programmatic directions.
After being welcomed by the Executive Director COMSATS, His Excellency was given a brief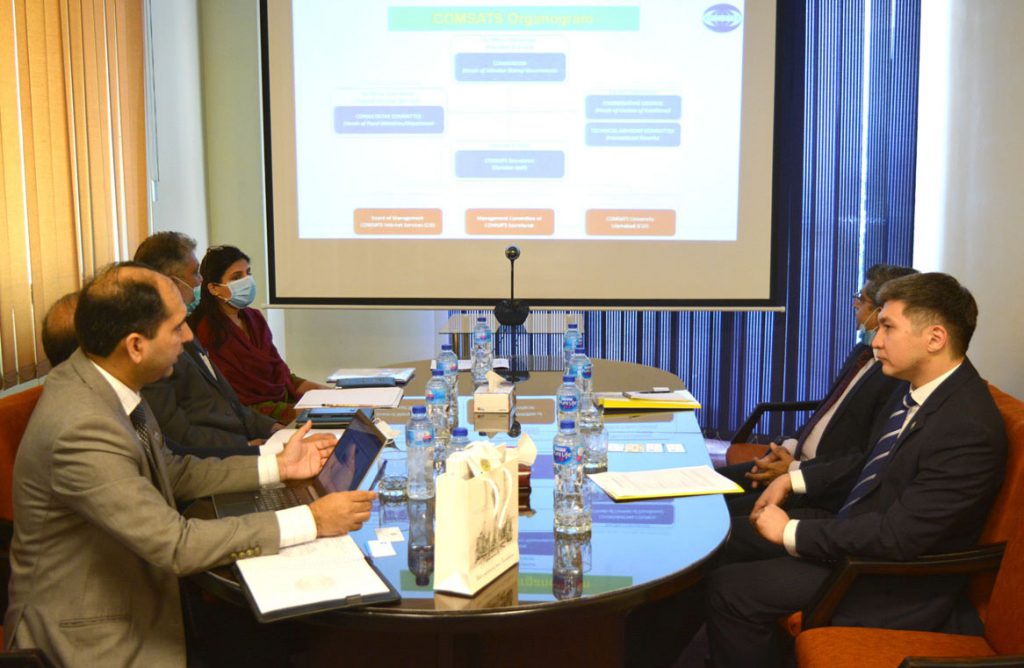 presentation by Mr. Hayee on COMSATS' recent initiatives with particular focus on engagements with Kazakhstan and its Centre of Excellence, Al-Farabi Kazakh National University. Mr. Hayee informed that the Kazakhstan is founding member country of COMSATS and Al-Farabi KazNU has been affiliated with COMSATS as its Centre-of-Excellence since 2016. He also highlighted COMSATS' enormous contributions in the fields of science and technology by means of its flagship and international projects, including but not limited to COMSATS University Islamabad (CUI), a leading educational institution in Pakistan; COMSATS Internet Services, as pioneer internet services provider in Pakistan; COMSATS Telehealth Services (CTH – initiated as pioneer e-health service in Pakistan; COMSATS Centre for Climate & Sustainability (CCCS), an extensive collaborative network of local, national, regional and global partner organizations for facilitating implementation of the 2015 Paris Agreement.
Highlighting the strong collaborative relationships between COMSATS and Al-Farabi KazNU, Mr. Ansari apprised His Excellency that COMSATS has organized a number of capacity building workshops in Kazakhstan, which have greatly contributed to increasing scientific research capacity of its Centre of Excellence in Kazakhstan. Mr. Ansari also shed light on the ongoing academic and research cooperation between Al-Farabi KazNU and other members of COMSATS Network of Centre of Excellence, including: agreement of research cooperation between Tainjin Institute of Industrial Biotechnology and Al-Farabi Kazakh National University (KazNU), establishment of Al-Farabi corner in Junaid Zaidi Library, COMSATS University Islamabad; Joint Laboratory of KazNU and International Centre for Chemical and Biological Sciences (ICCBS) on Phytochemistry at University of Karachi; agreement of cooperation between Iranian Research Organization for Science and Technology (IROST), Iran, and Al-Farabi KazNU.
Ms. Balouch stated that COMSATS has been contributing to achieving SDGs in its member countries through a series of capacity-building and knowledge-sharing events featuring experts from S&T sector on critical topics related to implementation of SDGs. Mr. Ahmed informed His Excellency about COMSATS' participation in number of collaborative activities with relevant United Nations agencies (UNESCO, UNESCAP, UNOSSC), as well as regional and sub-regional organizations for promotion of South-South and Triangular cooperation.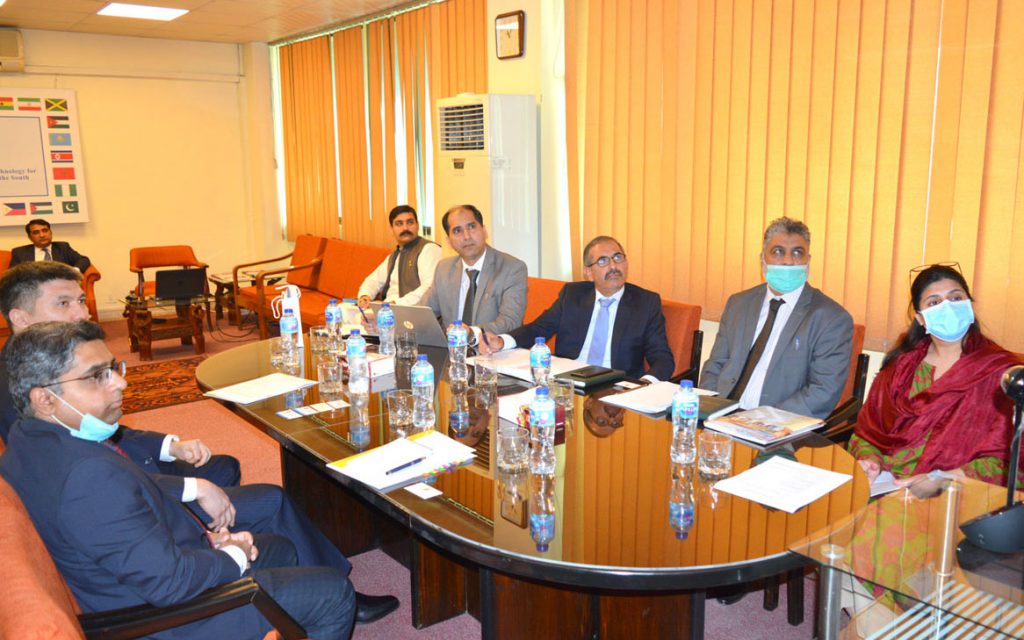 During the discussion, Dr. Nazir and H.E. Mr. Kistafin exchanged views on expanding COMSATS-Kazakhstan cooperation and partnerships, notably in enhancing academic interaction between Kazakhstan's S&T universities and COMSATS' member countries. Mr. Hayee sought the Ambassador's support for the expansion of COMSATS' membership in Central Asia region; improving the interaction with COMSATS' focal point in Kazakhstan, the Ministry for Education and Science; furthering work on COMSATS' scholarship programme and COMSATS' project proposal on Telehealth Collaboration with Kazakhstan. His Excellency was also invited to pay a visit to Al-Farabi corner at Junaid Zaidi Library at CUI-Islamabad.
H.E. Mr. Kistafin expressed satisfaction on the active role played by COMSATS in supporting Kazakh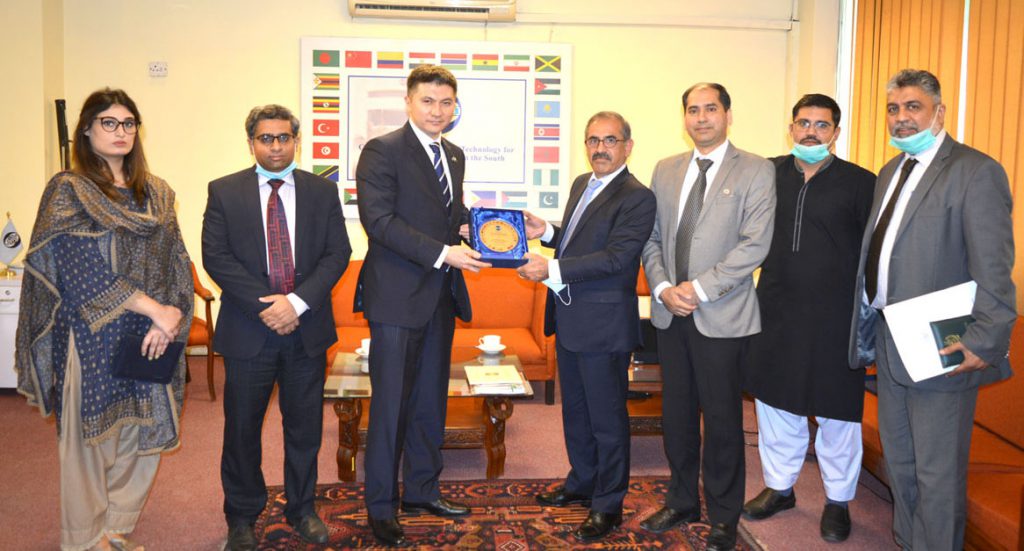 stan's cooperation with other member countries of the organization. His Excellency informed the COMSATS' officials of the strong political liaison between Kazakhstan and Pakistan for purposeful international collaboration. In this regard, he urged COMSATS, as the facilitator of S&T-led cooperation, to help sustain high-level interactions with Kazakhstan. He believed that by making focused efforts and coordinating cooperative activities, the available prospects might be realized to the fullest. His Excellency also informed about his recent meetings held with Pakistan's Government and private sector, educational institutions, aviation and airline administration, and local authorities in order to strengthen ties between both countries, for developing active, interactive, and long-term collaborations at all levels. His Excellency underscored the necessity of city-to-city and people-to-people interaction that will provide impetus for strengthening relations in all areas of bilateral or multilateral.
His Excellency urged COMSATS to explore collaboration with Turkic Academy, an international organization founded in 2012 by Azerbaijan, Kazakhstan, Kyrgyzstan, and Turkey under the auspices of the Cooperation Council of Turkic Speaking States (Turkic Council) with the goal of coordinating scientific research on Turkic language, literature, culture, and history. His Excellency also suggested holding a Seminar for the diplomats of Central Asian Countries, including Azerbaijan to discuss possibilities of collaboration and COMSATS' offer of membership, and assured his support for convening this seminar.
The meeting concluded with the exchange of souvenirs from both sides and on a note of stronger cooperation between Kazakhstan and COMSATS' Member States in future.