"Information security has become a critical concern for Internet users and developers, a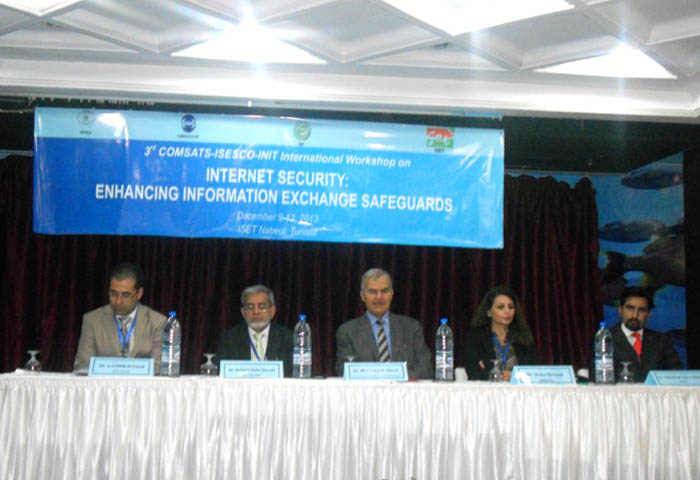 nd there is a dire need to have a methodology to build integrated systems to provide the necessary protection of information at all levels". This was stated by H.E. Dr. Moncef Ben Salem, Minister for Higher Education and Scientific Research, Government of Tunisia, while presiding over the inaugural ceremony of the International Training Workshop on 'Internet Security: Enhancing Information Exchange Safeguards', held on 9th December 2013. This 5-day event is being jointly organized by the Islamic Educational, Scientific and Cultural Organization (ISESCO); the Commission on Science and Technology for Sustainable Development in the South (COMSATS); and the Inter Islamic Network on Information Technology (INIT), in Nabeul, Tunisia. Dr. Salem also expressed appreciation of COMSATS' efforts in arranging subject experts for imparting the necessary knowledge and skills related to secure the use of information exchange over the Internet. The workshop, being hosted by the Higher Institute of Technological Studies (ISET), Nabeul, is the third of the series of events on the theme. The earlier two were held in Syria (2011) and Jordan (2012).
In his welcome address, Mr. Landolsi Foued, Director ISET-Nabeul thanked ISESCO, COMSATS and INIT for organizing this important workshop in Tunisia at his institute. He highlighted the significance of ensuring Internet/information security, and hoped that the workshop will successfully achieve its objectives of enhancing the knowledge and skills of the participants related to the protection of network and network-accessible resources from different types of malicious attacks.
In his speech on the occasion, Dr. Imtinan Elahi Qureshi, Executive Director COM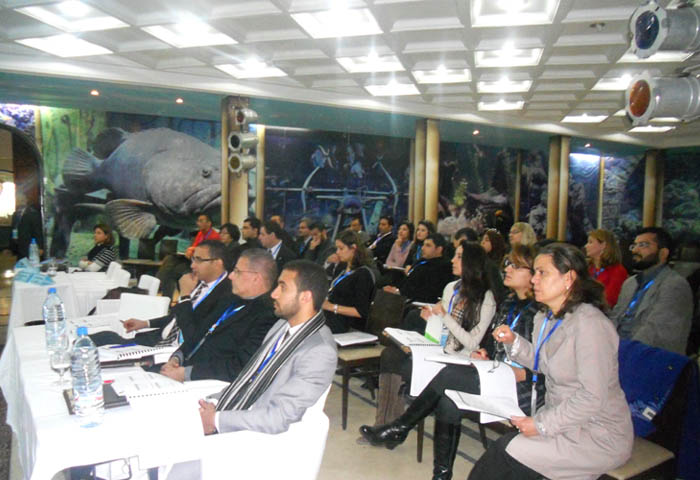 SATS, thanked the honourable Minister for Higher Education and Scientific Research, Government of Tunisia, for gracing the inaugural ceremony of the event with his presence, which he considered indicative of his commitment to build capacity of Tunisians in this important field. He stated that Internet/information security is a common concern to all, which can only be addressed through enhanced international cooperation in this field. Recounting the principles and actions specified during the World Summit on Information Society held in Geneva (2003) and Tunis (2005), the Executive Director COMSATS called for developing global culture of cyber security through stronger participation of international organizations. He also stressed the need of addressing ethical aspects of information exchange over Internet, such as data interception and propagation of hatred against religions. Dr. Qureshi stated that COMSATS, having a Network of 18 International S&T Centres of Excellence, has the necessary human and technical resources available to cooperate with other international organizations such as ISESCO and UNESCO in different fields of science and technology, including Internet security. He also highlighted COMSATS' on-going efforts and programmes aimed at achieving socio-economic development in the Member States through South-South cooperation in science and technology.
Speaking on behalf of the President INIT, Mr. Muhammad Atiq-ur-Rehman, Senior Program Officer, INIT, stated that information is the most important asset of any organization and needs to be protected. He informed that INIT is actively engaged in programmes and activities related to encouraging the use of ICTs in OIC Member States and building capacity of the relevant human resource to effectively deploy, manage and protect the network resources.
Dr. Maha Merezak, Programme Specialist (Human & Social Science), Science Directorate, ISESCO, conveyed the greetings of the Director General ISESCO. She stated that the national policies must be oriented towards better practices to ensure Internet security, as well as strong partnerships among governments, regulatory bodies and NGOs. She opined that harmonizing national policies for protection of electronic services and their users has become a necessity, which must be enforced through well-defined regulations and penalties to discourage criminal acts, such as those cited in the Budapest Convention of 2001.
Other distinguished Tunisian guests at the inaugural ceremony included: Prof. Mohamed Ben Youssef, Director General, Water Researches and Technologies Centre of Borj-Cedria (CERTE); Mr. Ali Gharsallah, Director General ISETs; Mr. Bouras Adel, Director General, Des Etudes Technologiques; and Prof. Mohamed Ben Amor, CERTE, as well as H.E. Mr. Mushtaq Ali Shah, Ambassador of Pakistan to Tunisia.
During the technical sessions of the workshop spread over five days, experts belonging to Egypt, Pakistan, Tunisia, and United Arab Emirates will impart training on topics related to cryptography and web security, organizational security, ethical hacking, cyber security and information security design principles, and offensive security. About 35 young researchers, practitioners, academicians, system administrators and programmers working in the field of Internet/information security and cryptography from Iran, Morocco, Pakistan, Algeria, Tunisia, Sudan and Turkey will be receiving training.