H. E. Mr. H. Salar Amoli, Deputy Minister for International Cooperation, Ministry of Science, Research and Technology, Islamic Republic of Iran, has expressed strong commitment on behalf of his Government to support COMSATS for its activities aimed at promoting multilateral South-South cooperation in various disciplines of Science and Technology.
He was talking to the delegation comprising of Executive Director COMSA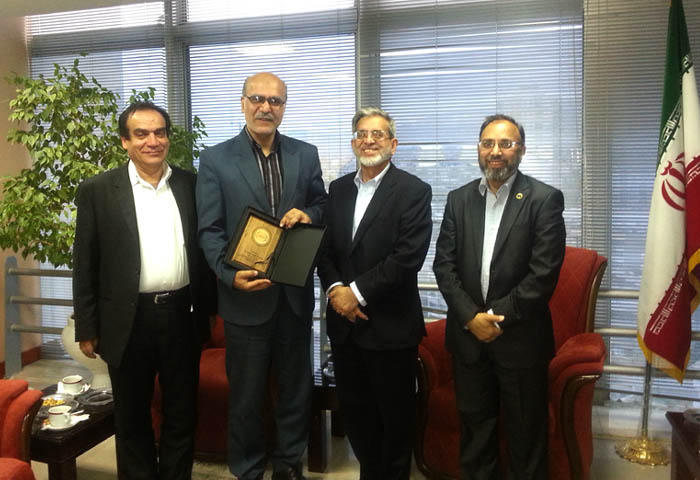 TS, Dr. I. E. Qureshi and Advisor COMSATS, Mr. Tajammul Hussain, that met the honourable Minister in his office on May 20, 2014. The meeting was held on the sidelines of the 17th Coordinating Council Meeting of COMSATS, hosted by the Iranian Research Organization for Science and Technology (IROST). The Executive Director informed Mr. Amoli about the significance of the Council meeting as a means of exploring scientific cooperation opportunities among developing nations. The Council members, who are distinguished scientists occupying prestigious positions as Heads of their respective organizations, get into close interactions with each other during the course of the meeting and share the status of their institutions' research programmes for the benefit of other Networks Member of COMSATS or getting support for their activities. The Advisor COMSATS requested the honorable Minister to release funds for the award of five scholarships offered to the students of COMSATS' Member States for studies at IROST. The Minister acknowledged the impact of COMSATS' international activities aimed at S&T capacity building through mutual cooperation and ensured the COMSATS' officials that the Government of Islamic Republic of Iran would continue to provide financial and intellectual support for the commendable mission of COMSATS. He was happy to note that COMSATS' Council meeting was attended by renowned scientists from eleven Centres of Excellence from around the world.
Regarding the proposal of establishing an International Thematic Research Group in the field of Renewable Energy Technologies, the Minister directed the officials of IROST to appoint a senior expert of IROST in this field to act as the Group Leader, who could guide the research work of the relevant group comprising of researchers from different Member States of COMSATS. He advised to focus on a well-defined research project that could be completed within a reasonable time-frame. The Acting President for International Cooperation, IROST, Dr. Mahmoud Molanejad, assured the Minister that his instructions will be studiously acted upon. He further submitted that IROST plans to establish a Human Resource Centre in Advanced Technologies, for which COMSATS Headquarters would provide administrative support.
The meeting ended with the exchange of gifts and reiteration of further strengthening COMSATS-IROST collaboration for the best interest of scientific cooperation among the countries of the South.