The first International Workshop on Nanotechnology for Young Scientists (IWYS-2016) was successfully held from 28th to 30th November 2016, in Selangor, Malaysia. The three-day event was jointly organized by COMSATS; the Islamic Educational, Scientific and Cultural Organization (ISESCO); and Universiti Kebangsaan Malaysia (UKM), Malaysia.
The event was inaugurated by Prof. Dr. Imran Ho Abdullah, Deputy Vice Chancellor, UKM, Malaysia, on November 28, 2016, in Selangor. In his inaugural address, Prof. Dr. Abdullah highlighted the multidisciplinary nature of nano-technology with numerous applications in applied physics, material sciences, supramolecular chemistry, mechanical engineering, mechatronics, chemical engineering, and bioengineering. He stressed that the technologies being developed by Malaysian scientists, and the research being carried out in the area of nanotechnology need to be commercialized to contribute to the country's economy. He thanked the foreign resource persons belonging to the Republic of Korea, Japan, China, Pakistan and Turkey for taking part in the event.
| | | |
| --- | --- | --- |
| | | |
Mr. Fazal Abbas Maken, Executive Director COMSATS, in his message read out on the occasion by Ms. Huma Balouch, Sr. Assistant Director (Programmes) COMSATS, considered it important for the countries of the South to develop a critical mass of scientists and technologists that can contribute to the field of nanotechnology. He also acknowledged the continuous support of ISESCO towards COMSATS' international programmes and activities.
Speaking on the occasion, the Chairman of Workshop Central Committee, Assoc. Prof. Dr. Mohammad Hafizuddin Jumali of UKM expressed his pleasure over the number of resource persons and participants of the Workshop. He hoped that Malaysian participants would benefit from the experiences and knowledge of the international participants.
The Workshop stimulated interest of young Ph.D students and early-career researchers in the fields of nano-science, and nano-engineering from different parts of the world as well as provided them a platform to learn the latest developments in the field and help forge early collaborations. The workshop focused on developing understanding on nanoscale physics, chemistry, engineering, and biology, and facilitate knowledge-sharing among scientists in these fields.
The Workshop programme consisted of two keynote talks, two invited plenary lectures, six workshop sessions, 20 selected oral contributions, and 50 poster presentations. There was also an exhibition of latest products, services, technologies and industry innovations by the commercial partners, including Bruker AXS, RGS Corporation Sdn. Bhd, Gaia Science, Vistec Technology Services, Alpha Instruments Supplies & Services Sdn Bhd, and ITS Interscience Sdn Bhd. The knowledge shared under these components of the event demonstrated the practical importance of nanotechnology. More than 150 young scientists and researchers in the field of nanotechnology from 13 countries, including Bangladesh, Brunei, China, Egypt, Kazakhstan, Japan, Jordan, Korea, Indonesia, Iran, Malaysia, Pakistan, and Turkey, participated in the event.
| | | |
| --- | --- | --- |
| | | |
The highlights of the Workshop included a keynote address by world‐renowned 
physicist, Prof. Dr. Qikun-Xue of Tsinghua University, China, who is the first winner of 'China's Nobel' prize for his pioneering contribution in the Quantum Anomalous Hall (QAH) effect. In his talk, Dr. Xue gave an introduction of three techniques: molecular beam epitaxy (MBE), scanning tunnelling microscopy (STM), and angle resolved photoemission spectroscopy (ARPES), and presented MBE-STM-ARPES study of topological insulators and iron-based superconductors.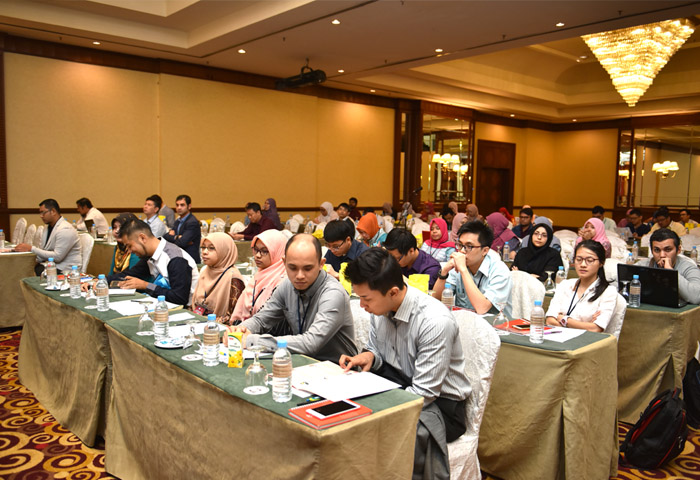 The Workshop sessions covered a number of critical topics, such as fundamental description of metallic nano-particles; flexible organic optoelectronic devices using printing process; low dimensional inorganic optoelectronic nano-materials, defects in wide band gap semiconductors for potential use in light sources; acylated chitosan stealth liposomes, as well as one dimensional electronic oxides nano-materials. The technical undertakings of the event broadly centered around the relevant materials and interface parameters that play a key role in functionality of nanodevices, as well as the overall device design. Discussions during the event delineated on emerging applications with potentially significant impact on materials, electronics, photonics, and life sciences industries, and encouraged debate on the current strategy and perspectives in nanoscience and nanotechnology.
The event also featured country status reports by international participants from Bangladesh, Brunei, Egypt, Indonesia, Jordan, Kazakhstan, and Malaysia. These, inter alia, covered: applications and benefits of nanotechnology, societal issues and innovation; commercialization processes.
The topical papers of the event focused on synthesis, characterization and self-triggered assembly of nanomaterials; laser-based materials synthesis; emerging nanoscale materials: doped, ferroelectrics; bio-inspired systems and bio-applications; photonic properties; surfaces and interfaces at nanometer scales from electronic to catalysis; nanoparticle-molecule hybrid systems; energy conversion and storage; and optoelectronic and photonic hybrid devices. On last day of the event, a scientific writing workshop was also conducted to help young researchers and students refine their scientific writing and critical reading skills.
The 50 posters covering various aspects and latest developments related to processing, modeling and manufacturing technologies of nano-structured materials, were displayed throughout the event around the perimeter of the exhibition area. Relevant Universities, R&D institutions and industries participated in the poster contest. The prizes for five best posters were handed out during the Gala Dinner on 29th November 2016.
The Workshop ended with closing remarks by the representatives of the co-organizers of the event, Prof. Jumali (UKM), and Ms. Balouch (COMSATS), followed by a video-montage of highlights from the Workshop.