COMSATS, in collaboration with The University of the Gambia (UTG) and Islamic Educational, Scientific and Cultural Organization (ISESCO), successfully organized the first International Congress on Viruses and Vaccines in Tropical Areas, from 11th – 12th October 2017, in Sere Kunda, Gambia. The congress managed to attract more than 100 participants consisting of scientists, experts on infectious diseases, academicians, public health professionals and postgraduate students from several countries around the world involved in treatment, research, discovery and development of drugs and vaccines in the field of emerging viruses.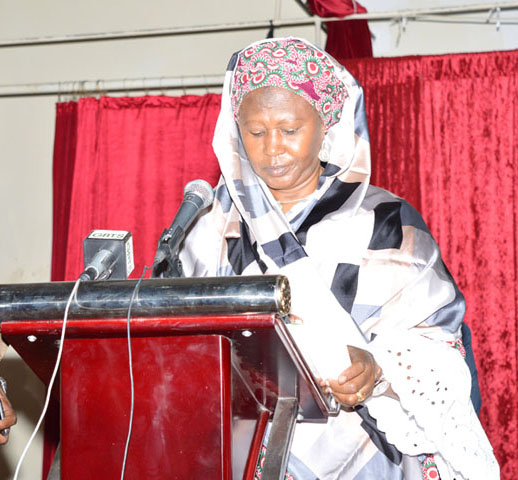 The two-day International Congress brought together experts from the academia, healthcare professionals, government and the public health experts to discuss ideas, share knowledge and learn about the latest research that may benefit the public at large. The international Congress brought together experts from countries such as Bangladesh, Sri Lanka, Ghana, Nigeria, Pakistan, and Sudan.
Speaking at the inauguration, Prof. Dr. Faqir Muhammad Anjum, Chairman of the Organizing Committee at UTG, welcomed all participants and expressed his hope that this congress will provide an opportunity for people from various countries and from various disciplines to meet, discuss, share and hear the views of some distinguished speakers in the field of tropical viral diseases.
Her Excellency, Ms. Aja Fatoumata C.M. Jallow-Tambajang, Vice-President of the Republic of The Gambia, who inaugurated the event, stated that the Health and Education sectors are the priority sectors of the Government of The Gambia and the Government's mission is to ensure quality health for all. "We firmly believe that prevention is better than cure", said Ms. Fatoumata, "and so we have to focus on accelerating the research and development of urgently needed vaccines against diseases".
Dr. S. M. Junaid Zaidi, Executive Director COMSATS, in his message read out on the occasion by Ms. Huma Balouch, Sr. Assistant Director (Programmes) COMSATS, considered emergence and re-emergence of viral diseases and its rapid spread to other parts of the globe represents a continual challenge in global heath. He considered this international congress in Gambia a timely intervention in that it provided a forum for discussions among scientists, infectious-disease experts, academicians and technologists on various aspects of combating viral diseases in West Africa and the possible future directions in this endeavor.
Speaking on the occasion, Prof. Dr. Umberto D'Alessandro, Director Medical Research Council (UK) Unit in Gambia, noted that the Council shares the vision of the Government of The Gambia in aiming to reduce the burden and threat of viral diseases to levels where it ceases to be a public health concern in The Gambia. Specifically, the MRC is committed to quality research to generate evidence for successful interventions that can be deployed to achieve this vision in the Gambia, the sub region and African continent on the whole.
Representing the Ministry of Health and Social Welfare of Gambia, its Permanent Secretary, Dr. Cherno Omar Barry, noted the vision of the Ministry to provide quality and affordable health services in Gambia for all by the year 2020. Dr. Barry highlighted the Government's plans to establish a directorate in consultation with Medical Research Council (MRC) and World Health Organization (WHO), to address other components of research which are not currently being addressed.
The event also resulted in robust discussions on the most effective strategies related to diagnosis, prevention and management of viral diseases as well as explores new ideas and concepts related to vaccinations and control. The proceedings of the event focused on three major themes prediction and prevention, management; and control of viruses. Under these themes, the participants explored the topics such as emergence, epidemiology and surveillance, animals as hosts for human disease pathogens, historical reports based on research analysis of emerging viral diseases, immune and host responses, genomics and evolution.
The Congress programme also featured a keynote presentation by Dr. Assan Jaye, Head of Research Training and Career Development at Medical Research Council Unit Gambia, on HIV Immune-Pathogenesis and Anti-HIV Vaccines. Dr. Jaye is a prominent scientist who has been recently honored with the Organization of Islamic Cooperation (OIC) Science and Technology (S&T) Achievement Award at the First OIC Summit on Science and Technology. Another riveting keynote presentation was delivered by Prof. Dr. Javed Akram, Vice Chancellor, Shaheed Zulfiqar Ali Bhutto Medical University, on Dengue via video conference.
Some interesting research papers presented at the Congress were: Ebola Virus Disease – Strides Towards Control by Dr. LES Jaiteh, Edward Francis Small Teaching Hospital, Gambia; Zika Virus: A Communicable Disease Threat by Dr. Joel Solorzano Romero, School of Medicine and Allied Health Sciences, University of The Gambia; The Gambia Hepatitis Intervention Study: Vaccination as a Means of Cancer Control by Dr. S.O Bittaye, International Agency for Research on Cancer (WHO-IARC); Prevention of Cervical Cancer by HPV Vaccination: The Gambia Experience by Dr. D. Sowe, Ministry of Health & Social Welfare, The Gambia; Mechanism of a Semi-conserved In-Vitro Selected Nueraminidase Inhibitor Resistant Variant in H10N8 Influenza A Virus by Dr. Oladejo, Federal University of Technology, Nigeria
The event helped in strengthening the Gambian research community through dissemination of findings and cross-disciplinary collaboration and communication among novice and experienced researchers, at regional and international levels.