The two-day International Conference on 'Agriculture, Food Security, and Biotechnology' was successfully organized in Cairo, Egypt, on 8th & 9th June 2015. Hosted by COMSATS' Centre of Excellence in Egypt, the National Research Centre (NRC), the event was co-organized by COMSATS, Islamic Educational, Scientific and Cultural Organization (ISESC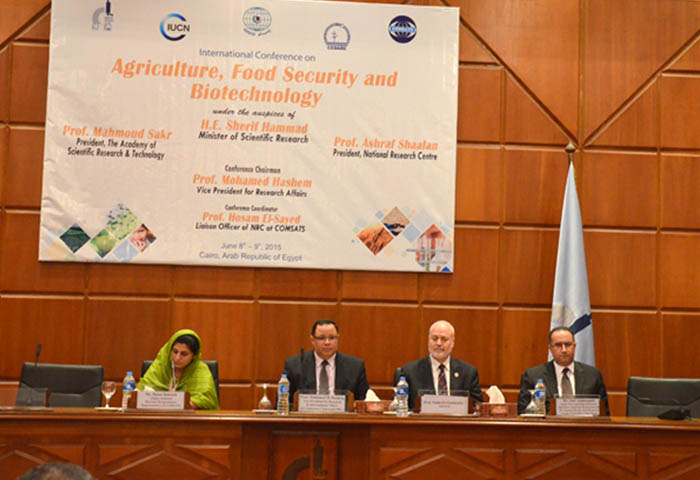 O), International Union for Conservation of Nature (IUCN), and Centre for Environment and Development for the Arab Region and Europe (CEDARE). Other COMSATS' Centres of Excellence represented during the Conference included: Industrial Technology Institute (ITI), Sri Lanka; Industrial Research and Consultancy Centre (IRCC), Sudan; Bangladesh Council for Scientific and Industrial Research (BCSIR), Bangladesh; Université Cheikh Anta Diop (UCAD), Senegal; and COMSATS Institute of Information Technology (CIIT), Pakistan. The local organizations that participated in the meeting were: Cairo University, Agriculture Research Centre, Egypt; International Service for Acquisition of Agri-Biotech Applications (ISAAA), Egypt; and Cotton Research Institute, Egypt.
The Conference was organized to build and strengthen linkages among R&D/S&T institutions working in the field of agriculture, biotechnology and food security for effective South-South cooperation; and to provide a forum to scientists, researchers, technologists and faculty members to update one another and share the recent developments in the field of agriculture and biotechnology, as well as for knowledge-sharing on the understanding, current status and needs of food and feed security.
The event was inaugurated by Dr. Mohamed Hashem, Vice President for Research Affairs & International Relations at NRC, on June 8, 2015. In his remarks on the occasion, Dr. Hashem considered it an honor for Cairo to host this important event, and appreciated its relevance for addressing key regional and global issues. He noted that nearly 75 percent of poor people in developing countries live in rural areas, and the agriculture sector has been found to be relatively more effective in reducing poverty.
Speaking on the occasion, Mr. Amr Abdel-Meguid, Regional Program Manager CEDARE, considered biotechnology the key technology of the 21st century, and highlighted the opportunities that agricultural biotechnology has to offer for the national development, especially of the developing countries. In his remarks on the occasion, Mr. Salah El Din El Gafrawi, ISESCO Representative in Egypt, urged the researchers to take on revolutionary roles to promote advanced agricultural systems in Islamic Countries. He stressed the importance of increasing food production to ensure food security in the Islamic countries by means of modern biotechnology research.
In his message read out on the occasion by Ms. Huma Balouch, Sr. Assistant Director (Programmes) COMSATS, Dr. I. E. Qureshi, Executive Director COMSATS, noted that the developing countries are progressively adopting and adapting to agricultural biotechnology to meet their needs including those pertaining to food quality, food security, and sustainable agriculture. He considered the event important in encouraging debate and exchange of ideas related to modern biotechnological approaches to meet sustainable agriculture and food security challenges in the developing world.
| | | |
| --- | --- | --- |
| | | |
A large number of participants from Bangladesh, Pakistan, Senegal, Sudan, Sri Lanka, and Nigeria benefitted from the event, along with more than 70 registered participants from various academic and research institutions in Egypt. Seven international subject experts from COMSATS' member countries made thematic presentations on different aspects of biotechnology applications in the food and agriculture sectors. During its seven technical and parallel sessions, more than 30 paper-presentations covered a wide range of topics focusing on relevant applications of biotechnology, ranging from bio-pesticides and bio-fertilizers to genetically modified crops.
The presentations and discussions of the event resulted in a number of recommendations, some of which pertained to:
Establishment of a scientific network for information exchange between member countries of COMSATS and ISESCO regarding climate change, food production system, automation and precision farming;
Working out joint research proposals that can be promoted by COMSATS, ISESCO, IUCN, and CEDARE for seeking funds;
Creation of working groups for mapping the strengths and weaknesses in biotechnology R&D in common member states;
Establishment of relevant competent committees for necessary decision making on the use of genetically modified products and preservation of biodiversity; and
Integration of relevant institutions concerning agriculture policy, rural development, and research strategy in member countries
The closing ceremony was held on 9th June 2015. Prof. Hosam El-Syed, Conference Coordinator and General Coordinator at NRC, in his vote of thanks appreciated the strenuous efforts of the organizers and partner organizations for making the event successful.