The 3-day International Conference and Exhibition on Renewable Energy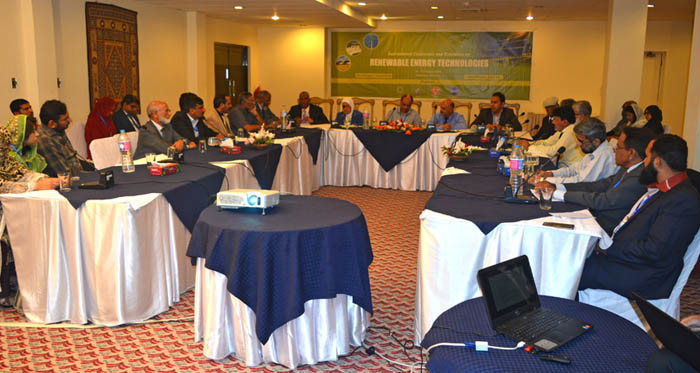 Technologies successfully concluded on 20th October 2016. COMSATS organized the event in collaboration with the Pakistan Council of Renewable Energy Technologies (PCRET) and ISESCO.
The Conference provided a forum for knowledge sharing on latest advancements in RETs; brought together educational institutes, research organizations, industry and commercial establishments for better synergies in the field; and helped served the information needs of policy-makers and implementers on the use of alternate energy resources. The event in its eight technical sessions and a poster exhibition session touched upon important topics related to the theme of the event, under a few broad categories, including: Solar/Photovoltaic Technologies; Energy efficiency in building designs; Case Studies and Performance Analysis of RETs.
The foreign speakers of the event belonged to Industrial Research & Consultancy Centre, Sudan; Al-Farabi Kazakh National University, Kazakhstan; Iranian Research Organization for Science and Technology, Iran; NAGARO GmbH, Germany; Royal Scientific Society, Jordan; Qorvo, Inc., USA; King Design Co. Ltd., Taiwan; and National Research Centre, Egypt, . They deliberated on a number of important topics including: the recent advances on biomass pyrolysis for the production of biodiesel; materials and techniques used in solar cells to improve their efficiency; making renewable energy more cost-effective by lowering their Levelized Cost of Electricity (LCOE); Capacity Building in Wind Energy and Solar Power and the use of micro-alga in different sectors including energy, food, fertilizers, nutraceuticals, cosmetics, pharmaceuticals, and wastewater treatment.
| | | |
| --- | --- | --- |
| | | |
The local speakers and experts of the event came from a number of public sector organizations, Pakistani universities, industry, and development sector. These included: Ministry of Industries; Pakistan Meteorological Department (PMD); Pakistan Institute of Nuclear Science and Technology (PINSTECH); Pakistan Agricultural Research Council (PARC); PCRET; University of Engineering & Technology (UET), Taxila ; Air University; National University of Science and Technology (NUST), COMSATS Institute of Information Technology (CIIT); International Islamic University Islamabad (IIUI); Warid Telecom; UNIDO; Suntel Solar Technology Limited; and Environmental Protection Agency (EPA). The local participants made presentations on production and use of bio-hydrogen as a renewable energy option, use of solar photovoltaic in agriculture; domestic techniques for producing Solar Electricity; advanced techniques for recycling to produce energy from waste energy. Other presentations touched upon financial mechanism of Micro Hydro Programme in Chitral and its sustainability, explored the role of advance energy technologies for addressing the current energy crises. The current techniques and technologies to utilize wind and solar energy, as well as the challenges involved in their use were also reviewed.
An exhibition was also organized in parallel with the conference at PCRET premises. A number of relevant exhibitors from government departments, and industry showcased their products and technologies. The exhibition was open to all and attracted participation form local universities and related institutes, as well as public sector. The foreign speakers of the Conference also took keen interest in the exhibition.
A poster exhibition session also encouraged students from local universities to participate in the event.
The technical session of the event concluded with a panel discussion session and votes of thanks from the organizers. The panel discussion session was chaired by Dr. Iqbal Chaudhry of Qorvo, Inc., Greensboro, USA, and Co-chaired by Mr. Nadeem Zakir, Head of Photovoltaic Division of PCRET. The Federal Secretary, Ministry of Science and Technology, Mr. Fazal Abbas Maken, also graced the session with his presence. The session entitled 'Renewable & Clean Energy Technologies for Sustainable Development', touched upon a number of issues in the light of the deliberations of the event. These included: role of public, private sectors, and academia; promotion of relevant initiatives through media and other stakeholders; and better coordination between policy-makers industry and academia.
The event was formally concluded by the Federal Secretary, Ministry of Science and Technology, Mr. Fazal Abbas Maken. In his closing speech, he called for strong collaboration among the R&D Organizations, Academic Institutions, and Industry, to increase the role of S&T for achieving sustainable development. He urged the renewable energy industry and PCRET to work out ways to upgrade their industrial processes to achieve high efficiency, through state-of-the-art renewable energy technologies. He appreciated the intellectual content presented during the Conference on important topics related to RETs, and lauded the organizers, PCRET, COMSATS, and ISESCO for holding a successful event on an important theme.
| | | |
| --- | --- | --- |
| | | |
Event recommendations were also presented at the concluding ceremony by Dr. Iqbal Chaudhary. It was stressed that the governments of developing countries should play a strong role in supporting renewable energy technologies through formulating relevant policies and strategies, enhancing research funding, as well as introducing initiatives such as 'tax credit' for consumers. The relevant steps taken by the Government of Pakistan, such as 'net metering' and duty-free import of solar panels, etc. were noted and appreciated. The conference further recommended that the private sector should provide consultation to governments for promoting RETs, as well as training opportunities in the related fields.
On behalf of the PCRET and COMSATS, Mr. Nadeem Zakir, Head of Photovoltaic Division, PCRET; Mr. Abid Jan, Assistant Director COMSATS, presented the vote of thanks.
At the end, Mr. Maken distributed the certificates and souvenirs to the participants of the event.