The new Federal Secretary, Ministry of Science and Technology (MoST), Government of Pakistan, Mr. Fazal Abbas Maken, who is an ex-officio Chairman of COMSATS' Consultative Committee, visited COMSATS Secretariat- Islamabad for a briefing on COMSATS. The briefing was given by the Executive Director COMSATS, Dr. I.E. Qureshi, and was also attended by the Joint Scientific Advisor MoST, Mr. Amjad Hussain, as well as senior officials of COMSATS, including its Advisor (Programmes), Mr. Tajammul Hussain; Advisor (Host Country Affairs), Mr. Sabih ur Rahman; Director (International Affairs), Dr. Majid Khan; and Deputy Director (Programmes), Mr. Irfan Hayee.
It was the first visit of Mr. Maken to COMSATS Secretariat after taking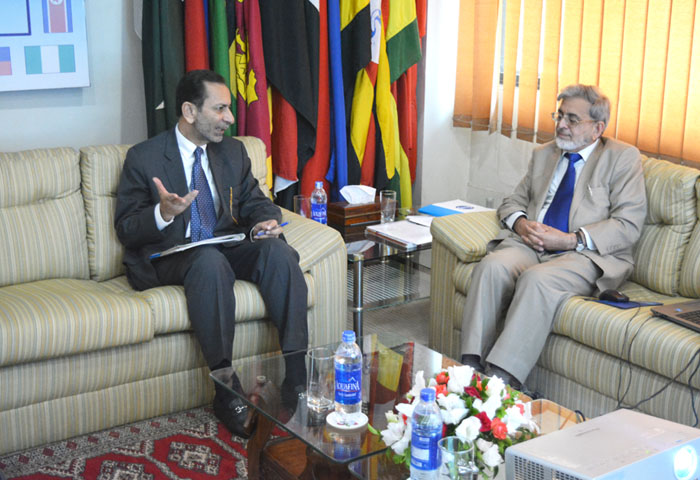 the charge as Federal Secretary MoST, succeeding Mr. Kamran Ali Qureshi. In his briefing, Dr. Qureshi introduced COMSATS as an intergovernmental organization with several unique features, especially having an affiliated Network of International S&T Centres of Excellence. Mr. Maken was informed that the Network has a membership of 20 R&D organizations from four continents and has over the years benefited the Member States through scientific exchange, human and infrastructural capacity-building and other means. It was informed that Heads of these Centres of Excellence meet annually at the platform of COMSATS Coordinating Council during its meetings hosted by one of the Member Centres at its premises. These meetings serve as a real-time means for South-South cooperation, and scientific consultations and exchange.
In his multimedia presentation, Dr. Qureshi also introduced other statutory bodies of COMSATS, highlighting their key roles and functions. Regarding COMSATS' Commission, Dr. Qureshi informed the Federal Secretary that the present Chairperson of the Commission is the President of Ghana, H.E. Mr. John Dramani Mahama, who was elected for 3 years during the 2nd Commission Meeting held in Islamabad (2012). He further added that election for the next Chairperson will take place during the 3rd Commission Meeting to be held in Accra this October. Dr. Qureshi noted that MoST-Pakistan has a key role in COMSATS' operations, especially as its Federal Secretary is the ex-officio Chairperson of its Consultative Committee, which comprises of high officials of COMSATS' focal ministries and government departments in Member States. He briefed the Federal Secretary that the Technical Advisory Committee (TAC) of COMSATS, comprising 10 renowned subject-experts, helps provide an international oversight for the international programmes and projects, which were also discussed in detail during the meeting. Dr. Qureshi expressed pleasure that the organization's programme of International Thematic Research Groups also distinguishes COMSATS from its contemporary international organizations, whereby scientists from affiliated Centres of Excellence and other relevant institutions in developing countries carry out joint R&D activities in areas of critical importance to sustainable development. These areas include: climate change, environmental protection, food security, renewable energy. He elaborated that under such an arrangement, the Groups also share laboratory resources in a cost-effective manner.
Mr. Maken was also informed about COMSATS' International Panel of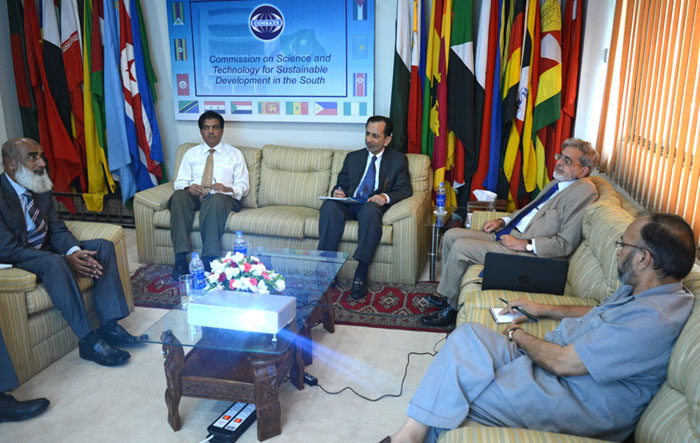 Experts on Science, Technology and Innovation (ST & I) Policy that has been formed to provide consultation to Member States on matters related to their national ST & I policies. It was noted that COMSATS also played an important role to frame the current ST & I policy of Pakistan. Moreover, under COMSATS' Distinguished Professorship Scheme invited lectures are arranged in Member Countries on request to benefit scientific circles on key subjects.
Shedding light on COMSATS' projects in the host-county of its Secretariat, Dr. Qureshi informed that after the inception of COMSATS, a need was felt to initiate projects in the field of Information Technology (I.T) in view of its emerging importance. In 1996, COMSATS Internet Services (CIS) was launched to provide seamless Internet access to cater to the informational needs of the society, and later in 1998 COMSATS Institute of Information Technology (CIIT) was established to build relevant capacities. The Federal Secretary was also briefed about COMSATS Telehealth Programme. Dr. Qureshi shared key facts and figures of these projects.
The Federal Secretary was informed that COMSATS plays its mandated international role in harmony with other similar international organizations, such as UNESCO, ISESCO and TWAS. COMSATS has so far organized over 220 events. Last year ISESCO-COMSATS collaboration resulted in organization of five events in important areas such as Maintenance of Scientific Equipment; Internet Security; National Innovation System and Intellectual Property; Nano-materials and Nano-devices; and Applications of ICTs in Education, Healthcare and Agriculture. Touching upon the financials of the organization, it was informed that the Member States/Governments make financial contributions for the programmes and operations of the organization on voluntary basis. In this context, Dr. Qureshi highlighted that the Government of Pakistan supports the operations of COMSATS Secretariat with a generous grant of Rs. 40 Million annually, and contributes towards its technical programmes separately through the Annual Membership Contribution.
After a general briefing on COMSATS, its statutory bodies and the international programmes, the participants had interactive discussions on the two upcoming statutory meetings of COMSATS and the International Symposium on Light and Life that is being organized by COMSATS in partnership with CIIT-Pakistan and ICTP-Italy. Dr. Qureshi informed that all these activities are to take place during the month of October 2015 and that the MoST-Pakistan is expected to play a special role to make these events successful.
Dr. Qureshi informed Mr. Maken that the Consultative Committee Meeting will be held a day ahead of the 3rd Commission Meeting in Accra, on 26 October 2015, for which he requested Mr. Maken to preside over the meeting in his capacity as the Chairman. Dr. Qureshi shared with him the minutes of the 2nd Consultative Committee meeting held in Accra.
The Executive Director recounted a few outcomes of the 2nd Commission Meeting held in Islamabad, which served as means to revitalize the support of the Member States towards COMSATS. He informed that the then Prime Minister of Pakistan in his capacity as the Chairman COMSATS suggested creating an Endowment Fund to further strengthen COMSATS' programmes and announced US$1 Million as contribution of the Government of Pakistan. The Federal Secretary inquired about the current status of Endowment Fund, on which Mr. Sabih ur Rahman explained the consultations being made with relevant government departments to help establish the Endowment Fund. Mr. Maken took keen interest in learning about the agenda of the 3rd Commission Meeting, which includes election of the Chairman COMSATS and harmonizing the statues of COMSATS. Dr. Qureshi informed that preparations for the Commission Meeting are well underway and that the Advisor (Programmes) COMSATS recently attended two meetings of the Planning Committee of the Commission Meeting in Accra, which had been chaired by Hon. Rashid Pelpuo, Minister of State in charge of the Private Sector Development & Public-Private Partnerships, Government of Ghana.
Consultations on the International Symposium on Light and Life were also made,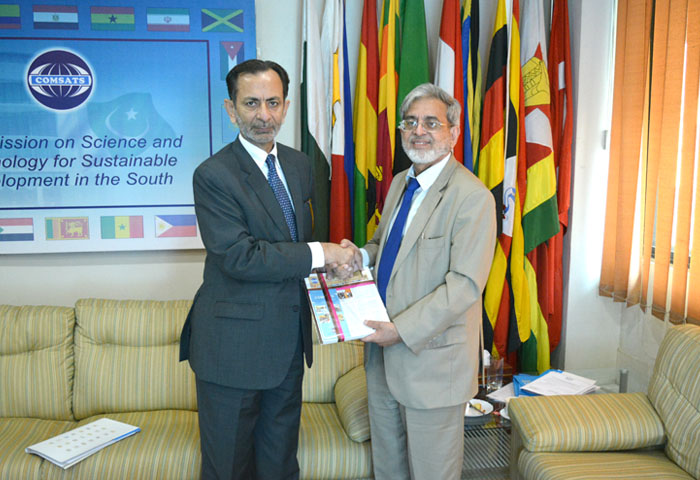 for which the patronage of MoST-Pakistan was sought. Dr. Qureshi shared that COMSATS took up the initiative to organize this Symposium in view of its cooperation agreement signed with UNESCO during March this year. He considered it COMSATS' international obligation to stand with the world community in celebrating UN observances. A dossier concerning the symposium was also shared with the Federal Minister for his information.
The meeting concluded on a note of appreciation for COMSATS and support of the Ministry of Science and Technology for various programmes and activities of COMSATS. The Federal Minister especially pledged to extend his Ministry's support towards ensuring strong participation in COMSATS' two upcoming body meetings and for building on the existing cordial relations between COMSATS and MoST-Pakistan.